World Eye Donation Day 2021: Eye donation is a great donation, with this you can illuminate the dark world of a blind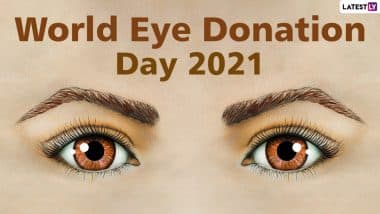 World Eye Donation Day (Photo Credits ANI)
World Eye Donation Day 2021: World Eye Donation is celebrated every year on 10th June, to encourage people to illuminate the dark world of others. But despite all the efforts, the figures of eye donors are not very satisfactory. As far as India is concerned, if we look at the current figures of eye donation and cornea transplant here, it is surprising to know that the number of people donating eyes is less than one percent. This is the reason that more than 25 thousand people in the country are still living in the dark world. Every year 80 to 90 lakh people die in the country, but eye donation is only around 25 thousand. This day is specially celebrated so that people can fill light in the lives of people living in darkness by donating their eyes before death.
One person can give light to 4 people
At present, one person can shine light in the dark lives of four people after death. Earlier, only two people could get cornea from both eyes, but with the advent of new technology, two corneas are being transplanted from one eye. This transplant from D Make has started in every major eye hospital in the country. The special thing in this is that after the death of a person, his entire eye is not changed. Only the illuminated black pupil is taken. The cornea can be used only for six hours after the death of the person. According to the Eye Bank Association of India, there are 25 lakh people in the country who need cornea. If they get someone's cornea in time, then they can see the beauty of nature. Also read: World Blood Donor Day 2020: Donating blood can donate life to others, know the history and importance of this day
What is the process of eye donation
This process is very simple, and gets completed in just 15-20 minutes. Due to the eye donation process, there is no delay in the funeral procession. Any person can donate his eye secretly, which is after his death, through a minor operation, the cornea is removed from the eye. Due to this, there is no change in the body of the dead person. The matter of eye donation is kept strictly confidential. According to eye experts, the eyes never grow old, so there is no age limit for this. An old person can also donate his eyes as per his wish. By donating your eyes, your eyes can become immortal.
Let's take a pledge to shine light in the dark world
To promote the biggest donation like eye donation, all the eye banks and social organizations of the country run awareness programs especially on this day across the country. By giving the eyes of a dead person to a blind person, his dark life can be brought to light. Let us take a pledge to give light to the dark world by donating our eyes while we live. You can register for eye donation by contacting your nearest hospital. Take a step forward to spread light in someone's world.
Must try this herbal pack at home, it will glow on the face
Nowadays we are not able to take care of our skin in our hectic life and this is the reason why freckles and scars cannot hide the spots and it looks very bad on the face.
Today we are going to tell you about face pack of grapes and sugar in this article, by adopting which you can enhance your face, there is no doubt about it.
First of all you will need only 2 spoons of grapefruit juice, one spoon of curd and two spoons of sugar.
Grape juice has to be mixed in the curd first, after that add sugar to it and stir a little. Blend this again.
Then with the help of your fingers, apply the mixture on your face and massage gently.

Leave it like this for half an hour and after washing them in a little hot water, the water should not be too hot, doing this for a few days will bring a glow on your face.
.
Pregnant women should eat these things, know otherwise you will repent
Every woman dreams of becoming a mother, let us tell you that during pregnancy, doctors also advise the family members of the woman to pay a lot of attention to her health during pregnancy and at this time there is a lot of tension about food.
Let us tell you that women should include protein and nutrition in pregnancy, according to doctors, green leafy vegetables like fig complete milk should be consumed so that women do not have problems during pregnancy, apart from this, you can also include things like lentils and ghee. Apart from this, you can also eat fiber rich fruits.
Let us tell you that doctors advise women during pregnancy to be active and drink as much water as possible and eat as much salad as possible.
.
Do not keep these things near the head while sleeping, these problems may come
Friends, let us tell you that there are many such things in astrology and religious scriptures, which may have to face many problems by keeping them in the sleeping room. According to the scriptures, keeping some things near the head while sleeping at night has a negative effect on the health, wealth and worldly pleasures of the person. Come friends, know why these things should not be kept while sleeping in the bedroom
According to the scriptures, let us tell you that do not sleep by keeping water at the head, because of this the moon suffers and the person gets problems like mental illness.
Friends, tell you that do not sleep with a purse on your head, it increases the expenditure on unnecessary things.
Friends, do not sleep with gold and silver jewelry on your head. This weakens the luck.
According to the scriptures, do not sleep with nail cutters, blades and scissors, etc.
Friends, keeping the key of any metal other than iron increases the chances of theft. Keeping shoes and slippers gives nightmares.
.