Who is Alakshmi? Know the difference between Lakshmi and Alakshmi! Why is she called 'the goddess of misfortune'?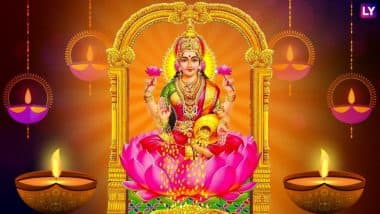 Goddess Lakshmi, (File Photo)
Lakshmi and Alakshmi: In Hinduism, people worship Maa Lakshmi as a symbol of happiness, peace and prosperity. In Indian religious scriptures, Lakshmi ji has been described as the wife of Vishnu-priya i.e. Shri Hari. Along with this, all the tales of the greatness of Lakshmi ji are described in religious texts. People worship Goddess Lakshmi with devotion and perform sacrifices according to their ability so that they can make material life happy by pleasing them. In Hinduism, from children to old age, we are aware of the glory of Mother Lakshmi, but do you know about Alakshmi? Who is Alakshmi after all? What is his glory and greatness? Know why people like to stay away from them.?
Origin of Alakshmi
It is mentioned in the Bhagwat Mahapuran that a total of 14 gems came out in the churning of the ocean, one of which was Goddess Lakshmi, who was blessed by Shri Hari. But before her, Mother Alakshmi had emerged from the churning of the ocean, it is said that when Alakshmi came out of the churning of the ocean, she had an urn full of wine, then on the wish of the demons, Lord Vishnu asked Alakshmi to join the Asura Paksha. granted permission. That is why he is not in the 14 gems. Since Mata Alakshmi originated from the same place i.e. churning of the ocean, that is why both are considered as sisters. In the Bhagwat Mahapuran, there is a mention of Mother Alakshmi, the elder sister of Goddess Lakshmi. It is believed that where Goddess Alakshmi resides, inauspicious events, sins, laziness, poverty, misery and diseases persist continuously, hence she is considered to be the goddess of misfortune.
Difference between Lakshmi and Alakshmi
Alakshmi is the exact opposite of Maa Lakshmi. Mother Lakshmi brings wealth and splendor, while Alakshmi brings poverty. That is why people do all the worship-rituals to get Lakshmi, while making every effort to avoid Alakshmi. Maa Lakshmi loves sweets, while Alakshmi likes sour and bitter things. This is the reason why sweets are kept inside the house, while lemon and green chillies are hung outside the house. Being the sister of Maa Lakshmi, both Lakshmi and Alakshmi are accepted, but only Maa Lakshmi is welcomed. There are two forms of Lakshmi, one is Bhudevi and the other is Sridevi. Bhudevi is the goddess of earth and Sridevi is the goddess of heaven. Bhudevi showers gold and food, while Sridevi bestows power, prosperity and identity.
Where does Alakshmi reside?
It is believed that Alakshmi resides in such a house, where there is filth, discord, poverty, unrighteousness, laziness etc. If there is wealth, loss, discord in the house despite the worship of Goddess Lakshmi, then it can be a sign that there is influence of Alakshmi in your house.
Do these things to get Lakshmi and avoid Alakshmi.
Clean the shop with peacock feathers. Lakshmi will come and Alakshmi will go.
To keep Alakshmi out of the house, tie a lemon and 7 green chillies in Molly and put it at the main gate of the house or shop on every Saturday.
Hang an old shoe on the roof of the house. Alakshmi will not come in the house.
Put a photo of Lakshmi sitting in the house.
Put a picture of a standing currency in the shop.
Offer 16 lotus gattes to Goddess Lakshmi and later tie it in a red cloth and keep it in the vault.
Take the remains of the house i.e. garbage and karkar outside the house on every new moon day and burn it.
This Indian is famous all over the world by the name of blood man, who has donated 83 liters of blood
Strong and soft hair: Use these home remedies for strong and soft hair
Pregnancy care: Take special care of these things during pregnancy, both mother and baby will be healthy