When Raj Kundra's first wife accused Shilpa Shetty of breaking the marriage, then the marriage took place like this
Actress Shilpa Shetty, who created panic in the Bollywood world with her stellar performance, is celebrating her birthday today. Born on 8 June 1975 in Mangalore, Karnataka, Shilpa rules millions of hearts in the country as well as abroad with her beauty and fashion style as well as acting. Shilpa started her career in 1991 at the age of 16 with an advertisement. After this he made his debut in the film world with the 1993 film Baazigar. On the occasion of the actress's birthday, let's know some unheard things.
Shilpa Shetty learned the dance of Bharatanatyam as a child and along with being a black belt in karate, she has also been the captain of her school volleyball team. In 2009, Shilpa was accused by Raj Kundra's first wife of being a marriage pimp and destroying his life. Kavita alleged that actress Shilpa is the main reason for their divorce. However, Raj Kundra's wife later apologized for such allegations. A non-bailable warrant was also issued against Shilpa Shetty in 2006 for promoting pornography. Hollywood star Richard Gere held Shilpa in his arms and kissed her for a long time at an AIDS awareness program in Mumbai. There was a lot of controversy about this incident then.
Shilpa has also been the winner of the reality show Big Brother. Shilpa Shetty is associated with many people but if we talk about her earlier affairs then she is associated with Akshay Kumar. In the 90s, Shilpa Shetty had filed a case against a magazine for publishing news of her and Akshay Kumar's affair. Shilpa married the famous businessman Raj Kundra in 2009.
.
Rakhi Sawant became emotional after remembering Sushant, said- 'I was his crush'
Yesterday was Sushant Singh Rajput's death first anniversary. Actually, on June 14, 2020, Sushant Singh Rajput was found dead in his flat in Bandra, Mumbai. Since that day, the fans have been demanding justice for Sushant. People are constantly remembering Sushant by posting on social media. Now yesterday, Rakhi Sawant also remembered Sushant. Also, he told how once Sushant had told him his crush. Yes, Rakhi Sawant said, "She still feels that Sushant has not gone anywhere and must be shooting here and there."
In fact, Rakhi Sawant was spotted by The Paparazzi in Mumbai yesterday and during this time she got lost in the memories of Sushant. He said, "Sushant was my friend. I still remember the time when we both did the show 'Zara Nachke Dekha' together. Then Sushant said that Rakhi you are my crush. Then I didn't know what the accident was, what was the date. I didn't know what it meant. Later I asked what was meant by crush, then found out. Rakhi Sawant also revealed that Sushant loved her song 'Pardesiya' and was very good-natured."
Rakhi said, "He was saying that I was in school when my song 'Pardesiya' came out. I said that I have come to Bollywood so she is in school. we are the same age. They used to have a lot of fun. Can still do. Can't believe he is no more with us. Looks like he must be shooting somewhere." She also took the love of the fans and said, "Remembering them today, I was thinking that I am also today, not tomorrow. Will the people of the country also remember me? If we are your fans then we are. , it is us. If not, what do we mean? I have prayed to Sushant to give him a place in heaven so that we can see him when we leave. If I go upstairs, I will say hello to him and say let's dance.' '
If you all remember, after Sushant's death, Rakhi Sawant had shared a video claiming that Sushant had come in his dream and said that he would be born from his womb.
.
Jannat Zubair celebrates 30 million followers on Instagram
Today millions of people like TV actress Jannat Zubair. He is a social media sensation today and there is no dearth of his fans. Jannat's pictures and videos go viral and get garnered with likes and views fast. Jannat now has 30 million followers on Instagram recently and she has celebrated it. Jannat celebrated it with her family and friends. You can see that Jannat has shared many pictures from the celebration. It is seen in the pictures that Jannat has chosen a black outfit for the celebration and she is looking very beautiful in a black dress.
Posting pictures from the celebration, Jannat wrote: 'We are now a 30 million strong family. I dont know what to say. I am very happy I just want to say thank you to all those who follow me. Thanks to my mom and dad for always being with me. He further wrote, 'Thank you so much to all my fans who are my family, the love you have given me, I am still very grateful. Many thanks to my brother @ayaanzuair_12 for making the best video with me.' #JannatZubair #30Mjannatians #jzee" Meanwhile you can see Ashnoor Kaur and Ritika Bandini posing with Jannat.
Jannat started acting at a very young age. She is currently 19 years old. Actually, Jannat was born on 29 August 2001. Talking about the profession of Jannat, Young Phool Kanwar-Maharana Pratap in Bharat Ka Veer Putra and Pankti Sharma in Tu Aashiqui. In 2018, he was seen in the Bollywood film Hichki, where he played the role of a student.
.
MP Ravi Kishan raised his voice against obscenity in Bhojpuri films and songs, wrote a letter to the Chief Ministers of UP and Bihar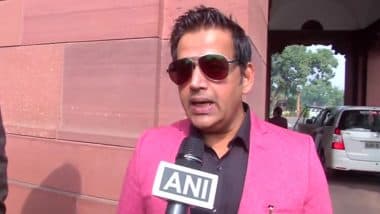 Ravi Kishan (Photo Credits: ANI)
Bollywood actor and BJP MP from Gorakhpur Ravi Kishan has written to Union Ministers and Chief Ministers of Uttar Pradesh and Bihar, demanding a ban on pornographic content in Bhojpuri films and songs. He has demanded a strict law to stop such content in films and songs.
Ravi Kishan has said in his letter that the population of Bhojpuri speakers in the country is about 25 crores. He said, "These people deserve better deals and obscenity in Bhojpuri cinema and its songs should be stopped." He said that Bhojpuri films and songs which have already been released should also be brought under the ambit of the proposed law.
Also read: Bhojpuri actors Ravi Kishan and Manoj Tiwari came forward in support of Noida Film City, said – it will promote Indian cinema
Ravi Kishan has been associated with Bhojpuri cinema for almost three decades and has played an important role in popularizing this regional cinema. He said, "I think the time has come for us to end obscenity and ensure that Bhojpuri cinema is recognized for its quality and content. Today Bhojpuri cinema has become synonymous with obscenity."
He said that obscenity in Bhojpuri films and songs is having an adverse effect on the mind of the younger generation. Ravi Kishan has also introduced a private member's bill to include Bhojpuri language in the Eighth Schedule.