West Bengal Lightning: 26 people died due to lightning in Bengal, PM Modi expressed grief, approved compensation of 2 lakhs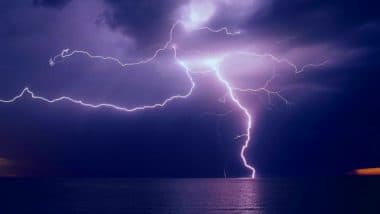 Lightning (Photo Credits: Pixabay)
Kolkata: At least 26 people died due to lightning in three districts of South Bengal on Monday. State Disaster Management Officer gave this information. The official said that nine people died in Murshidabad and 11 in Hooghly, two each in East and West Medinipur districts and two in Bankura. In Murshidabad district, several more people were injured after being struck by lightning, who have been admitted to Jangipur Hospital for treatment. The districts of South Bengal, including Kolkata, received heavy rains since afternoon, which the Met Office described as pre-monsoon rains. 18 wild elephants died due to lightning in Assam, post-mortem confirmed
Prime Minister Narendra Modi and Home Minister Amit Shah on Monday condoled the deaths due to lightning in West Bengal. The Prime Minister also approved an ex-gratia of Rs 2 lakh for the next of kin of those killed in the incident and Rs 50,000 for the injured.
PM Modi tweeted, "My condolences to the families and relatives of those who died due to lightning in West Bengal. I wish the injured people a speedy recovery." Home Minister Shah tweeted, "The incident of people dying due to lightning in different parts of West Bengal is very sad. My condolences to the families of the deceased. I pray for the speedy recovery of the injured people.
Total 26 people dead – 11 in Hooghly, 9 in Murshidabad 2 in Bankura, 2 each in East Midnapore and West Midnapore, due to lightning in various parts of West Bengal, today pic.twitter.com/geCrA8TSnc

— ANI (@ANI) June 7, 2021
Nine people each died in Murshidabad and Hooghly districts and two in East Medinipur due to lightning, officials said.
My thoughts are with all those who lost their near and dear ones due to lightning in parts of West Bengal. May the injured recover at the earliest.

— Narendra Modi (@narendramodi) June 7, 2021
The Prime Minister's Office tweeted, "Prime Minister Narendra Modi has approved an ex-gratia of Rs 2 lakh from PMNRF for the families of those who died due to lightning in different parts of West Bengal. 50 thousand rupees will be given to the injured.
Bihar Lockdown: Corona restrictions further relaxed in Bihar from tomorrow, but night curfew continues – know where you will get the discount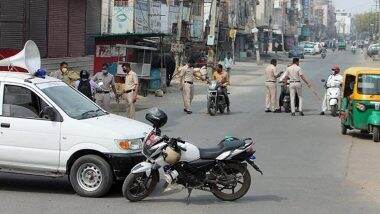 Lockdown (Photo Credits: PTI)
Patna: With the slowdown in the pace of the second wave of Coronavirus in Bihar, Chief Minister Nitish Kumar has announced further relaxation. There is a steady decline in the number of corona patients in Bihar. On Monday, 324 new corona patients were identified in the state. The number of active patients of Kovid-19 in the state has come down to less than 5,000. So far 76 deaths due to black fungus in Bihar, 333 patients under treatment
Bihar Chief Minister Nitish Kumar himself announced this from his official Twitter handle, tweeting and wrote, "The situation of corona infection has been reviewed. For the next 1 week i.e. from June 16 to June 22, while relaxing the restrictions, now government and non-government offices will remain open till 5 pm and shops and establishments till 6 pm. Whereas night curfew will be applicable from 8 pm to 5 am.
The status of corona infection was reviewed. For the next 1 week i.e. from 16.06.21 to 22.06.21, now government and non-government offices will remain open till 5 pm, shops and establishments will remain open till 6 pm. Night curfew will be in force from 8 pm to 5 am.

— Nitish Kumar (@NitishKumar) June 15, 2021
After slowing down the pace of corona infection in Bihar, Nitish Kumar ended the lockdown in the state only last week. However, while advising to avoid overcrowding, he continued with some restrictions. He had decided to continue the night curfew from 7 pm to 5 am, ending the lockdown. Whereas with 50 percent attendance, government and private offices were allowed to open till 4 pm. The opening period of the shop was extended till 5 pm.
Educational institutions are currently closed in the state and online education is going on. Permission has already been given to ply private vehicles. It is noteworthy that to curb the increasing number of corona patients in Bihar, a lockdown was imposed in the state from May 5, which was extended from time to time after the meeting of the Disaster Management Group.
The recovery rate in Bihar has now reached 98.01 percent. According to the report of the Health Department, after the death of 13 corona infected in the state, the death toll due to infection in the state has now reached 9,505. In Bihar, 487 infected people were identified on Sunday.
Uttar Pradesh District Panchayat Election 2021: Final phase of Uttar Pradesh district panchayat election this month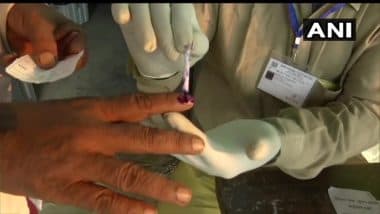 Vote/Vote (Photo Credits: ANI)
Lucknow, June 15: The State Election Commission has informed the Panchayati Raj Department that it is ready to conduct district panchayat elections between June 15 and July 3. On behalf of the Governor, Additional Chief Secretary (Panchayati Raj) Manoj Singh issued a notification to this effect on Monday. Sources said the department would soon seek inputs from the Directorate of Panchayati Raj before issuing the notification. The Zilla Panchayat Presidents of 75 districts will be elected by 3,050 members from different districts. Jaunpur has the maximum number of 83 wards, followed by Sitapur and Lakhimpur Kheri with 79 and 72 wards respectively. Also read: Uttar Pradesh Panchayat Election 2021: 3.19 Lakh Candidates Elected Unopposed In UP Panchayat Election
There are 68 wards in Gorakhpur, the home area of ​​Chief Minister Yogi Adityanath. The formal notification of district panchayat elections will be issued on Tuesday after which the observers will be appointed. The election of district panchayat presidents is a major prestige issue for all political parties, especially the BJP which has decided to field its office bearers in most of the district panchayat wards. The ruling party is facing a tough challenge from the Samajwadi Party.
The BJP is trying to maximize its footprint in rural parts of the state to take on smaller, regional parties, the SP and BSP, ahead of next year's state assembly elections. Both the SP and the BJP have started back-channel talks with independent candidates, who have won a large number of wards. His support to candidates supported by various parties will be crucial in the district panchayat elections.
UP: Girlfriend and friends tried to gang-rape the girl student by calling her on a date, after failing, stabbed her 24 times, died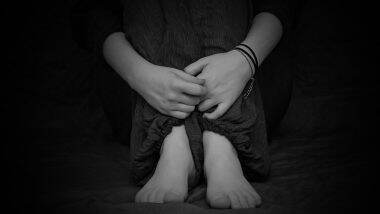 Symbolic Image (Photo Credits: File Photo)
Lucknow: Her boyfriend and two friends tried to rape a B.Sc first year student. When the girl objected to this, the furious lover, along with his companions, stabbed her 24 times with a knife. In this connection, two more youths, including the victim's lover Mohammad Kaif, have been arrested in Sarojini Nagar area on Monday. The other two people arrested are Vishal and Akash. Tripura: 4 teenagers gang-raped in Tripura, 8 youths arrested
According to reports, Kaif had called the girl on a date and had picked up the girl from near her house on this day. The girl's father was not at home at that time and her mother had gone to her maternal home in Sitapur.
DCP, Central, Somen Barma said, "Kaif told the police that his friends came to know about his meeting with the girl as he was talking to her on the phone in their presence. As per the plan, Kaif took Vishal's name. Using his brother's bike, Gaharu went to the forest area with his friends in the village.After dropping his friends there, he went to pick up the girl and then proceeded towards the place where his friends were waiting for him. When Kaif reached the spot with the girl, everyone tried to rape her."
Kaif confessed that the incident had dealt a big blow to the girl and threatened to file a police complaint. She somehow freed herself from their clutches and started running.
The accused chased and caught him. The police officer said that his friend Akash knocked him down and Vishal stabbed him several times, killing him on the spot.
Akash Yadav and Vishal Kashyap have also been arrested and the police have also recovered the knife which was used by the accused to stab the victim.