West Bengal: FIR registered against BJP leader Shubhendu Adhikari, his brother and associates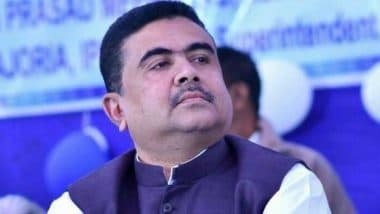 Shubhendu Adhikari (Photo Credits: Twitter)
Kolkata: Police have filed an FIR against Leader of Opposition in West Bengal Legislative Assembly Shubhendu Adhikari and his brother Soumendu Adhikari for 'stealing relief material' from Contai Municipality in East Midnapore. FIR) has been registered. On May 29, an FIR was registered on Sunday evening on the basis of the complaint of Ratnadeep Manna, a member of the Board of Administrators of Contai Municipality. West Bengal: Huge quantity of country-made bombs found near BJP office in Kolkata
According to Manna's complaint – Himanshu Manna and Pratap Dey took a truck of tarpaulin worth Rs 2 lakh from the official warehouse of Contai Municipality for cyclone Yas devastation relief. The complainant alleged that it was the result of a criminal conspiracy led by former TMC veteran Shubhendu Adhikari and Soumendu Adhikari, who are now in BJP.
The complainant further stated that the alleged theft was carried out with the help of the Central Armed Forces. Police have registered a case against the Adhikari brothers and their two associates under Section 448/379/409/120B IPC R/W 51/53 Disaster Management Act 2005.
Acting on the complaint, the police have already arrested Pratap Dey and he has been taken on police remand for further questioning. As per the intelligence gathered by the police so far, relief material taken by the accused persons was distributed in the cyclone affected areas in Nandigram.
Although officials were not available for comment, the BJP leadership alleged that the Trinamool Congress was taking a vindictive stand. A senior BJP leader said, "They are killing our supporters and trying to put our leaders behind bars."
On Saturday, a day before the FIR, a case was registered against Rakhal Bera, another close aide of Shubhendu Adhikari, on the basis of Sujit Roy's allegation that Bera and his accomplice Chanchal Nandi took Rs 2 lakh from him. were cheated. Chanchal Nandi is also named in the FIR. East Midnapore police are on the lookout for Nandi and another aide of the officer Himanshu.
All centrally protected monuments/sites and museums to be opened from June 16: Archaeological Survey of India
Protected monuments/sites and museums to be opened:
All Centrally protected monuments/sites and museums under ASI will be opened from 16th June: Archaeological Survey of India pic.twitter.com/Kig3w0AEEt

— ANI (@ANI) June 14, 2021
(With SocialLY get the latest breaking news, viral trends and all the news related to the world of social media. Here you will get live information about every content that is going viral on Twitter, Instagram and YouTube. The post shown above is unedited content, which can be sent directly to social media. Taken from the accounts of media users. Not modified or edited by Latestly staff. Social media posts do not represent the views and sentiments of Latestly, We assume no responsibility or liability for any content contained in this post do not accept.)
Inflation: Wholesale inflation hits record high of 12.94 per cent due to costlier fuel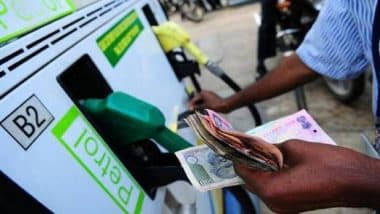 Representational Image | (Photo Credits: PTI)
New Delhi: Inflation based on wholesale prices rose to a record high of 12.94 per cent in May due to rise in prices of crude oil and manufactured goods. WPI inflation rose sharply in May 2021 due to the lower base effect. WPI inflation in May 2020 was negative 3.37 per cent. Petrol Diesel Price: Petrol reached beyond 100 in these states, know today's price in your cities
This is the fifth consecutive month that inflation based on the Wholesale Price Index (WPI) has increased. In April 2021, WPI inflation was in double digits to 10.49 percent. "The annual rate of inflation based on monthly WPI has increased to 12.94 per cent in May 2021 (as compared to May, 2020) from negative 3.37 per cent in May 2020," the commerce ministry said in a statement.
According to the statement, "The higher rate of inflation in May 2021 is mainly due to lower base effect and increase in the prices of petroleum products and manufactured products like petrol, diesel, naphtha, furnace oil etc. as compared to the corresponding month of last year. "
Inflation in fuel and power rose to 37.61 per cent during the period under review, from 20.94 per cent in April. Inflation in manufactured products stood at 10.83 per cent in May as against 9.01 per cent in the previous month.
Food inflation moderated marginally to 4.31 per cent in May. However, onions became expensive during this period. RBI in its monetary policy earlier this month kept interest rates at a record low and said it was committed to maintain a lenient policy to boost growth.
(This is an unedited and auto-generated story from a syndicated news feed, likely not modified or edited by the latest staff)
Revolt in LJP, Chirag Paswan's uncle Pashupati Kumar Paras was unanimously elected leader of the party parliamentary party in Lok Sabha
Pashupati Kumar Paras was unanimously elected as the leader of Lok Janshakti Party (LJP) parliamentary party in Lok Sabha.
Pashupati Kumar Paras unanimously elected as the Lok Janshakti Party (LJP) Parliamentary party leader in Lok Sabha; a meeting was held on 13th June.

(File photo) pic.twitter.com/2qNBAqiZhq

— ANI (@ANI) June 14, 2021
(With SocialLY get the latest breaking news, viral trends and all the news related to the world of social media. Here you will get live information about every content that is going viral on Twitter, Instagram and YouTube. The post shown above is unedited content, which can be sent directly to social media. Taken from the accounts of media users. Not modified or edited by Latestly staff. Social media posts do not represent the views and sentiments of Latestly, We assume no responsibility or liability for any content contained in this post do not accept.)