VIDEO: This lookalike of Amitabh Bachchan is sharing happiness among Kovid-19 patients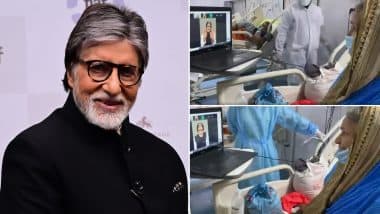 Amitabh Bachchan and his lookalike (Photo Credits: Instagram)
Shashikant Pedwal, a lookalike of Bollywood megastar Amitabh Bachchan, has come into the limelight among people due to his funny and comic style. Shashikant, who looks exactly like Big B, is seen spreading positive energy among the people battling this epidemic during the Corona period. He is talking to the patients battling Corona through video calls and entertaining them.
Shashikant is actually a teacher who imitates Amitabh Bachchan on stage for the last 12 years. Seeing his style and style, people consider him a carbon copy of Big B. He often uses this style of his in his social work as well. Shashikant, a resident of Pune, has taken the initiative to share happiness among corona patients in this era of epidemic. In this way, by keeping the patients away from stress, they take care of their illness out of their hearts.
Also read: Internet users stunned to see Shah Rukh Khan's lookalike Ibrahim Qadri, King Khan is a carbon copy
It was told in the media reports that at first many private hospitals rejected their desire to entertain the patients. Pedwal said, "I decided that I will go to the government hospital and entertain the people but that too took time because I needed some staff who would help me meet the patients there."
During his virtual interactions, Pedwal motivates people by reiterating Amitabh Bachchan's dialogues, his poems. In his style, he molds Big B in such a way that it is difficult for anyone to believe that he is not the real Amitabh Bachchan.
Pregnant Nusrat Jahan jumps in water, bold photoshoot of swimming pool goes viral
Mumbai. Trinamool Congress MP and Bengali actress Nusrat Jahan has been in the news for the past several days. Nusrat Jahan is very active on social media, keeps sharing her beautiful pictures and videos, which fans like very much.
Friends, recently Nusrat Jahan has shared VIDEO. In this, she is seen playing with water in the swimming pool. Friends, this shoot of Nusrat is being liked by the fans, while some people are also criticizing her. Let us tell you that for the past several days, she is in the headlines due to the news of pregnancy and rift with husband Nikhil Jain.
Friends, let us tell you that Nusrat Jahan's sensational statement has come after the news of rift with pregnancy and Nikhil Jain. In this he had said that his marriage to Nikhil is illegal. Friends, only after this a picture of her came out in which her baby bump was visible. According to reports, Nikhil Jain says that he is not the father of Nusrat's child.
Friends, for your information, let us tell you that Nusrat Jahan claims that she married businessman Nikhil Jain in Turkey in 2019. This marriage is not valid according to Indian laws. Friends, they say that they had married according to the Turkish Marriage Regulation, so it is illegal in India.
.
The house of this actress is no less than a shopping mall, if not sure then see for yourself
You must have known the beautiful television actress Digangana Suryavanshi that she has always been the subject of discussion about her character in television.
Digangana Suryavanshi likes to be active on social media and keeps sharing her stylish pictures every day, you can see in these pictures that she is looking very beautiful and hot.
You can see her shoes collection purse collection in the background, her house is no less than a shopping mall, let us tell you that Digangana Suryavanshi's financial condition is already good, she belongs to Rajput family.
Digangana Suryavanshi has now started working in web series as well and the people of her upcoming project eagerly wait.
.
Bold photoshoot of this actress went viral, people said second Sunny Leone
Although Sunny Leone is one of the hottest and bold actresses of Bollywood because her style is very much liked by the people and she wins the hearts of people with her bold character in films, but actress beauty who is famous from Raktanchal web series Sharma is also no less than her, she is also very hot and always remains in the discussion about her photoshoot.
Soundarya Sharma has recently posted some pictures in which she looks quite bold and after seeing these pictures people call her the second Sunny Leone.
Let us tell you that this actress has also worked in the second part of this web series, Sundaria Sharma has also worked in some Bollywood films and now she is not getting work in Bollywood but still she is very active in the web series. .
.