Vat Savitri Vrat 2021: What is the importance of worshiping the Vat tree? Learn Pooja Vidhi and Muhurta? And what is the importance of gram on this day?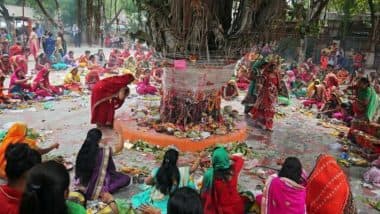 Vat Purnima (Photo Credits: Twitter)
In North India, the fast and worship of Vat Savitri is celebrated with full faith and reverence. While fasting and worshiping of Vat Savitri is done by married women for the longevity of their husbands, unmarried girls also observe this fast for the groom of their choice. According to the Hindi calendar, the festival of Vat Savitri is celebrated every year on the new moon day of Jyeshtha month. This year the importance of this day is also more because on this day where there is a solar eclipse, Shani Jayanti will also be celebrated. On this day, married women, keeping a waterless fast for the good health and long life of their husbands, offer prayers according to the tradition of the banyan tree. But with the changing times, now even unmarried girls have started observing this fast to wish for a good groom. According to the English calendar, this year Vat-Savitri fast will be celebrated on 10th June.
Importance of gram in Vat-Vriksha fasting?
In the context of this fast, which is observed on the new moon day of Krishna Paksha of Jyeshtha month, it is believed that on this day Savitri had succeeded in giving life-giving to her dead husband Satyavan by pleasing Yamraj. It is believed that Yamraj had handed over Satyavan's life to Savitri in the form of a gram, Savitri had given that gram to her husband, giving him a new life. Therefore, gram has a special significance in Vat Savitri Puja.
importance of banyan tree
Vat-tree (banyan) is worshiped during Vat Savitri fast. As far as the importance of the banyan tree is concerned, in Hinduism, the banyan tree is considered to be a god tree. It is believed that Lord Brahma, Sri Hari and Lord Shiva reside in the banyan tree. Among the trees, the banyan tree has the longest lifespan. The banyan tree is worshiped because of its longevity, strength, and spiritual importance being the most important for the environment as well. Also read: Consumption of these items on Tuesday removes Magal Dosha? Know when to consume which items
Method of worship of banyan tree
Take a bath before sunrise in the morning, do complete makeup and take a vow of waterless fast. Incense and lamp in bamboo basket, red and yellow colored Kalava, five types of fruits, sweets, dishes for offerings, roli, turmeric, akshat, sixteen adornments, water in a copper pot, red colored clothes and vermilion Keep. First offer prayers in the temple of the house. Now put water, red flowers and Akshat in a copper vessel and offer it to the Sun. Now install the idols of Savitri, Satyavan and Yamraj under the banyan tree located near the house. Offer water to the root of the banyan tree. Light incense-lamps, worship the banyan tree with flowers, akshat, fruit roli and sweets. After this, wrap the raw yarn around the tree for 7 times while wrapping the yarn in the trunk of the tree. Now offer the items of makeup to the tree, and listen to the story of Savitri-Satyavan with soaked gram in the right hand. Now keep soaked gram, some mudras and new clothes in the hands of your mother-in-law and take her blessings. Now according to the belief, break the fast by eating Kapal (new leaves) of the banyan tree.
Vat-Vriksha Puja Muhurta:
Jyeshtha Amavasya Begins: From 01.57 PM (June 9, Wednesday, 2021)
Jyeshtha Amavasya ends: Till 04.22 PM (June 10, Thursday, 2021)
After vaccination, the spoon sticks on the body, coin!
Shajapur: A big news has come out from Shajapur district of Madhya Pradesh. Actually, here a person of Shujalpur tehsil has a steel item pasted on his body. After coming to know about this, people who have been vaccinated against corona are also trying to get themselves tested. People are trying to know that they too have not got this power. Let us tell you that this is the first incident of metal sticking in the body after taking the corona vaccine dose in Madhya Pradesh. In fact, many such incidents have come to the fore before.
Similar incidents have happened in Maharashtra (Nashik), Rajasthan (Kota) in India. Many people have said so far that the body's attraction to objects has increased after taking a dose of the corona vaccine. Now the incident of Shujalpur tehsil of Shajapur district of Madhya Pradesh has shaken the people. Coins, scissors, needles are stuck in the body of 60-year-old Ramesh Chandra Nagar, a resident of Shujalpur here and everyone is shocked to hear this.
According to some media reports, Nagar's body gets stuck not only with iron but also with steel spoons, coins, hair clips. By the way, you must be aware that the magnet has the power to pull or stick only iron, the magnet's attraction does not work on steel. Because of this, the debate of the people is not taking the name of stopping. Let us tell you that Ramesh Chandra Nagar has received both the doses of Corona vaccine and he says that he got another dose of the vaccine on 25 April.
Science experts are of the opinion that the "steel does not stick to the magnet" vaccine is safe. National Award winning science teacher Om Prakash Patidar said, "People should not get confused like this. There are many scientific facts about the objects sticking to the body, it has nothing to do with the vaccine.
.
Avocado Remedies to Save Your Skin and Hair
Avocado can act as the ultimate protector for dry skin and damaged hair. Here are some tips that can help you take advantage of it.
for dry skin
material:
1 tablespoon avocado pulp
1 tbsp aloe vera gel
process:
1. Make a fruit mask to remove the pulp.
2. Blend both the ingredients and apply on your skin.
3. Do not let it sit for more than 20 minutes.
4. Wash it off with lukewarm water.
Skincare Tip: Apply this mask twice a week to get rid of excessive dryness of the skin. You can also add 1/2 tbsp of cucumber juice for added hydration.
For glowing skin
material:
1 tablespoon avocado pulp
1/2 tbsp honey
a pinch of turmeric
process:
1. Whisk all the ingredients together.
2. Apply the paste on your skin and keep it for 20 minutes.
3. Clean it with lukewarm water.
Skincare Tip: Repeat the mask twice a week to enhance the natural glow of your skin.
For dandruff-prone scalp
material:
2 tbsp avocado
1 tablespoon unsweetened yogurt
2-3 drops tea tree essential oil
process:
1. Take out the avocado and make its pulp.
2. Stir all the ingredients and apply the mixture on your scalp using your fingers.
3. Massage it for 5 minutes to allow the paste to penetrate deep into your scalp.
4. Wash it off with cold water after 45 minutes and then wash it off with a mild shampoo.
for damaged hair
material:
2 tablespoons avocado pulp
1 tablespoon argan oil
process:
1. Mix the ingredients and grind them into a fine paste.
2. Spread the mixture evenly on your scalp.
3. Use cold water to wash it off after 45 minutes.
.
Gold Price Update: Due to fluctuations in the price of gold, customers are quick to buy!
For the past few days, the Indian bullion market has been in turmoil. If there is a rise in the price of yellow metals, then its price decreases. That is, no one can say what will be the price of gold and silver in the market today. A new trading week is starting from today. That is, today is the first day of this business week. In such a situation, people's eyes will be on the movement of gold and silver today.

Actually, for some time now, gold is trading between Rs 48000-49000 per 10 grams. In such a situation, gold is getting cheaper by Rs 7000 to 8000 per 10 grams than its all-time high. Recently, gold had reached a high of about 5 months at Rs 49,700. Bullion market experts say that this is the right time to buy gold.
Let us tell you that gold is currently trading around Rs 49000 per 10 grams. Therefore, gold is getting cheaper by about Rs 7000 per 10 grams from its all-time high. But if experts are to be believed, its price may increase further in the coming days. In view of the Corona crisis, it is expected that its price can go up to Rs 56000 per 10 grams. According to a report, like last year, gold can set new records this year too.