Uttar Pradesh: OPD services will start in all government hospitals in UP from today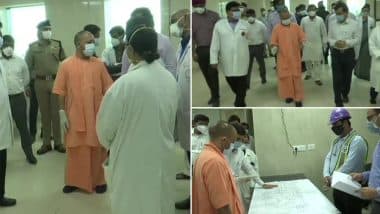 Yogi Adityanath (Photo Credits: ANI)
Lucknow: In view of the decrease in the cases of infection with Coronavirus in Uttar Pradesh, Chief Minister Yogi Adityanath has announced to restore OPD services in all government hospitals of the state from Friday. The Chief Minister has ordered to recruit patients suffering from diseases other than corona and provide them with timely treatment facilities. Uttar Pradesh: Commendable step of Allahabad University, will provide free education to children who have lost their parents to COVID-19
A government spokesperson said that after this order of the Chief Minister, people suffering from diseases other than corona will get great relief. Ordinary patients will also be able to see doctors in hospitals, it will be easier for them to get an operation after getting proper consultation. He said that in view of the increasing cases of infection, the operations of patients whose operations have been stopped for three months can also be done now.
The spokesperson said that along with pregnant women, children will also get relief from getting medical facilities. He said in a statement that in view of the second wave of corona epidemic starting from March, corona curfew was imposed in many cities of Uttar Pradesh.
The spokesperson said that 73 hospitals were made Kovid hospitals in Lucknow to provide immediate treatment to Kovid-19 patients. In other big cities of the state also, a large number of government and private hospitals were declared as Kovid hospitals. Now OPD services will also be started in these Kovid hospitals.
Patients suffering from other serious diseases will start getting admission and treatment. According to the statement, Chief Minister Yogi Adityanath said that more and more people should be encouraged to use e-Sanjeevani and 'teleconsultation', which are helpful in the treatment of the disease.
The spokesman said that through this, the government is providing home treatment facilities to serious patients.
Meanwhile, due to a 94 percent drop in the number of patients under treatment in Uttar Pradesh, relaxation in corona curfew has been given in 65 districts. According to the spokesman, in the last 24 hours in Jhansi district, the number of patients under treatment has been reduced to less than 600, exemption from corona curfew has been given there.
He told that in this way 65 districts of Uttar Pradesh have now become free from the restrictions of Corona curfew.
Under this exemption, shops and markets can be opened five days a week in all places except the prohibited areas, following the guidelines of Corona.
Due to the presence of more than 600 patients under treatment in Meerut, Lucknow, Saharanpur, Varanasi, Ghaziabad, Gorakhpur, Muzaffarnagar, Bareilly, Gautam Budh Nagar and Bulandshahr districts of the state, no relaxation has been given in the corona curfew at present.
(This is an unedited and auto-generated story from a syndicated news feed, likely not modified or edited by the latest staff)
Revolt in LJP, Chirag Paswan's uncle Pashupati Kumar Paras was unanimously elected leader of the party parliamentary party in Lok Sabha
Pashupati Kumar Paras was unanimously elected as the leader of Lok Janshakti Party (LJP) parliamentary party in Lok Sabha.
Pashupati Kumar Paras unanimously elected as the Lok Janshakti Party (LJP) Parliamentary party leader in Lok Sabha; a meeting was held on 13th June.

(File photo) pic.twitter.com/2qNBAqiZhq

— ANI (@ANI) June 14, 2021
(With SocialLY get the latest breaking news, viral trends and all the news related to the world of social media. Here you will get live information about every content that is going viral on Twitter, Instagram and YouTube. The post shown above is unedited content, which can be sent directly to social media. Taken from the accounts of media users. Not modified or edited by Latestly staff. Social media posts do not represent the views and sentiments of Latestly, We assume no responsibility or liability for any content contained in this post do not accept.)
Uttar Pradesh: Police arrested 6 under anti-conversion law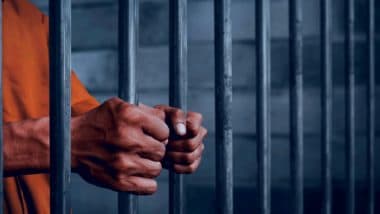 Symbolic Image (Photo Credits: File Photo)
Rampur: In Uttar Pradesh (Uttar Pradesh), six people, including a Maulavi and a barber, have been banned from illegal conversions ordinance (Love Jihad) for conducting the circumcision ceremony of two minor boys below the age of 12 years in secret. , 2020 has been taken into custody. This incident of Saturday is from Shahbad area of ​​Rampur. Uttar Pradesh: Woman who accused doctors and medical staff of rape dies
As soon as the members of Hindu Jagran Manch (HJM) came to know about the ceremony, they along with the police went to the house of the truck driver Mahfouz. His parents and the barber were arrested. The search is on for other people involved in this.
According to Additional SP (ASP) Sansar Singh, the mother of a non-Muslim boy resident of Uttarakhand lost her husband, who was a truck driver by profession, in a road accident last month. She had recently come to live with Mehfooz and his family in Bairua village of Shahbad area. Mahfouz is not married yet.
The woman changed her name to Gulistan.
The ASP further said, "In this case we have registered an FIR as the boys are minors and their conversion was against the law, so we took cognizance of the incident only after coming to know about it."
He further added, "We have registered a case against Mahfouz, his parents, his brother-in-law who organized the ceremony, the cleric who conducted the conversion ceremony and the barber who performed the circumcision."
They have been booked under IPC section 324 (voluntarily causing hurt by dangerous weapons or means) as well as provisions of the Unlawful Conversion of Religion Act, 2020.
As per the provisions of the Act, the person seeking conversion and the convert is required to submit an advance declaration of the proposed religious conversion to the District Magistrate. After this, by the order of the District Magistrate, the police investigation is done regarding the reason for conversion, intention etc. However, no such criteria were followed in this case.
Arvind Kejriwal announces, AAP will fight on all seats in the 2022 Gujarat Assembly elections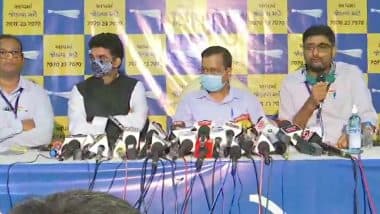 AAP leader Arvind Kejriwal on Gujarat tour (Photo Credits: ANI)
Ahmedabad: Aam Aadmi Party (AAP) national convener and Delhi Chief Minister Arvind Kejriwal, who went on a Gujarat tour, has made a big announcement. Kejriwal said that in the Gujarat Assembly elections to be held in 2022, AAP will contest on all the seats. During this he inaugurated the state office of Aam Aadmi Party in Ahmedabad. Senior journalist Isudanbhai Gadhvi joined AAP in his presence. Arvind Kejriwal in Gujarat: Delhi CM Arvind Kejriwal arrives in Ahmedabad, will inaugurate AAP state office
AAP leader Arvind Kejriwal said, "The condition of Gujarat today is the work of BJP and Congress governments. For the last 27 years, there is a single party government in Gujarat. But the last 27 years are the story of friendship between these two parties. They say Congress is in BJP's pocket."
Aam Aadmi Party (AAP) to contest on all seats in the 2022 Gujarat Legislative Assembly Polls: AAP leader and Delhi CM Arvind Kejriwal pic.twitter.com/3GXvtPVfMt

— ANI (@ANI) June 14, 2021
A day before coming to Gujarat, Arvind Kejriwal had said that now Gujarat will change. Delhi Chief Minister Arvind Kejriwal reached Gujarat on a one-day visit on Monday. This will be the second time that Kejriwal has gone to Gujarat. He had earlier gone to Surat in February, where his party, which was fielded for the first time in the local body elections, emerged as the main opposition party. This visit of Kejriwal is also important because his party is already eyeing to contest the state assembly elections to be held in December 2022 and preparations are going on in full swing for this.