Uttar Pradesh: Accused of kidnapping and rape in Ballia arrested four years after the incident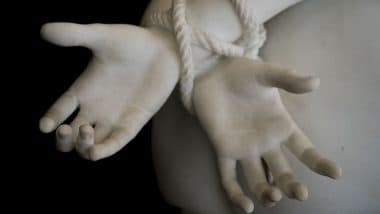 Symbolic photo (Photo Credits: Pixabay)
Baliya: An accused of allegedly kidnapping and raping a 17-year-old girl in a village in Nagra area of ​​Ballia district was arrested by the police four years after the incident and sent to jail. Police sources said on Monday that a case was registered against Santosh Kumar, a resident of Sikandarpur area, for kidnapping and raping a minor girl on 10 May 2017 in a village under the police station area. Firing at BJP leader's son's birthday party in Ballia, Bhojpuri singer Golu Raja got shot, watch VIDEO
He said that the Superintendent of Police had announced a reward of Rs 15,000 on Santosh, who was absconding since the incident. Sources said that Santosh was arrested on Monday by the Nagra police near Narhi canal culvert in the police station area and an illegally made pistol was recovered from his possession.
On the other hand, in the case of allegedly abducting and raping a 16-year-old girl in Rasda Kotwali area of ​​the district, the police on Sunday arrested the accused and sent the accused to jail.
Inspector Nagesh Upadhyay, in-charge of Rasda Kotwali, said that on June 1, a 16-year-old teenager was abducted and raped by a person named Munna Rawat in the Kotwali area. The case was registered on the complaint of the girl's mother. He said that on Sunday, the police recovered the teenager from near Ballia bus stand and arrested the accused Munna Rawat (23) and sent him to jail.
(This is an unedited and auto-generated story from a syndicated news feed, likely not modified or edited by the latest staff)
Update Weather: Chances of rain and thunderstorms in next three to four days in Rajasthan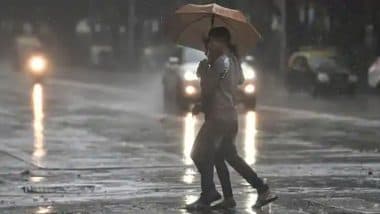 rain | Symbolic Image (Photo Credits: PTI)
Jaipur, June 13 : In Rajasthan's Bikaner, Jaipur, Bharatpur, Jodhpur, Udaipur and Kota divisions, there is a forecast of rain with half in the next three-four days and a drop of two to three degrees Celsius in most parts of the temperature. Director of Jaipur Meteorological Station R. s. Sharma said that there is a possibility of heavy rain with thunderstorm / dust storm in some parts of North Rajasthan on Sunday. In the districts of Bikaner, Jaipur and Bharatpur divisions, there is a possibility of sudden strong winds, dust storm (wind speed 40 to 50 kmph) accompanied by thunderstorms. During this, there is a possibility of thunderstorms at some places in these districts.
Apart from this, thunderstorms are expected to continue for the next three-four days, he said. On June 15, once again there will be an increase in the activities of thunderstorms in Jodhpur and Bikaner divisions of western Rajasthan. During this, strong thunderstorms, wind speed up to 40 to 60 kilometers per hour can be recorded. According to Sharma, there is a strong possibility of heavy rain with thunderstorm on June 15-16 in the districts of Ajmer, Jaipur, Bharatpur Kota division. In Udaipur and Kota divisions also, rain with thunderstorm is expected on June 15-16-17. According to the Meteorological Department, in the last 24 hours, three centimeters in Dholpur in East Rajasthan, three centimeters in Rupbas in Bharatpur, two in Basedi in Dholpur, two in Sapou in Dholpur, Gangapur in Sawai Madhopur, Bamanwas, Bhuhana in Jhunjhunu, Behrod in Alwar, Kotkasim. One centimeter rain was recorded in Rajkheda in Dholpur and one centimeter in Rawatsar, Bhadra and Tibi of Hanumangarh in western Rajasthan. Also read: COVID-19 Update: 255 new cases of Kovid-19 surfaced in the national capital Delhi, 23 patients died
According to the department, Sawai Madhopur and Bundi were the hottest places in the last 24 hours with a maximum temperature of 44 degrees Celsius till Sunday morning. The maximum temperature was recorded at 43.9 in Pilani, 43.6 in Churu, 43.5 in Karauli, 43.2 in Kota, 42.8 in Ganganagar, 42.3 in Pali, 41 in capital Jaipur and below 40 degree Celsius at other major places. At the same time, the minimum temperature in most parts of the state was recorded in the range of 30.9 degree Celsius to 24.1 degree Celsius.
COVID-19 Update: 255 new cases of Kovid-19 surfaced in the national capital Delhi, 23 patients died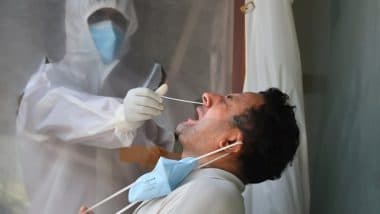 Person getting tested for Corona (Photo: PTI)
New Delhi, June 13 : The lowest number of 255 new cases of coronavirus were reported in the national capital on Sunday since April 7, and 23 patients died and the infection rate came down to 0.35 percent. According to the bulletin of the Health Department, with the death of 23 patients on Sunday, 24,823 people have lost their lives due to this epidemic in the national capital.
The lowest number of 213 new cases were reported in Delhi since March 9 on Saturday, 238 on Friday, 305 on Thursday and 337 on Wednesday. Due to this infection in the city, 28 people lost their lives on Saturday, 24 on Friday, 44 on Thursday and 36 on Wednesday. Also read: Dr. Indira Hridayesh Death: Senior Congress leader Dr. Indira Hridayesh is no more, Rahul Gandhi expressed grief
According to government data, the infection rate in the national capital was 0.3 on Saturday and Friday, 0.4 on Thursday and 0.5 percent on Wednesday.
Petroleum Minister Dharmendra Pradhan said, Congress ruled states should reduce tax on petrol, diesel, kept silence on BJP ruled states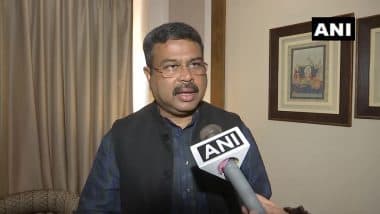 Union Minister Dharmendra Pradhan (Photo Credits-PTI)
New Delhi, June 13 : With petrol and diesel prices reaching record levels, Petroleum Minister Dharmendra Pradhan on Sunday said Congress-ruled states like Rajasthan and Maharashtra should cut taxes on vehicle fuel. However, he remained silent on whether states like BJP-ruled Madhya Pradesh and Karnataka would do the same, where petrol has crossed Rs 100 per litre. Pradhan said that if the Congress is worried about the rising burden of vehicle fuel prices on the common man, then it should cut sales tax on petrol and diesel in the states ruled by it.
Petrol has become costlier by Rs 5.72 per liter and diesel by Rs 6.25 per liter in less than the last six weeks. Auto fuel prices have reached record highs due to rising international crude oil prices and high central and state taxes. Indraprastha Gas Ltd. Talking to reporters after inaugurating the oxygen plant set up by Maharaja Agrasen Hospital, Pradhan said that the central and state governments need additional money from taxes on petrol, diesel to fight the pandemic and other development works. Also read: Karnataka: Policemen thrashed mentally challenged man, eight personnel suspended
He acknowledged that vehicle fuel prices were hurting consumers. Congress leader Rahul Gandhi is a constant attacker on the Narendra Modi government regarding vehicle fuel prices. To a question about this, Pradhan said why fuel is expensive in Maharashtra, Rajasthan and Punjab. "If Rahul Gandhi is concerned about the impact of vehicle fuel prices on the poor, he should ask chief ministers to cut taxes on fuel in Congress-ruled states," he said. BJP-ruled states like Karnataka will also do the same, where the price of petrol has crossed Rs 100 per liter due to local taxes.