Uttar Pradesh: 3 girls gang-raped in Lakhimpur Kheri, case registered against 5 youths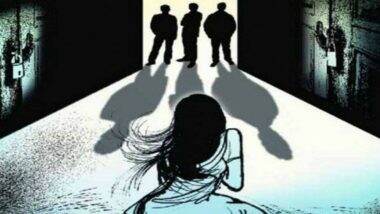 symbolic picture
Lucknow: A case has been registered against five youths for allegedly raping three girls in a village in Lakhimpur Kheri district. Superintendent of Police Vijay Dhul said on Sunday that in the case registered at Lakhimpur Kotwali, three girls have alleged that they had gone to work in a field as daily wage laborers last Friday at the behest of their distant relative Mohan. After working in the evening, Mohan and his four unidentified accomplices caught the girls and made them victims of their lust. Embarrassing! Married woman gang-raped in UP's Sitapur, tried to burn alive after rape
Vijay Dhul told reporters on Sunday evening that the girls were medically examined, which could not confirm the allegations of rape. After this the slides have been sent for further forensic examination. He said that four other youths have also been taken into custody for questioning. Earlier, he had said that after registering a case against the five accused in this case, Mohan has been taken into custody. He is under interrogation.
The superintendent of police said there were contradictions in the statements made by the girls on Friday and Saturday. He said that on Friday, the girls reached the police station and gave a written complaint that they were not paid wages for working in the fields, while on Saturday they went to the police station and accused them of raping them. Dhul said that the matter is being thoroughly investigated.
(This is an unedited and auto-generated story from a syndicated news feed, likely not modified or edited by the latest staff)
Bihar COVID-19 Update: Corona slowed down in Bihar, more than 50 infected were not found in any district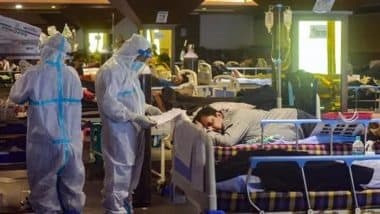 Corona's havoc (Photo Credits: PTI)
Patna, June 17 : In Bihar, now the process of meeting corona patients has reduced considerably, due to which the situation is becoming normal. On Wednesday, the number of active corona patients in the state has come down to 3,990. 370 new cases have been reported in the state on Wednesday. No district in the state has reported more than 50 cases. 370 corona infected have been identified in the state on Wednesday, which is less than Tuesday. On Tuesday, 410 infected people were identified in the state.
According to the report released by the Health Department, among the new patients in the state, Patna has the highest number of 34 new infected, while 27 new patients were found in Saharsa. Out of 38 districts of the state, less than 10 patients have been found in 22 districts. During the last 24 hours, 1,11,819 samples were tested in the state, so far a total of 3.16 crore samples have been tested in the state. The state's recovery rate has reached 98.12 percent on Wednesday. Also read: Maharashtra COVID-19 Update: New cases of Kovid infection increase in Maharashtra, so far more than 1 thousand deaths
According to the report of the Health Department, in the last 24 hours in the state, 730 people have gone back to their homes free of corona infection. It is a matter of relief in the state that there is a steady decline in the number of active patients. The number of active patients in the state has gone up to 3,990.
Maharashtra COVID-19 Update: New cases of Kovid infection increase in Maharashtra, so far more than 1 thousand deaths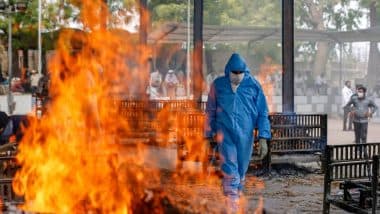 Corona's havoc continues (Photo Credits: PTI)
Mumbai, June 17 : Health officials said on Wednesday that the number of deaths due to Kovid-19 (COVID-19) in Maharashtra remained high, while new infections also crossed the 10,000-mark, although the number of patients recovering has also increased. . Against the 1,458 deaths announced on Monday, the state now revealed a lower figure of 1,236 deaths (237 new, and 999 earlier deaths), taking the total to 115,390. The number of fresh cases rose to 10,107 from 9,350 on Tuesday, taking the total tally to 59,34,880.
In Mumbai, for the 20th day in a row, new infections remained below the 1,000 mark, but rose to 821 from 572 a day earlier, taking the city's tally to 717,172. The death toll dropped to 11 from 14 a day earlier, taking the total number of deaths to 15,227. The number of active cases fell from 138,361 to 136,661, while 10,567 fully recovered patients – again more than the number of fresh infections – returned home, taking the total to 56,79,746, while the recovery rate declined by 95.69 per cent. 95.07 percent.. ALSO READ: 67,208 new COVID cases & 2,330 deaths in India in last 24 hours: Health Ministry
The Mumbai circle – which includes Mumbai, Thane, Palghar and Raigad districts – reported a surge in new cases, from 1,971 to 2,330, taking its tally to 15,67,290 and with 56 more deaths, taking the total figure to 30,990. Meanwhile, the number of people sent to home isolation stood at 878,781, while there were 5,401 people in institutional quarantine.
Loni Assault Case: 5 accused arrested for thrashing Muslim elder, action will also be taken against the complainant for telling wrong facts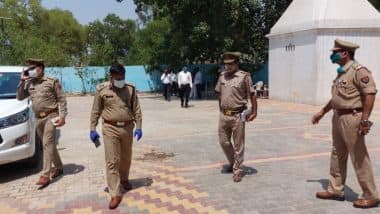 Ghaziabad Police (Photo Credits: Twitter)
Lucknow: So far, five accused have been arrested by the police in connection with the beating of an elderly Muslim man in Ghaziabad, Uttar Pradesh. UP Police said on Wednesday that a total of five accused who assaulted an elderly man in Loni on June 5 have been arrested, along with action will also be taken against the complainant for telling wrong facts. Rahul Gandhi called the Ghaziabad incident shameful, CM Yogi said – stop humiliating the public
According to Ghaziabad (Rural) Superintendent of Police (SP) Iraj Raja, no communal angle was found in the incident in Loni. "A total of five accused have been arrested in the case. We will take strict action against them. The complainant initially told us that he had no prior contact with the accused, but their call records show a connection. Wrong information," he said. Will also take action against the complainant for giving
The Ghaziabad Police on Tuesday registered an FIR against nine entities, including Twitter India, in connection with the Loni incident. Police have registered a case against microblogging site Twitter, a news portal and six people for circulating a video on social media. In this video, the elderly man is seen narrating his agony after the alleged attack by some people. Police say that this video was shared to create communal tension.
Police registered an FIR against Twitter Inc, Twitter Communications India, news website The Wire, journalists Mohammad Zubair and Rana Ayyub, Congress leaders Salman Nizami, Mashkoor Usmani, Dr Shama Mohammed and writer Saba Naqvi for sharing the clip.
"These people did not verify the veracity of the matter and shared it online by giving it a communal aspect with the intention of disrupting public peace and dividing the religious groups," the FIR said. Furthermore, Twitter Inc and Twitter Communications India also did not take any steps to remove these tweets.
In a video clip that surfaced on social media on June 14, Abdul Samad Saifi, an elderly Muslim man, alleged that some youths thrashed him and asked him to chant 'Jai Shri Ram', but now the Ghaziabad Police has investigated the incident. Denied any communal reason behind it and said that the accused were unhappy with the amulet that Saifi had sold to them.
The police had also clarified that Hindus as well as Muslim persons were among those who attacked Saifi and that the incident was not communal but the result of a personal dispute between them. Kallu Gurjar, Pravesh Gurjar, Adil, Poli, Himanshu, Arif and Murshid are accused of beating Saifi in Loni, a police officer said.