Urvashi Rautela donated 47 oxygen concentrators worth Rs 2 crore 35 lakh for COVID-19 patients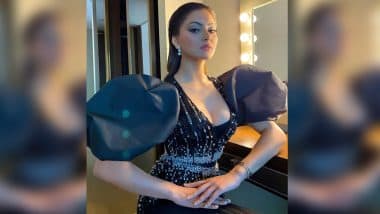 Urvashi Rautela (Photo Credits: Instagram)
Bollywood actress Urvashi Rautela has once again donated oxygen concentrators for Uttarakhand Covid-19 patients through her foundation. Let us tell you that Urvashi Rautela is a resident of Haridwar Uttarakhand and even before this the actress donated 47 Oxygen Concentrators to Uttarakhand. Urvashi Rautela is as famous for her social media posts and acting, as big is her heart, whatever the donation may be, if it is done with a clear intention and without worrying about the results, then the effect is more in life.
If oxygen is given to someone during the difficult times of this pandemic, then it is not of any merit. Similarly, Urvashi Rautela herself is trying to stand together with the people of Uttarakhand, and she donated 20 oxygen concentrators again, even before that Urvashi Rautela helped the daily wage laborers by giving them ration materials. And till now the actress has donated a total of 47 oxygen concentrators which is worth Rs 2 crore 35 lakhs. In Mumbai too, he had also provided food to poor people in the talket storm, as well as he has given the earnings of his international project Versace Baby Album Song to India Covid Relief Fund and Palestine Society. Also read: Big information on bail application of friend Siddharth Pithani in drug case related to Sushant Singh Rajput death case
Urvashi Rautela is working hard to help the people and she is doing as much as she can for them, see Urvashi herself has started her own YouTube channel where she can do whatever she wants through her content. She will donate money to the needy people.
On the other hand, if we talk about her upcoming project, Urvashi Rautela will make her Tamil debut in a big budget sci-fi film in which she will be seen in the role of Microbiologist and IITian as well as in Black Rose and Thirutu Payal 2. In the Hindi web series Inspector Avinash which is a biopic, she will play the role of Avinash Mishra's wife.
Rajpal Yadav's wife is very beautiful, she is 9 years younger
Aamna Sharif showed bold avatar in White One Piece, was seen in open hair
KKK11: Promo launch of 'Khatron Ke Khiladi' season 11
The season of 'Khatron Ke Khiladi 11' has started with a bang on the small screen. All the contestants have left for South Africa. Famous TV stars Divyanka Tripathi, Vishal Aditya Singh, Varun Sood, Rahul Vaidya, Abhinav Shukla, Anushka Sen and Shweta Tiwari will be seen in the list of contestants. All the contestants are very active on social media at this time, sharing many pictures and videos with the fans.
Recently all the contestants have shared the post in "Khatron Ke Khiladi 11" with director as well as host, tester Rohit Shetty. Now the promo of this most awaited series has come out. Its promo has been released by Rohit Shetty himself. It has also been announced that the show will soon be aired on TV.
What is shown in the promo
At the beginning of the promo, Rohit Shetty gets into the helicopter in a speed car. He is also seen having a conversation with a lion. Rohit Shetty has said on social media that 'Khatron Ke Khiladi 11' Der Vs Dare is going to come on Colors TV soon. The caption of the show will be aired soon. Along with Stunt Pilot, Warren is, in my opinion, the best stunt pilot in the world. After seven years and seven seasons, this guy seems to have changed a lot. But the spirit of the show is still there. Rohit Shetty announces the series in full swing.