Unlock: Discount is being implemented in Delhi, Maharashtra, UP from today, know what will open here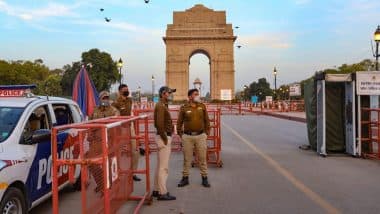 Delhi | Symbolic photo (Photo: PTI)
New Delhi: The havoc of the second wave of corona epidemic in the country seems to be decreasing. In such a situation, most of the states have started relaxing the corona curfew or lockdown. However, there are some states where there has been a decrease in corona cases but the state government does not want to take any risk. In such a situation, the churning is going on here regarding the lockdown. Let us know where the corona lockdown has been relaxed and where the restrictions have been increased.
unlocked in delhi
From Monday 7th June, Delhi Metro will run with 50 percent capacity and markets and malls will open on odd-even basis. The Kejriwal government has also given permission to open all the shops in the locality. Stand alone shops and nearby neighborhood shops will open daily from 10:00 am to 8:00 pm.
Liquor shops will also open with the new concessions being implemented from Monday. Government offices will also open, class-1 officers will work with 100 percent capacity and the rest with 50 percent capacity. Private offices will open from 9:00 am to 5:00 pm with 50 percent capacity.
Relaxation in UP too
Barring four districts of UP, the entire state has become corona curfew free. Here the markets will be able to open following the Corona rules. In government offices also 50 percent of the staff will be able to be present. Let us inform that there are now more than 600 active cases in Lucknow, Gorakhpur, Meerut and Saharanpur. Corona curfew is in force in these districts. The state government said in an official statement that the night curfew will be applicable from 7 pm to 7 am, while the corona curfew will be applicable on Saturday and Sunday.
Maharashtra
Unlock in Maharashtra will be in five levels. The cities of Maharashtra where the positivity rate is less than 5 percent and oxygen beds are less than 25 percent occupied will be fully unlocked. Under the second level, essential and non-essential shops will be allowed to open as per regular schedule in cities and districts where the infection rate is 5 percent and patients on oxygen beds are 25 to 40 percent.
The relaxation of restrictions under the third level will be applicable in places where the infection rate is five percent to 10 percent and oxygen beds are more than 40 percent occupied. The fourth level is for those places where the infection rate is 10 to 20 percent and oxygen bed recruitment is more than 60 percent. There the essential shops will remain open till 4 pm. Public places will remain open, but they will be closed on weekends.
In the fifth level, where the infection rate is more than 20 percent and more than 75 percent patients on oxygen beds, only essential shops will remain open till 4 pm.
Odisha: Vishwajit Nayak of Puri made a miniature statue of 'Lord Jagannath's Gajanan Besha' made from ice cream sticks, see photos
Odisha: Vishwajit Nayak of Puri has made a miniature statue of 'Lord Jagannath ki Gajanan Besha' using 1475 ice cream sticks. "It took me 15 days to make this 30-inch-long and 26-inch-wide idol. On the occasion of Devasan Purnima, I dedicate it to the devotees," he said.
Odisha | Puri's Biswajit Nayak has made miniature statue of 'Gajanana Besha of Lord Jagannath', using 1475 ice cream sticks. "It took me 15 days to make this 30-inches tall & 26-inches wide statue. On the occasion of Devasnana Purnima, I dedicate this to devotees," he said(23.06) pic.twitter.com/FZMstp7EF5

— ANI (@ANI) June 24, 2021
(With SocialLY get the latest breaking news, viral trends and all the news related to the world of social media. Here you will get live information about every content that is going viral on Twitter, Instagram and YouTube. The post shown above is unedited content, which can be sent directly to social media. Taken from the accounts of media users. Not modified or edited by Latestly staff. Social media posts do not represent the views and sentiments of Latestly, We assume no responsibility or liability for any content contained in this post do not accept.)
JP Nadda answered Congress leader P Chidambaram's questions on record vaccination, said- India is not running lame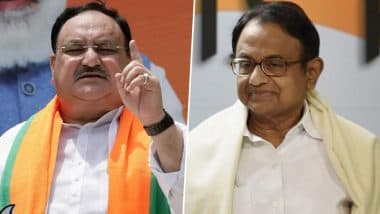 New Delhi: Bharatiya Janata Party President J.P. Taking a jibe at former Union minister P. Chidambaram for his remarks on the pace of vaccination, Nadda on Wednesday said India is not lame, but is running on the strength it has drawn from its citizens. Quoting Chidambaram's tweet, Nadda said, "India is not lame, but running on strength from its citizens. After the record set on Monday, there have been more than 50 lakh vaccinations on Tuesday and Wednesday also. The figures are enough to dislike the Congress. Actually, it is the culture of the Congress that when India makes a record, the party raises questions.
It is worth noting that earlier this month also former Finance Minister and Congress leader P. Chidambaram had accused the Center regarding the vaccination policy. However, he withdrew his statement after some time. Chidambaram had targeted PM Modi over the revised vaccine policy. P. Chidambaram tweeted, "Hoarding on Sunday, vaccinated on Monday and come back limping on Tuesday. This is the secret behind the world record of one day vaccination. I am sure this feat will find a place in the Guinness Book of Records.
Chidambaram taunted in the next tweet, "Who knows, maybe, the Nobel Prize in Medicine should be given to the Modi government. Modi hai to mumkin hai, should be read now, Modi hai toh miracle hai. After raising questions from Chidambaram Along with Union Minister Hardeep Singh Puri, BJP Yuva Morcha National President Tejashwi Surya has also attacked him and appreciated the steps being taken by the government.
.
Big statement of Union Minister Santosh Gangwar, women can now work even at night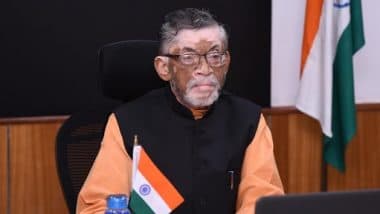 Union Minister Santosh Gangwar (Photo Credits PTI)
New Delhi: Union Labor and Employment Minister Santosh Gangwar has said that India is making collective efforts to reduce the gender gap in labor force participation. Women can now work at night also. He said that the country is ensuring equal pay for education, training, skilling, entrepreneurship development and equal work. Gangwar was delivering a ministerial address on the Declaration and Working Group priorities at the G-20 Labor and Employment Ministers' meeting here on Wednesday.
The Minister said that the new Code on Wages, 2019 will reduce gender-based discrimination in wages, recruitment and conditions of employment. Women are entitled to all types of work in all establishments. Employers have to ensure their safety and provision of working hours. Women can now work at night also.
Gangwar informed that the period of paid maternity leave has been increased from 12 weeks to 26 weeks. Under the Pradhan Mantri Mudra Yojana, financial assistance has been given to women entrepreneurs to start small enterprises. Under this scheme, collateral free loans of Rs. 9 thousand billion have been disbursed. About 70 percent of the accounts in this scheme are of women.
The Labor and Employment Minister said that in the new code on social security, now self-employed and all other sections of the work force can also be included under the ambit of social security coverage. In the voluntary and contributory pension scheme launched in 2019 for workers in the unorganized sector, there is a provision of minimum assured pension after 60 years of age.