The fan reached Mumbai from Hyderabad on foot barefoot to meet Sonu Sood, the actor made this appeal to the people by sharing the photo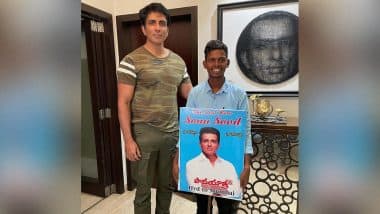 Sonu Sood with a fan (Image Credit: Instagram)
during the corona pandemic Sonu Sood The true passion and loyalty with which Sonu Sood has served the people of the country. He won the hearts of crores of countrymen. This is the reason that millions of people consider him as their God. For Sonu Sood on social media, this crazy of people is made on seeing. In such a situation, now the actor shared a photo with one of his fans. Along with sharing this photo, what Sonu wrote tells how Sonu's fan following is among the people.
While sharing the photo with this fan, Sonu Sood said that Venkatesh, this boy has come to Mumbai from Hyderabad to meet me barefoot. However, transportation was arranged for his arrival. It really is a motivator. Although Sonu Sood definitely wrote this in the last that I will not inspire anyone to take such a step. Lots of love to you all.
By the way, let us tell you that Sonu Sood is going to set up 18 oxygen plants across the country. Which has started from the cities of Nellore and Kurnool in Andhra Pradesh. Sonu said in one of his statements that oxygen plants are being installed in needy hospitals. Where there will be 150 to 200 beds. With this, there will be no shortage of oxygen in those hospitals.
Bhojpuri stars got emotional in his memory on Sushant's first death anniversary!
Bollywood actor Sushant Singh Rajput is no more in the world and today is his first death anniversary. Sushant passed away on this day. He was found dead in his flat on June 14, 2020. Now on his first death anniversary, hundreds of posts are coming on social media remembering him. People are remembering Sushant by posting fast. Sushant's fans are remembering him by sharing his pictures and videos, expressing their feelings towards him. This list includes stars from Bollywood to entertainment who are remembering Sushant today.
The same list also includes the Bhojpuri film industry where many actors have paid tribute to Sushant through social media and shared emotional posts. The list includes the names of actors Khesari Lal Yadav, Akshara Singh and many more who have posted messages for Sushant through social media. You can see Khesari Lal Yadav writes in his post: 'Sushant Bhai, I bow to you on your death anniversary. This post is not being written while sharing. I'm sad, my mind is broken. #RestInPower bro. #Sushant Singh Rajput'
Apart from him, Kajal Raghavani has written- 'Good people should die, but death cannot kill their fame', many such celebs have posted. You must be aware that Sushant Singh Rajput was found dead in his apartment in Mumbai's Bandra area and NCB is continuously taking action in the drugs case related to the actor's death and CBI is also investigating the matter.
.
Tollywood Varalakshmi: Vaccination is the only solution
Actress Varalakshmi Sarathkumar has been making entertaining videos to reach out to people to get messages and information related to COVID-19 and share them on her social media handles. even, and in other relief measures activities, keeps him busy,
Like last year, I was helping migrant workers and I realized that many of us do not know how to deal with the situation. There were so many things that amazed us. But last year taught us a lot and prepared us better for the second wave. We know what problems come with lockdown. Our organization, Save Shakti Foundation, started feeding stray animals and we continue to do so throughout the year, apart from helping victims of domestic violence and child abuse. We all understand the gravity of this disease and hope people stay at home and take proper precautions while stepping out.
You turn on a news channel and you will see deaths and infections and it is quite depressing. So, the director in me started working and came up with some videos. I have personally seen many people who wear a mask around their chin or neck, or do not cover their nose and mouth properly with it. When I spoke to a group of people, I thought they were concerned that getting vaccinated could lead to death. But I wanted to clarify that the person they are talking about died because of other complications and not because of vaccination. Some people are afraid of getting headache and fever. Even in childhood, when we used to get vaccinated, it was normal to have mild body ache and fever. So why be afraid of him now?
If all goes well with the vaccination camps, I think we can start shooting again by July-August. I have signed seven films in Telugu and I am looking forward to start working on them.
.
Lakshadweep: Filmmaker Aisha Sultana applied for anticipatory bail in Kerala High Court, name implicated in sedition case
Filmmaker Ayesha Sultana of Lakshadweep, during a TV debate, had accused Kovid-19 of being a central government conspiracy and used it as a bio-weapon on the local people there. In this regard, the Lakshadweep police had registered a case of sedition against him. Now Ayesha has approached the Kerala High Court for her anticipatory bail.
Lakshadweep-based filmmaker Aisha Sultana approaches Kerala High Court seeking anticipatory bail in sedition case against her

FIR was registered against her on sedition charges after she, in a TV debate, said Center deployed COVID as a 'bio weapon' against people of Lakshadweep

— ANI (@ANI) June 14, 2021
(With SocialLY get the latest breaking news, viral trends and all the news related to the world of social media. Here you will get live information about every content that is going viral on Twitter, Instagram and YouTube. The post shown above is unedited content, which can be sent directly to social media. Taken from the accounts of media users. Not modified or edited by Latestly staff. Social media posts do not represent the views and sentiments of Latestly, We assume no responsibility or liability for any content contained in this post do not accept.)