Story of passion: Surekha Yadav, India's first woman train driver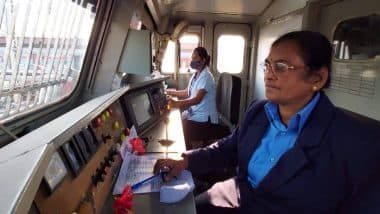 SUREKHA YADAV ( PHOTO CREDIT TWITTER )
It is said that the world can be won on the strength of courage and hard work. Surekha of Satara district of Maharashtra also won the world. A world in which only men were responsible for running the train on the tracks. A world where men had the monopoly to run the train. Surekha became the first loco pilot in that world. Many people would be surprised to see Surekha sitting on the driver's seat in the train. But Surekha's smile and confidence has created a ray of hope among thousands of women. Come, let us tell you the tales of India's first woman train driver Surekha Yadav.
Born in Satara, Maharashtra, Diploma in Engineering
Surekha Yadav was born in the year 1965 in Satara district of Maharashtra. His father's name is Ramchandra Bhonsle and mother's name is Sonabai. She is the eldest among five siblings. He completed his elementary education in the district itself. Even when the time came for further studies, Surekha's choice took everyone by surprise. In the eighties, engineering was mostly studied by boys. But Surekha decided that she would also do a diploma in electrical engineering. She set an example for other girls by choosing this subject. After completing her diploma, Surekha started trying for a job.
The path of the loco pilot was decided like this
One day after completing her studies, Surekha saw the notification of loco pilot recruitment. He applied. When she reached the entrance examination hall to take the exam, she was in awe. Not only Surekha but also the controller of examination and the rest of the candidates. The reason for Surekha's surprise was that she was present in that examination hall as the only female candidate. You must have guessed why other people were getting surprised. Surekha tells that, she did not know that till now no woman has been selected for this work. Surekha Yadav did not know that she was going to create history. Surekha passed the various stages of the exam and got selected. Also read: NGT seeks report from Maharashtra Pollution Control Board on violation of environmental rules
This is how India got the first woman train driver
Surekha, selected in the exam, completed six months of training. After this he was appointed to the post of Assistant Driver in 1989. In this way Surekha Yadav became the first woman in India to drive a train. He worked in Railways for 29 years. Driven everything from local train to express train and goods train. In the year 1998 she became the driver of goods train and in 2011 was appointed as the driver of express train. During his service in the Indian Railways, he fulfilled every responsibility very well. She also plays the role of a trainer in the training center of Indian Railways.
Asia's first female driver was awarded in the year 2011
The Women's Day of the year 2011 gave the biggest gift of life to Surekha Yadav. On this day she got the title of being the first female driver of Asia. Surekha was driving on the CST route from Deccan Queen in Pune. It is considered the most dangerous route. Surekha got this honor only after running the train on this track. Even though Surekha was honored with this title, it was not just her honor, it was an invitation to thousands of women to fulfill their dreams by crossing the threshold. It was a call to women, to muster up the courage to do whatever they want to do. Never stop their footsteps thinking that such a field of work is only for men. This is the inspiration coming from the life journey of Surekha Yadav.
Maharashtra: Sanjay Raut's big statement, said- Uddhav Thackeray will remain CM for 5 years, after two and a half years told the news of change of chief minister as rumor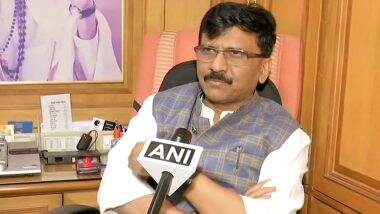 Shiv Sena MP Sanjay Raut (Photo Credits-ANI)
Mumbai: In Maharashtra, it seems that all is not well in the Maharashtra Mahavikas Aghadi alliance. Because news was flying about Maharashtra Mahavikas Aghadi government that the CM of Shiv Sena would be changed after 2.5 years. Regarding these reports, Shiv Sena spokesperson Sanjaya Raut said in a conversation with the media on Sunday that whatever news is flying about the Maharashtra government is a rumour. When 3 parties formed the government, they committed and decided that CM would be Uddhav Thackeray for 5 years.
Actually, where the closeness between Shiv Sena and NCP is increasing on one side. At the same time, the Congress included in the government is feeling isolated in this alliance. The latest example of this is the statement of Congress state president Nana Patole in which he has spoken of fighting alone in all the coming elections. Patole has said that the Congress will fight all alone from the local body elections to the assembly elections. Also read: Shiv Sena was considered a slave in the previous BJP government in Maharashtra: Sanjay Raut
Sanjay Raut told the news a rumour:
It's a rumor that Shiv Sena CM will be replaced after 2.5 years. When 3 parties formed govt, they committed & decided that CM will be Uddhav Thackeray for 5 years. If someone talks about this, then it is nothing but lie & rumor: Shiv Sena leader Sanjay Raut pic.twitter.com/0jYpBGpcYT

— ANI (@ANI) June 13, 2021
Let us tell you that there is a government in Maharashtra consisting of three parties, Congress, NCP and Shiv Sena. Uddhav Thackeray is the Chief Minister from Shiv Sena in the alliance of the three parties. But in recent times it has been seen that there is a tussle going on in Maharashtra Mahavikas Aghadi. Except Shiv Sena, there are allegations of Congress leaders in Congress and NCP. They are not consulted before taking any major decision.
Update Weather: Chances of rain and thunderstorms in next three to four days in Rajasthan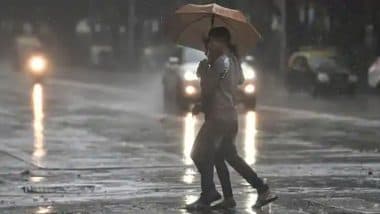 rain | Symbolic Image (Photo Credits: PTI)
Jaipur, June 13 : In Rajasthan's Bikaner, Jaipur, Bharatpur, Jodhpur, Udaipur and Kota divisions, there is a forecast of rain with half in the next three-four days and a drop of two to three degrees Celsius in most parts of the temperature. Director of Jaipur Meteorological Station R. s. Sharma said that there is a possibility of heavy rain with thunderstorm / dust storm in some parts of North Rajasthan on Sunday. In the districts of Bikaner, Jaipur and Bharatpur divisions, there is a possibility of sudden strong winds, dust storm (wind speed 40 to 50 kmph) accompanied by thunderstorms. During this, there is a possibility of thunderstorms at some places in these districts.
Apart from this, thunderstorms are expected to continue for the next three-four days, he said. On June 15, once again there will be an increase in the activities of thunderstorms in Jodhpur and Bikaner divisions of western Rajasthan. During this, strong thunderstorms, wind speed up to 40 to 60 kilometers per hour can be recorded. According to Sharma, there is a strong possibility of heavy rain with thunderstorm on June 15-16 in the districts of Ajmer, Jaipur, Bharatpur Kota division. In Udaipur and Kota divisions also, rain with thunderstorm is expected on June 15-16-17. According to the Meteorological Department, in the last 24 hours, three centimeters in Dholpur in East Rajasthan, three centimeters in Rupbas in Bharatpur, two in Basedi in Dholpur, two in Sapou in Dholpur, Gangapur in Sawai Madhopur, Bamanwas, Bhuhana in Jhunjhunu, Behrod in Alwar, Kotkasim. One centimeter rain was recorded in Rajkheda in Dholpur and one centimeter in Rawatsar, Bhadra and Tibi of Hanumangarh in western Rajasthan. Also read: COVID-19 Update: 255 new cases of Kovid-19 surfaced in the national capital Delhi, 23 patients died
According to the department, Sawai Madhopur and Bundi were the hottest places in the last 24 hours with a maximum temperature of 44 degrees Celsius till Sunday morning. The maximum temperature was recorded at 43.9 in Pilani, 43.6 in Churu, 43.5 in Karauli, 43.2 in Kota, 42.8 in Ganganagar, 42.3 in Pali, 41 in capital Jaipur and below 40 degree Celsius at other major places. At the same time, the minimum temperature in most parts of the state was recorded in the range of 30.9 degree Celsius to 24.1 degree Celsius.
COVID-19 Update: 255 new cases of Kovid-19 surfaced in the national capital Delhi, 23 patients died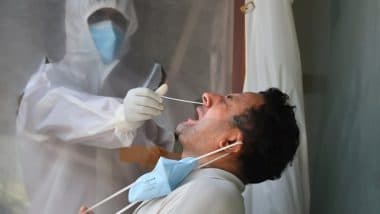 Person getting tested for Corona (Photo: PTI)
New Delhi, June 13 : The lowest number of 255 new cases of coronavirus were reported in the national capital on Sunday since April 7, and 23 patients died and the infection rate came down to 0.35 percent. According to the bulletin of the Health Department, with the death of 23 patients on Sunday, 24,823 people have lost their lives due to this epidemic in the national capital.
The lowest number of 213 new cases were reported in Delhi since March 9 on Saturday, 238 on Friday, 305 on Thursday and 337 on Wednesday. Due to this infection in the city, 28 people lost their lives on Saturday, 24 on Friday, 44 on Thursday and 36 on Wednesday. Also read: Dr. Indira Hridayesh Death: Senior Congress leader Dr. Indira Hridayesh is no more, Rahul Gandhi expressed grief
According to government data, the infection rate in the national capital was 0.3 on Saturday and Friday, 0.4 on Thursday and 0.5 percent on Wednesday.