Solar Eclipse 2021: How To See The 'Ring Of Fire' Without Harming Your Eyes, Keep These 5 Things In Mind While Watching The Solar Eclipse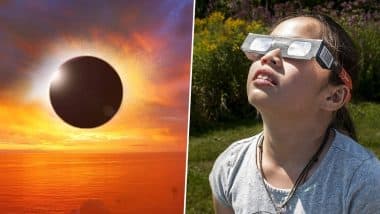 Solar Eclipse 2021 / Symbolic Image (Photo Credits: Pixabay)
Solar Eclipse 2021: After the first lunar eclipse of the year, now the first solar eclipse of the year 2021 is happening on June 10. The eclipse will start at 1.42 pm and will end at 6.41 pm. Although this eclipse will be visible only in parts of Arunachal Pradesh and Jammu and Kashmir in India, this celestial event will not be visible in any other state. The first solar eclipse of the year is the annular solar eclipse. This astronomical event occurs when the Moon comes between the Sun and the Earth. In an annular solar eclipse, the Moon covers the center of the Sun. This event is also known as Ring of Fire.
Although many people like to see the sight of the solar eclipse, but watching the solar eclipse with the naked eye can not only damage your eyes, but it can also lead to the illuminating of your eyes. In such a situation, if you want to see the view of the solar eclipse without harming your eyes, then you should take special care of these 5 things.
5 Tips for Watching Solar Eclipse
One should avoid looking at the sight of solar eclipse with open eyes. Along with this, do not look directly at the sun with open eyes.
Use special solar filters, which are certified for eclipse viewing. Such as special eclipse viewing glasses or a solar viewer used by hand. Avoid using DIY homemade filters or plain sunglasses.
Do not look at the Sun through the lens of a camera, telescope, binoculars or any other optical instrument, as they can cause serious eye injury. Also read: Solar Eclipse 2021: Know What To Do And Not To Do Even In Partial Solar Eclipse!
Do not use scratched or damaged solar filters. Always inspect them before use and avoid using them if they are damaged.
If you don't have time to buy a solar filter, you can learn how to make a sun viewer through certified channels. The Exploratorium provides tutorials on building a pinhole projection that is a safe way to observe the Sun indirectly.
It is worth noting that according to astrological beliefs, eclipse can be seen anywhere, whether it is visible or not, but it has a negative or positive effect on human life. It is considered taboo to do many tasks during the eclipse period. However, by keeping these things in mind, you can see the view of the solar eclipse without harming your eyes.
Must try this herbal pack at home, it will glow on the face
Nowadays we are not able to take care of our skin in our hectic life and this is the reason why freckles and scars cannot hide the spots and it looks very bad on the face.
Today we are going to tell you about face pack of grapes and sugar in this article, by adopting which you can enhance your face, there is no doubt about it.
First of all you will need only 2 spoons of grapefruit juice, one spoon of curd and two spoons of sugar.
Grape juice has to be mixed in the curd first, after that add sugar to it and stir a little. Blend this again.
Then with the help of your fingers, apply the mixture on your face and massage gently.

Leave it like this for half an hour and after washing them in a little hot water, the water should not be too hot, doing this for a few days will bring a glow on your face.
.
Pregnant women should eat these things, know otherwise you will repent
Every woman dreams of becoming a mother, let us tell you that during pregnancy, doctors also advise the family members of the woman to pay a lot of attention to her health during pregnancy and at this time there is a lot of tension about food.
Let us tell you that women should include protein and nutrition in pregnancy, according to doctors, green leafy vegetables like fig complete milk should be consumed so that women do not have problems during pregnancy, apart from this, you can also include things like lentils and ghee. Apart from this, you can also eat fiber rich fruits.
Let us tell you that doctors advise women during pregnancy to be active and drink as much water as possible and eat as much salad as possible.
.
Do not keep these things near the head while sleeping, these problems may come
Friends, let us tell you that there are many such things in astrology and religious scriptures, which may have to face many problems by keeping them in the sleeping room. According to the scriptures, keeping some things near the head while sleeping at night has a negative effect on the health, wealth and worldly pleasures of the person. Come friends, know why these things should not be kept while sleeping in the bedroom
According to the scriptures, let us tell you that do not sleep by keeping water at the head, because of this the moon suffers and the person gets problems like mental illness.
Friends, tell you that do not sleep with a purse on your head, it increases the expenditure on unnecessary things.
Friends, do not sleep with gold and silver jewelry on your head. This weakens the luck.
According to the scriptures, do not sleep with nail cutters, blades and scissors, etc.
Friends, keeping the key of any metal other than iron increases the chances of theft. Keeping shoes and slippers gives nightmares.
.