SHOCKING: In Haryana's Rewari, a 10-year-old girl was raped by many children in school, FIR registered after the video went viral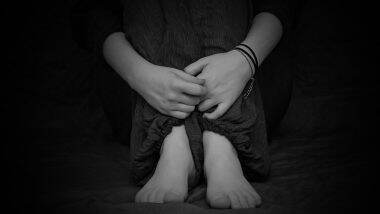 Symbolic Image (Photo Credits: File Photo)
Chandigarh: A shocking case has come to light from Rewari district of Haryana. In a village school here, many children have done abominable work with a 10-year-old girl. Rewari Deputy Superintendent of Police (DSP) Hansraj said that a 10-year-old girl was reported raped in the village. Among the rapists are 10-12 year olds and an adult boy. On 24th of last month, everyone raped together and made a video. Gang rape case: Three accused arrested after encounter
After the video went viral, the family members came to know about this. DSP Hansraj said that a total of 7 children were involved in this incident. The children were taken into custody after registering a case. While an adult boy was arrested and produced in the court. However, the arrest of one boy is still pending. Along with this, the police are also searching for the boys who have made the video viral.
According to the information received, the girl was allegedly raped inside the school and some of the accused made a video of this act and spread it locally. When this video reached the girl's father, he lodged a complaint. The DSP said, "The girl was playing in the school premises near her house. The accused took him inside the school and committed the crime.
After the video went viral, it came to the notice of the family members yesterday. There were 7 children in total. The children were taken into custody after registering an FIR. An adult boy was arrested and produced in the court. One boy is yet to be arrested. Looking for the boys who made the video viral: DSP Hansraj https://t.co/sJJyYKXGAz

— ANI_HindiNews (@AHhindinews) June 11, 2021
According to the police, when this incident happened on May 24, the school was closed due to summer vacation but some children including the victim were playing there. Rewari DSP Hansraj confirmed that seven minor boys and an 18-year-old youth were involved in the incident.
An official of the Mahila police station said that some accused have been booked for rape and some others have been accused of making videos. Police said that except one, all the other accused are minors. The minors have been sent to the monitoring center while the 18-year-old accused has been arrested. Right now the investigation of the police matter is going on.
Indian SIM cards were being used in China for fraud, agencies engaged in investigation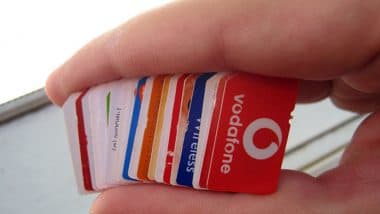 SIM Card (Photo Credits: Flickr)
New Delhi: Indian agencies are engaged in getting details of 1,300 SIM cards, as they were allegedly being used by a gang of Chinese to hack accounts and commit financial fraud, a suspicious activity of a Chinese intelligence agency. is. A source said that all telecom operators have been directed to report to the agencies concerned at the earliest if any suspicious link is found related to any SIM card being operated from outside India.
According to the information, agencies have asked these telecom operators to make a list of all Indian SIM cards operating from China since 2010. The move came after agencies learned that 1,300 SIM cards were used to hack accounts and commit other financial frauds. This was revealed during the interrogation of Han Junwe, a Chinese infiltrator who was arrested on Thursday. Also read: India-China Border Tension: Joint statement of armies, said – India and China agreed not to send more troops to the front
Revealing the shocking fact, 36-year-old Chinese national Han, who has been a wanted criminal in India, informed agencies that he has taken around 1,300 Indian SIM cards from India since 2010 using fake documents. .
Han used to hide the SIM card in his undergarments and send it to China through his associates. The Border Security Force (BSF) arrested a suspected Chinese spy who allegedly entered Indian territory by crossing the India-Bangladesh border in Malda district of West Bengal. A BSF official who arrested him said, these SIM cards were used to hack accounts and commit other financial frauds.
The BSF, which is responsible for guarding the 4,096-km Indo-Bangladesh border, said the aim was to trick people into using SIM cards to withdraw their money from money transaction machines. The agencies have also raided the hotel of the Chinese national, which he is running from Gurugram under the name Star Spring, where some of his Chinese associates were working.
Han, who is now in the custody of West Bengal Police for further legal proceedings along with the confiscated items, has been kept under the border post Malik Sultanpur. He was arrested and remanded in custody when he was trying to cross the India-Bangladesh International Border (IB) illegally.
Han, a resident of the Chinese city of Hubei, entered Bangladesh on June 2. Interrogation and his recovered passport revealed that Han arrived in Dhaka on June 2 on a business visa and lived there with a Chinese friend. The statement said that on June 8, he came to Sona Masjid in Chapainwabganj district (Bangladesh) and stayed in a hotel there. He was trying to enter Indian territory on Thursday, during which he was caught by BSF personnel.
During interrogation, the Chinese national told that even before this he has come to India four times. He had come to Hyderabad in 2010 and Delhi-Gurugram thrice after 2019. He visited India more than four times.
Upon further questioning, Han said that when he went to his hometown of Hubei, one of his business partner Sun Jiang would send him 10 to 15 Indian mobile phone SIMs a few days later, which he and his wife had received. But a few days ago his business partner was caught by the Anti-Terrorism Squad from Lucknow.
He said that a case has been registered against him and his wife after their business partner revealed their names to the ATS and because of this they did not get Indian visa in China. He got visas for Bangladesh and Nepal, which cleared the way for him to come to India. Soon after Han's business partner was arrested by ATS Lucknow on several charges, the process of issuing a Blue Corner Notice against him was initiated.
One Apple laptop, two iPhone mobiles, one Bangladeshi SIM, one Indian SIM, two Chinese SIM, two pen drives, three batteries, two small torches, five money transaction machines, two ATMs and MasterCard, US dollars, from Chinese national. Bangladeshi Taka and Indian Rupee have been recovered. The agencies are now investigating the gadgets recovered from the possession of the Chinese national.
Assam: On suspicion of being a cow thief, a person was beaten to death by a furious mob.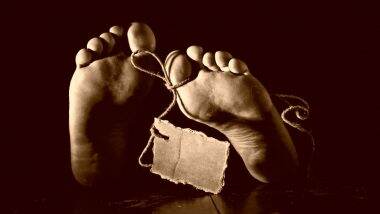 Symbolic photo (Photo Credits: Facebook)
Tinsukia, June 12: A 28-year-old man, suspected to be a cow thief, was lynched by a mob on Saturday in a village in Assam's Tinsukia district. However, the victim's accomplice fled the spot.
Tinsukia Superintendent of Police Debojit Deori told PTI that the incident took place in the early hours today at Korzonga Borpathar village under Bagjan police station in the district, when the two were found in a house near a shed built for keeping cows. Gone.
West Bengal: 4,286 new cases of COVID-19 were reported in the last 24 hours, 81 died
Kolkata, June 12: In the last 24 hours in West Bengal, 4,286 new cases of Kovid-19 (COVID-19) have been reported. During this 3,149 people were discharged and 81 deaths were recorded.
Total cases: 14,57, 273
Total Discharge: 14,24,213
Total deaths: 16,812
Total active cases: 16,248
West Bengal reports 4286 new #COVID19 cases, 3149 recoveries and 81 deaths in the last 24 hours.

Total cases 14,57, 273

Total recoveries 14,24,213

Death toll 16,812

Active cases 16,248 pic.twitter.com/PD6Js2M0fl

— ANI (@ANI) June 12, 2021
(With SocialLY get the latest breaking news, viral trends and all the news related to the world of social media. Here you will get live information about every content that is going viral on Twitter, Instagram and YouTube. The post shown above is unedited content, which can be sent directly to social media. Taken from the accounts of media users. Not modified or edited by Latestly staff. Social media posts do not represent the views and sentiments of Latestly, We assume no responsibility or liability for any content contained in this post do not accept.)