Shocking! A man from Kerala hid his girlfriend in his room for 10 years, the family did not know, know how the open pole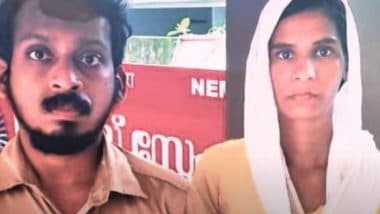 The man kept his girlfriend hidden in his house for 10 years (Photo Credits: YouTube)
A shocking incident has come to light from Ayilur village near Palakkad in Kerala. According to reports, a 34-year-old man hid his 28-year-old girlfriend in his house for about 10 years, but what is even more surprising is that none of his family members came to know about it. It is being told that the girlfriend left her parents' house and spent 10 years in a small room with her lover and no one was aware of it. The room was such that it could be locked from inside and outside. The woman used to come out of her room only to take a bath at night.
It is being told that Rehman had gone missing from his house three months ago. On Tuesday, when his brother saw him, then the whole matter could be exposed. When the police intervened, Rahman narrated his own past. After this, the man and his girlfriend were produced in the court, where the woman said that she wanted to live with her lover, after which they were let go. According to the Nanmara police, Mohammad Ghani's son Rehman fell in love with a girl named Sajita who lived in the neighborhood. Fearing opposition from family members, Sajita left her house on 2 February 2010, after which Rehman hid her in his room and the man's parents were not even aware of this. Also read: Shocking! To win the lottery, the girl made a sacrifice deal with the devil, brutally put two sisters to death
Apart from his parents, his sister also lived in Rahman's house. However, after leaving the house of Sajita, her family members had also filed a missing person case in the police station 10 years ago and in this case the police had questioned many people including Rehman. Nearly 10 years later, on March 3, 2021, Rahman's family members filed a missing report of the son at the Nenmara police station and on Tuesday his brother saw him traveling on a two-wheeler in the town of Nenmara.
Rahman's brother then sought help from some policemen who were inspecting the vehicle nearby, after which the police stopped Rahman and took him to the police station. Rahman told the police that he has been living with his girlfriend in a rented house in Vithunassery for three months. After this, Sajita was also called to the police station, where on interrogation, Rehman told her story. Police say that Rahman kept his girlfriend hidden in his room, so that he used to behave strangely with his parents, so that they felt that she was suffering from depression. Police say that Rahman did not like that someone came near his room.
Tamil Nadu Unlock: CM MK Stalin's big statement, said – relaxation will be withdrawn if the rules are not followed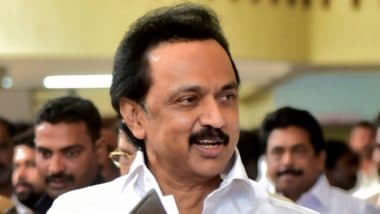 CM MK Stalin (Photo credits: ANI)
Chennai: Tamil Nadu Chief Minister MK Stalin has warned the people of the state that if the Corona Protocol is not followed, the relaxations implemented from Monday can be withdrawn. In a video appeal released on June 14, the Chief Minister of Tamil Nadu said that the norms have to be followed with relaxation in the lockdown, failing which the lockdown can be withdrawn at any time. Tamil Nadu: Permission has been given to open parks, salons, beauty parlors, spas and tea shops from 6 am to 5 pm from today in 27 districts including Chennai.
Stalin said if people follow the rules, the state can go ahead and steps can be taken to open schools and colleges along with allowing the service of public transport.
However, he thanked the people of Tamil Nadu for adhering to the restrictions during the last few weeks and said that the restraint shown by the people has helped in reducing the number of COVID positive cases.
The Chief Minister of Tamil Nadu also said that people should not ignore the norms of Kovid. He also called upon people not to crowd in front of tea shops. He also said that despite heavy criticism, the government has opened liquor shops to prevent people from consuming illegal and smuggled liquor.
Karnataka: Yediyurappa government will give Rs 1 lakh if ​​a working member of a BPL family dies of COVID
In Karnataka, on the death of an adult working member of a Below Poverty Line (BPL) family, a compensation of Rs.
If an adult working member from a Below Poverty Line (BPL) family dies due to COVID, one member will get Rs 1 lakh compensation: Karnataka CM BS Yediyurappa

(file photo) pic.twitter.com/7UNnjnsEPo

— ANI (@ANI) June 14, 2021
(With SocialLY get the latest breaking news, viral trends and all the news related to the world of social media. Here you will get live information about every content that is going viral on Twitter, Instagram and YouTube. The post shown above is unedited content, which can be sent directly to social media. Taken from the accounts of media users. Not modified or edited by Latestly staff. Social media posts do not represent the views and sentiments of Latestly, We assume no responsibility or liability for any content contained in this post do not accept.)
All centrally protected monuments/sites and museums to be opened from June 16: Archaeological Survey of India
Protected monuments/sites and museums to be opened:
All Centrally protected monuments/sites and museums under ASI will be opened from 16th June: Archaeological Survey of India pic.twitter.com/Kig3w0AEEt

— ANI (@ANI) June 14, 2021
(With SocialLY get the latest breaking news, viral trends and all the news related to the world of social media. Here you will get live information about every content that is going viral on Twitter, Instagram and YouTube. The post shown above is unedited content, which can be sent directly to social media. Taken from the accounts of media users. Not modified or edited by Latestly staff. Social media posts do not represent the views and sentiments of Latestly, We assume no responsibility or liability for any content contained in this post do not accept.)