SHG-95 Mask: This hybrid multiplier face mask may be better for you than N-95, know the specialty and price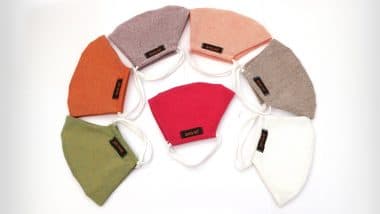 SHG-95 (Photo Credits: Twitter)
Hybrid Multiply Face Masks SHG-95: The COVID-19 (COVID-19) pandemic has wreaked havoc on humans all over the world. In the current situation, the first line of defense includes sanitizers, face masks and social practices to avoid Kovid-19. The World Health Organization has recommended wearing a mask. He has also said that wearing a mask limits the spread of Kovid-19. In this regard, the N-95 face mask has been considered especially more effective. This mask reduces the process of transmission of the virus from the affected person to the healthy person in a more effective way. However, N-95 masks are inconvenient for many people and most of these masks are not washable. Higher risk of spreading corona virus due to non-mask conversation in homes: Study
Biotechnology Industry Research Assistance Council (BIRAC) and IKP Knowledge Park under fast-track COVID-19 funding in this regard Refinement Technologies Pvt. To develop a hybrid multiplicity face mask made of composite materials with multiple layers. It is called SHG-95 (Billion Social Mask). These 'Made in India' masks can block about 90 percent of the polluted particles and about 99 percent of the bacteria. These masks are made in such a way that there is no problem in breathing and there is a comfortable loop to tie them on the ears. The masks are of hand-woven cotton fabric. Their advantage is increased by applying a filter surface. The cost of hand wash and reusable masks has been kept by the company at 50-75 per mask, which is quite affordable for the common people.
Safety & Comfort to the user and Livelihood for the Artisans – this is what SHG-95 masks offer! Thank you @AIC_CCMB for supporting #BillionSocilaMaks initiative @gchallenges @BIRAC_2012 @AIMtoInnovate @IKP_SciencePark @samhitadotorg @DrChintan_V @SEWAFed @SaheliWorld @TataPower pic.twitter.com/dHP9MNTlR9

— Parisodhana Technologies (@parisodhana) April 25, 2021
It is noteworthy that 1,45,000 pieces have been sold. The initiative is also being supported by Grand Challenges of Canada. It is being constructed keeping in mind the increasing demand of the time of Kovid-19. Under this, the livelihood of many self-help groups has also improved. Refinement Technologies Pvt. Ltd. Its founders have tried to find solutions to combat today's problems. For this they did research and developed a product at a cheap rate.
About DBT
The Department of Biotechnology is under the Ministry of Science and Technology and works to accelerate the development of biotechnology in India. This includes the use and development of biotechnology in agriculture, health, animal science, the environment and industry.
Hybrid Multiply Face Masks: An Alternative to N95 Respirator

️Provide high particulate (>90%) & bacterial filtration efficiency (>99%)

️Supported by @BIRAC_2012 under Fast Track #COVID19 Fund

️145000+ units sold

https://t.co/e62yxDZBgp@drharshvardhan @RenuSwarup pic.twitter.com/kAFTteg9SW

— BiotechIndia (@DBTIndia) June 10, 2021
about the barracks
Biotechnology Industry Research Assistance Council is a not-for-profit organization set up by the Department of Biotechnology under Section 8, Schedule 'B' of the Public Sector Undertakings. It is an interface agency of the Government of India, through which emerging biotechnology enterprises are empowered to undertake strategic research and innovation and develop the products required by the country.
Refinement Technologies Pvt. Ltd. about
Refinement Technologies Pvt. Ltd. Currently engaged in the development of health and wellness related products. Its team has world's experience and has been trained in premier institutions. Based on this they are solving problems in the Indian context. It was registered as a Private-Limited Company on June 2016 in Hyderabad.
Karnataka: Corona infection slowed down, patients recovering fast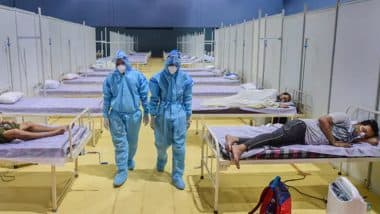 Kovid Ward (Photo Credits: PTI)
Bengaluru, June 13 : In Karnataka, the havoc of Corona seems to be decreasing rapidly. For the past few days, the number of people getting healthy has increased in comparison to new cases in the state. A total of 19785 new cases were registered in the state on Saturday while 21614 people returned home after recovering. In the last 24 hours, 144 patients died due to infection. The state health bulletin said that 9,785 cases were registered on Saturday. The number of corona victims in the state increased to 27,57,324, including 1,91,796 active cases, while 25,32,719 people have recovered. 21,614 patients were discharged in the last day.
With Bengaluru as the main epicenter of the pandemic in the state, 2454 fresh cases were reported. In this way, the total number of infected people here increased to 11, 95, 340. Out of this, 88,795 are active cases while 10,91,260 have been recovered. In the last 24 hours, 5,398 patients were discharged. The virus killed 144 people in the last 24 hours, including 21 in Bengaluru. The number of people living in the state has increased to 32,788 and the death toll in the city has gone up to 15,284. Also read: COVID-19 Update Assam: 3,463 new cases of Kovid-19 in Assam, 42 patients died
Out of 1,48,02 tests conducted across the state during the day, 26,999 include rapid antigen detection and 1,21,028 RT-PCR. Meanwhile, 64,681 people above 45 years and 88,323 people in the age group of 18-44 years were vaccinated across the state during the day. In this way, a total of 1,58,572 people were vaccinated in the state during the day.
COVID-19 Update Assam: 3,463 new cases of Kovid-19 in Assam, 42 patients died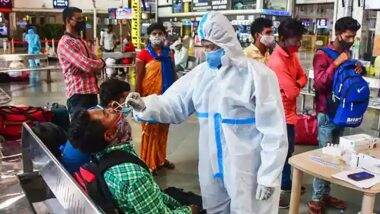 Person getting tested for Corona (Photo credit: PTI)
Guwahati, June 13 : After 3,463 new cases of Kovid-19 were reported in Assam on Saturday, the total number of infected people increased to 4,57,330 while the death toll increased to 3,915 due to the death of 42 more patients. The National Health Mission (NHM) of Assam gave this information.
The number of patients under treatment for Kovid-19 (COVID-19) in the state has increased to 43,298. In Assam, 5,600 patients have become infection free in the last 24 hours. So far, 4,08,770 people have defeated the infection of this deadly virus in the state. Also read: Corona curfew extended till June 21 in Goa to save from rising cases of COVID-19
The infection rate has gone up to 3.66 percent. According to NHM, 47,51,926 doses of anti-Covid vaccine have been given in the state so far.
Ambala: Police and excise team recovered illegal liquor, DSP said – from where these 2 trucks have been brought, it will be investigated
Ambala: Police and excise team recovered illegal liquor, DSP said – from where these 2 trucks have been brought, it will be investigated-
Haryana | Ambala police and excise department seized two trucks loaded with illicit liquor in Mandour village yesterday

"Probe is underway," says police. No arrest has been made so far. pic.twitter.com/e9GYBlTDec

— ANI (@ANI) June 13, 2021
(With SocialLY get the latest breaking news, viral trends and all the news related to the world of social media. Here you will get live information about every content that is going viral on Twitter, Instagram and YouTube. The post shown above is unedited content, which can be sent directly to social media. Taken from the accounts of media users. Not modified or edited by Latestly staff. Social media posts do not represent the views and sentiments of Latestly, We assume no responsibility or liability for any content contained in this post do not accept.)