SDG India Index 2020-21: Kerala tops in NITI Aayog's SDG India Index 2020-21, Bihar's worst performance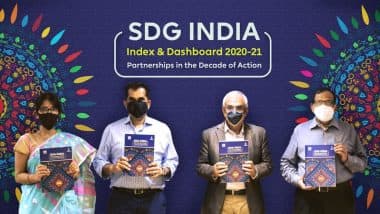 SDG India Index 2020-21 (Photo Credits: Niti Aayog Twitter)
New Delhi, June 3. Kerala has retained the top position in NITI Aayog's Sustainable Development Goals (SDG) India Index 2020-21, while Bihar has been the worst performer in it. This Index of Sustainable Development Goals (SDGs) evaluates the progress of states and union territories on social, economic and environmental parameters. The SDG score at the country level has increased from 60 to 66 points with an improvement of six points in 2020-21. NITI Aayog said in a statement that a positive effort was made to achieve the targets across the country mainly driven by exemplary performance in the areas of clean water and sanitation and affordable and clean energy. According to a report, Kerala retained its position as the top state with 75 points, while Himachal Pradesh and Tamil Nadu got the second position with 74 points. Also read- ED arrested RJD MP Amarendra Dhari Singh in Khad Khatale, political heat increased in Bihar.
Bihar, Jharkhand and Assam are the worst performing states in this year's index. NITI Aayog Vice Chairman Rajiv Kumar released the third edition of India SDG Index on Thursday. Among the Union Territories, Chandigarh topped the list with 79 points, followed by Delhi with 68 points. Mizoram, Haryana and Uttarakhand were at the forefront in improving their scores in the year 2020-21. Their figures improved by 12, 10 and eight points respectively. While 10 states/UTs were included in the category of states and union territories which scored 65 to 99 marks in 2019, this time 12 more states/UTs made it to it.
NITI Aayog's tweet-
India's report card on the SDGs is here!

17 Goals, 36 States/UTs, & 115 indicators: #SDGIndiaIndex & Dashboard 2020-21 is the most comprehensive review of 's progress towards achieving the SDGs.

Report: https://t.co/ClNGgfiqjx

Dashboard: https://t.co/piGw8xKypj pic.twitter.com/84nde0fbTn

— NITI Aayog (@NITIAayog) June 3, 2021
Uttarakhand, Gujarat, Maharashtra, Mizoram, Punjab, Haryana, Tripura, Delhi, Lakshadweep, Andaman & Nicobar Islands, Jammu & Kashmir and Ladakh have been ranked leading states with scores in the range of 65 to 99 . In terms of health sector goals, Gujarat and Delhi ranked first in the list of states and union territories, respectively. At the same time, in the field of quality education, Kerala and Chandigarh topped these two categories respectively. Tamil Nadu and Delhi were on top in terms of no poverty target. Meghalaya and Chandigarh performed the best in terms of reduction of disparities. Both got 100 marks.
Kumar said, "Our effort to monitor SDGs through the SDG India Index has been widely appreciated across the world. This is a rare data-based initiative to categorize our states and union territories by computing a composite index on SDGs. Shows partnership and its strength. This shows how collaborative initiatives can lead to better results.
NITI Aayog Member (Health) VK Paul said on the theme of partnerships, "It is clear that together we can build a stronger and more sustainable future in which no one will be left behind." The index was launched in December 2018 and has become a major tool for monitoring progress on SDGs in the country. In the first edition 2018-19, 13 objectives, 39 goals and 62 indicators were included, whereas in this third edition 17 goals, 70 goals and 115 indicators were included.
Traumatic accident in Bihar's Muzaffarpur, car returning from procession fell in Baya river, 3 people died
Car fell into Baya river in Muzaffarpur, 3 killed and 3 people rescued
Bihar: 3 killed and 3 rescued after a car fell into Baya river in Muzaffarpur. pic.twitter.com/yzNknZbM4k

— ANI_HindiNews (@AHhindinews) June 17, 2021
(With SocialLY get the latest breaking news, viral trends and all the news related to the world of social media. Here you will get live information about every content that is going viral on Twitter, Instagram and YouTube. The post shown above is unedited content, which can be sent directly to social media. Taken from the accounts of media users. Not modified or edited by Latestly staff. Social media posts do not represent the views and sentiments of Latestly, We assume no responsibility or liability for any content contained in this post do not accept.)
Microsoft appointed Indian-origin CEO Satya Nadella as the company's chairman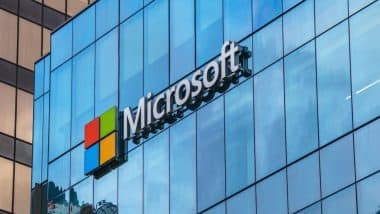 Symbolic Image (Photo Credits: Twitter)
New York, June 17 : Microsoft has named its Indian-origin CEO Satya Nadella as the company's chairman, in an additional role in which he will "lead in setting the board's agenda." Microsoft Corp announced Wednesday that the board's independent directors unanimously agreed. Nadella was selected for the role of chairman of the board.
In addition, John W. Thompson was unanimously elected as Chief Independent Director. He has played this role in the past from 2012 to 2014 as well. "In this role, Nadella will lead the agenda-setting work for the Board, taking advantage of the right strategic opportunities and developing a deep understanding of the business to identify key risks and mitigate their impact," the company said in a statement. Will take advantage of the understanding. Also read: NIA raid at the house of Shiv Sena leader and former 'encounter specialist' Pradeep Sharma in Mumbai
Nadella, 53, will replace Thompson, who will continue his role as chief independent director. Nadella became the CEO of Microsoft in 2014, succeeding Steve Ballmer.
Gujarat Shocker: Police constable raped woman several times for not wearing a mask, this is how it was busted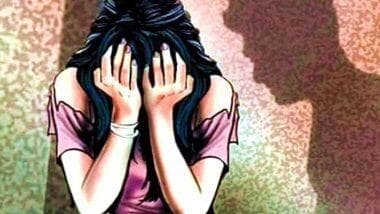 Symbolic photo (file photo)
A 33-year-old married woman was allegedly raped by a police constable in Gujarat's Surat for not wearing a mask. A case has been registered against the constable in this case. The woman alleges that when she had gone to buy milk, the policeman abducted her in his car in Palsana. The accused has been identified as Naresh Kapadia. The rape victim further alleged that the accused raped her several times over the next few months. This incident happened last year during the lockdown. The accused allegedly took the woman to Navsari Road instead of the police station. The complaint also alleged that Kapadia assaulted her. He allegedly clicked her pictures and blackmailed her. According to a report published in the Times of India, Kapadia was posted at Palsana police station at the time of the incident. Also read: Mumbai: Alleged rape with assistant female police inspector, FIR registered against 3 people at Meghwadi police station
However, in January this year after a video of his fight with the complainant woman went viral, the accused was shifted to Umarpara police station. Meanwhile, Kapadia's wife lodged a complaint against the rape victim and her husband at the Bardoli police station for abusing the police. The woman and her husband were booked under the Scheduled Castes and Tribes (Prevention of Atrocities) Act. Police have started investigation.