Scientists found another drug effective in the treatment of COVID, Phase II clinical trial started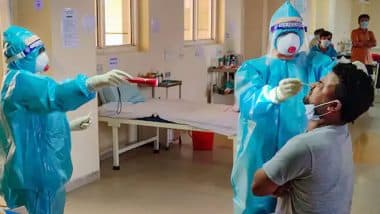 Corona Virus Outbreak (Photo Credits: PTI)
The Council of Scientific and Industrial Research (CSIR) India and Laxai Life Sciences Pvt Ltd have started the Phase II clinical trial of the stomach worm drug Niclosamide for the treatment of Kovid. These companies have got regulatory approval from the Drug Controller General of India – DGCI. Dr Shekhar C Mande, Director General of CSIR has expressed happiness over this decision. Wuhan Lab: Indian scientists had long ago doubted the Wuhan lab leak
This medicine has also been tested many times from the point of view of safety.
Through this trial, the efficacy, safety and tolerability of Niclosamide in the treatment of hospitalized Kovid patients will be evaluated through multiple points. Niclosamide has been widely used in the treatment of tapeworm infections in adults and children. This drug has also been tested several times from the safety aspect and has been found to be safe for human use at various levels of dosage.
Will remove the problem of syncytia in the lungs of Kovid-19 patients
Niclosamide is a generic and cheap medicine, which is easily available in India and can be made available to the people of India. In this project niclosamide was identified as a promising repurposing drug by the research group at King's College, London. Dr Ram Vishwakarma, Advisor, DG-CSIR said that
a) The syncytia or fused cells observed in the lungs of patients with COVID-19 are probably a result of the fusogenic activity of the SARS-CoV-2 spike protein and niclosamide may inhibit syncytia formation.
b) Collaborative research conducted independently by CSIR-IIIM, Jammu and NCBS, Bengaluru has recently demonstrated that niclosamide is also a potential SARS-CoV2 entry inhibitor, blocking viral entry through a pH dependent endocytic pathway. does.
Given these two independent experimental studies, Nicolamide has now emerged as a promising candidate for clinical trials in COVID-19 patients.
Niclosamide may be a cheap and effective alternative
Dr Srivari Chandrashekhar, Director, CSIR-IICT Hyderabad, highlighted that the Active Pharmaceutical Ingredient (API) is being developed by Lakshai Life Sciences based on the advanced technology developed at IICT and the lab is a participant in this important clinical trial, The trial, if successful, could provide a cost-effective medical option for patients.
Trial efforts were started only last year
Dr Ram Upadhyay, CEO, Lakshai, said that in view of the potential of niclosamide, efforts were started to conduct clinical trials only last year. After getting approval from the drug regulator, clinical trials have been started at different places this week and it is expected that this trial will be completed in 8-12 weeks. Based on successful clinical evidence generated during clinical trials in Indian studies, emergency use authorization may be sought, so that more treatment options are available for COVID-19 patients.
6 Naxalites killed in Andhra Pradesh campaign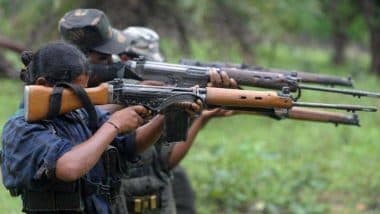 Naxal (Photo Credits: IANS)
Visakhapatnam, June 17 : Andhra Pradesh Police killed six Naxalites – three men and three women – in the Tigalametta forest area of ​​Visakhapatnam district on Wednesday morning. A police officer said, a search operation was launched to nab the extremists on receiving credible information about Naxal activities in Tigalametta forest area of ​​Mampa police station area of ​​Visakhapatnam district. There was a gunfight between the police and the Maoists around 10 am, in which six Maoists were killed.
Police have identified the slain Maoists as Arjun (DCM), Ashok (DCM), Santu Nachika (ACM), Lalita (PM), Paik (PM), while a woman Maoist could not be identified. Some of the injured Maoists seem to have survived, while the police have appealed to them to surrender by assuring them of the best possible medical treatment, the official said. Also read: Tragic accident in Bihar's Muzaffarpur, car returning from procession fell in Baya river, 3 people died
Visakhapatnam district superintendent of police B. Krishna Rao also appealed to the Maoists to surrender and promised all benefits as per the existing policy. The encounter took place around Koyuru area of ​​Mampa police station area and the search operation is going on. Andhra Pradesh Director General of Police, Gautam Sawang said that the police had launched a search operation in the area after getting credible inputs. Police have recovered one AK-47 rifle, a self-loading rifle, a carbine, literature, kit bag and explosive material from the site of the operation.
Traumatic accident in Bihar's Muzaffarpur, car returning from procession fell in Baya river, 3 people died
Car fell into Baya river in Muzaffarpur, 3 killed and 3 people rescued
Bihar: 3 killed and 3 rescued after a car fell into Baya river in Muzaffarpur. pic.twitter.com/yzNknZbM4k

— ANI_HindiNews (@AHhindinews) June 17, 2021
(With SocialLY get the latest breaking news, viral trends and all the news related to the world of social media. Here you will get live information about every content that is going viral on Twitter, Instagram and YouTube. The post shown above is unedited content, which can be sent directly to social media. Taken from the accounts of media users. Not modified or edited by Latestly staff. Social media posts do not represent the views and sentiments of Latestly, We assume no responsibility or liability for any content contained in this post do not accept.)
Microsoft appointed Indian-origin CEO Satya Nadella as the company's chairman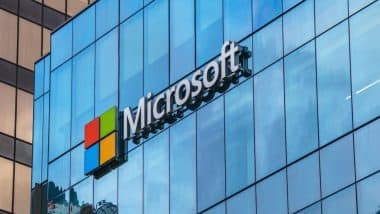 Symbolic Image (Photo Credits: Twitter)
New York, June 17 : Microsoft has named its Indian-origin CEO Satya Nadella as the company's chairman, in an additional role in which he will "lead in setting the board's agenda." Microsoft Corp announced Wednesday that the board's independent directors unanimously agreed. Nadella was selected for the role of chairman of the board.
In addition, John W. Thompson was unanimously elected as Chief Independent Director. He has played this role in the past from 2012 to 2014 as well. "In this role, Nadella will lead the agenda-setting work for the Board, taking advantage of the right strategic opportunities and developing a deep understanding of the business to identify key risks and mitigate their impact," the company said in a statement. Will take advantage of the understanding. Also read: NIA raid at the house of Shiv Sena leader and former 'encounter specialist' Pradeep Sharma in Mumbai
Nadella, 53, will replace Thompson, who will continue his role as chief independent director. Nadella became the CEO of Microsoft in 2014, succeeding Steve Ballmer.