Salman Khan extended a helping hand to the Movie Stunt Artistes Association, transferred money to the account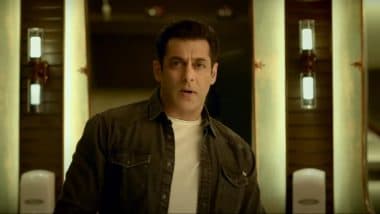 Salman Khan (Photo Credits: Youtube)
Bollywood's Dabangg Salman Khan (Salman Khan) is counted among the helpful actors of the industry. In difficult times, Salman is constantly seen standing to help people. During the Corona (COVID 19) pandemic, Salman Khan has once again extended a helping hand. According to the report, Salman has now extended a helping hand to the Stunt Artists Association of the industry. Talking to Times of India, Action Director Ejab Gulab told that his association has not received any kind of help so far. But now Salman Khan has extended a helping hand. After which we have transferred that money to the account of our members. Along with this, Netflix has also helped our association. Due to which they are getting help sitting at home.
Let us tell you that before this, Tiger Shroff and Ajay Devgan also helped the stunt artist. In the last lockdown, he transferred 5000 thousand rupees to the account of 350 fighters. While Tiger Shroff had provided rations to help 250 members.
Actually, due to Corona, once again it was advised not to gather crowd on the sets of the film. Due to which many people are sitting at home once again.
Stylish style of Karishma Tanna in floral dress, seen in open sheaves
Actress Karishma Tanna, who has worked in block buster films like Sanju, is also active in television and is known for working in reality shows like Bigg Boss and Khatron Ke Khiladi.
Let us tell you that Karishma Tanna is such an actress who always remains in the discussion about her photoshoot and she is one of the most total actresses and people of her cute smile are crazy.
Recently, Karishma Tanna has posted some pictures in which she is looking very beautiful in a blue color floral dress and open hair is adding to her beauty.
.
Guddan is looking amazing in a simple dress, beauty should not be lost
This 19-year-old actress looked hot in jeans, made a different identity at a young age
There are many such small actresses in television and in Bollywood who have become popular at a very young age and today she is ruling the hearts of crores of people, one of them is Riva Arora.
For your information, let us tell you that she also posts videos on YouTube and people are crazy about her acting, actress Riva Arora, who has worked as a child artist in some Bollywood films, has made her own identity in a very short time.
You will be surprised to know that she is only 19 years old and at such a young age she is ruling the hearts of people, now it has to be seen whether Riva Arora keeps entertaining such people in the coming time.
Recently, she has posted some pictures on social media in which she is looking very hot wearing jeans.
.