Sachin Pilot hits out at BJP MP Rita Bahuguna Joshi's claim, says 'he doesn't have guts to talk to me'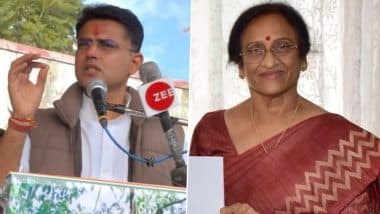 Sachin Pilot and Rita Bahuguna Joshi (File Photo)
Jaipur: The alleged statement of BJP MP Rita Bahuguna Joshi regarding Congress leader Secretary Pilot has created a boom in the politics of Rajasthan. However, veteran Congress leader and former Deputy CM of Rajasthan Sachin Pilot has denied Rita Bahuguna's statement. Actually there were reports that the BJP leader had a talk with Sachin Pilot and it was also being said that Sachin Pilot may join BJP. Pilot's statement intensified again in Rajasthan politics
Regarding this political development, Sachin Pilot said on Friday, "What Rita Bahuguna Joshi said that she has spoken to Sachin. Maybe he talked to Sachin Tendulkar. He doesn't have the courage to talk to me." However, the tussle between the Gehlot government of Rajasthan is not taking its name. The silence of the Congress high command on the growing signs of discord within the Gehlot government has raised many questions.
Rita Bahuguna Joshi (BJP leader) has said she has spoken to Sachin. She might have spoken to Sachin Tendulkar. She doesn't have the courage to speak to me: Congress leader Sachin Pilot on Bahuguna's reported statement that he may join BJP soon pic.twitter.com/DLrzUJeF4s

— ANI (@ANI) June 11, 2021
The reality is that this has not resolved the differences between the various factions in the Congress camp and the fate of the party as well as the party workers hangs in the balance. Six-time MLA Hemaram Choudhary resigned from the Congress government on May 22 and appears to be reluctant to withdraw his resignation. Another MLA Ved Prakash Solanki has threatened to resign. Both are associated with the faction of former state Congress president and former deputy chief minister Sachin Pilot.
Meanwhile, the Gehlot camp seems to be busy poaching MLAs from the camp of its arch rival Pilot. Two such MLAs from the Pilot camp are Inderraj Gujar and PR Meena, who had recently praised Chief Minister Ashok Gehlot's work at a time when other Pilot's followers were questioning the government's work. The story of the discord does not end here as two ministers considered very close to Gehlot allegedly had an altercation during the recent cabinet meeting.
The state unit of the Congress, the Pradesh Congress Committee, appeared weak on the ground, working with a 39-member team since July last year as all local Congress committees were dissolved after Pilot's open rebellion against the state leadership . Concerned partymen on the phone tapping front are upset that they did not get the prize of victory.
A minister said political appointments were being delayed due to fear of another rebellion. He further said, if we give one post to 10 workers, the rest 90 will throw tantrums and there may be another rebellion which we cannot handle right now amid the pandemic.
Another activist said that in July last year, veteran leaders Ahmed Patel, KC Venugopal and Ajay Maken would look into the complaints of the Pilot camp. Patel passed away, but the other two members of the committee are not active in resolving the complaints. Meanwhile, state PCC chief Govind Singh Dotasra told IANS that the party is committed to giving political appointments once the matter calms down after the second wave of Kovid. Rajasthan in-charge Ajay Maken had first announced political appointments in December last year and then in March, but it could not be implemented.
However, Pilot says that there is no reason for delay in appointments and cabinet expansion. Meanwhile, all eyes are on the high command's pitches to resolve these issues or else new factions coming to the party every year are ringing alarm bells for the Congress, which is also testing time in other states like Punjab. is facing.
COVID-19: Vaccination priority for mothers of young children: Mamata Banerjee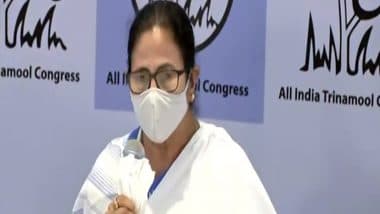 West Bengal Chief Minister Mamata Banerjee (Photo Credits: ANI/Twitter)
Kolkata, June 24 : West Bengal Chief Minister Mamata Banerjee on Wednesday said that women who are 12 years or less will be given priority in vaccination, amid warnings that children may be infected in the possible third wave of Kovid-19. age children.
He said that the state government would start giving vaccine to at least four lakh people every day from Thursday. Also read: Odisha: Vishwajit Nayak of Puri made a miniature statue of 'Lord Jagannath's Gajanan Besha' made from ice cream sticks, see photos
Banerjee said, "We are giving importance to the third wave. The second wave has increased the number of infections. We have decided to give priority to immunization of mothers of babies born immediately to the age of 12 years so that children do not get the infection from their mother."
Odisha: Vishwajit Nayak of Puri made a miniature statue of 'Lord Jagannath's Gajanan Besha' made from ice cream sticks, see photos
Odisha: Vishwajit Nayak of Puri has made a miniature statue of 'Lord Jagannath ki Gajanan Besha' using 1475 ice cream sticks. "It took me 15 days to make this 30-inch-long and 26-inch-wide idol. On the occasion of Devasan Purnima, I dedicate it to the devotees," he said.
Odisha | Puri's Biswajit Nayak has made miniature statue of 'Gajanana Besha of Lord Jagannath', using 1475 ice cream sticks. "It took me 15 days to make this 30-inches tall & 26-inches wide statue. On the occasion of Devasnana Purnima, I dedicate this to devotees," he said(23.06) pic.twitter.com/FZMstp7EF5

— ANI (@ANI) June 24, 2021
(With SocialLY get the latest breaking news, viral trends and all the news related to the world of social media. Here you will get live information about every content that is going viral on Twitter, Instagram and YouTube. The post shown above is unedited content, which can be sent directly to social media. Taken from the accounts of media users. Not modified or edited by Latestly staff. Social media posts do not represent the views and sentiments of Latestly, We assume no responsibility or liability for any content contained in this post do not accept.)
JP Nadda answered P. Chidambaram's questions on record vaccination, said- India is not lame, but is running on the strength received from citizens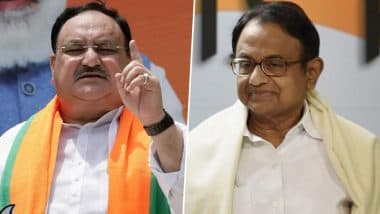 JP Nadda and P Chidambaram (Photo Credits PTI)
New Delhi: On the remarks made by senior Congress leader and former Union Minister P. Chidambaram on the speed of vaccination, BJP National President J.P. Nadda (JP Nadda) has given the answer on Wednesday. Taking a jibe at P. Chidambaram, Nadda said that India is not lame, but is running on the strength it has got from its citizens. After the record made on Monday, there have been more than 50 lakh vaccinations on Tuesday and Wednesday also. These figures are enough to dislike the Congress. Actually, it is the culture of Congress that when India makes a record, the party raises questions.
In fact, Congress leader P. Chidambaram tweeted on June 22 from his official Twitter account, targeting the Modi government regarding the vaccination policy. He wrote, hoarding on Sunday, vaccinate on Monday and come back lame on Tuesday. This is the secret behind the world record of one day vaccination. I am sure this feat will find a place in the Guinness Book of Records. Also read: COVID-19 Vaccination: PM Modi expressed happiness over a record more than 80 lakh people getting corona vaccine in a day in India, said- Well done India
In the next tweet, Congress leader Chidambaram wrote tauntingly, "Who knows, maybe, the Nobel Prize in Medicine should be given to the Modi government. Modi hai to mumkin hai, should be read now, Modi hai toh miracle hai. After raising the question, Union Minister Hardeep Singh Puri as well as BJP Yuva Morcha National President Tejashwi Surya has also attacked him and praised the steps being taken by the government.(With Input Agency)
.