Rakhi Sawant accidentally announced the winner of Khatron Ke Khiladi 11? Name of this contestant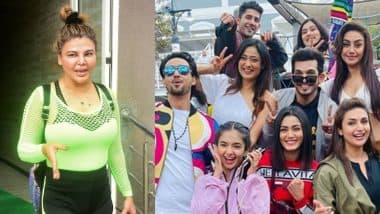 Rakhi Sawant announced the winner of Khatron Ke Khiladi (Photo Credits: Yogen Shah/Instagram)
Bollywood actress Rakhi Sawant is always in the news due to her impetuosity. She keeps her words bold. But now this impetuosity of Rakhi can overshadow the makers of an entire show. Because Rakhi has declared the winner of Khatron Ke Khiladi. Actually, Rakhi's fan following among the paparazzi has increased a lot since Bigg Boss. She meets paparazzi openly by clicking pictures as well as answering their questions. In such a situation, all the contestants have returned home after finishing Khatron Ke Khiladi 11 on the previous day. In such a situation, when Rakhi was asked about this, she started congratulating everyone. After which he declared Arjun Bijlani as the winner.
Rakhi said during the conversation that congratulations to Rahul Vaidya, congratulations to Shweta Tiwari, Arjun Bijlani won, didn't he? Yes he won. This disclosure of Rakhi would undoubtedly have increased the trouble of the makers. Now how much truth is there in this claim of Rakhi, it cannot be said.
By the way, Rakhi is promoting her new song fiercely these days. The entry in the recently released Dream has received a lot of love from the audience. This song is sung by Jyothika Tangri while rap is done by Parikshit Gupta.
After meeting West Bengal CM Mamta Banerjee, Javed Akhtar said – nowadays there is more tension in the country, there should be change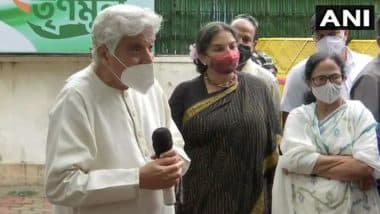 Javed Akhtar met CM Mamta Banerjee (Photo Credits: ANI)
New Delhi: West Bengal Chief Minister Mamata Banerjee is currently on a Delhi tour for five days. After coming to Delhi, Mamta Banerjee has met PM Modi, Congress leader Sonia Gandhi and Delhi Chief Minister Arvind Kejriwal. Then on Thursday, he met Union Minister Nitin Gadkari and after that Bollywood lyricists Javed Akhtar and Shabana Azmi also reached to meet Mamta Banerjee. Javed Akhtar and Shabana Azmi met Mamta, who reached Delhi for the first time after winning the Bengal election riot. After meeting Mamta, Javed Akhtar said that nowadays there is more tension in the country, there should be change.
After meeting Chief Minister Mamta Banerjee, Javed Akhtar said- I think some changes should come. Tension is a bit high in our country nowadays. In what we have talked about, her (Mamata Banerjee) priority is not that I should lead, she believes that there should be a change. Also read: Mamata Banerjee Delhi Visit: After meeting PM Modi, Mamata Banerjee will meet Sonia Gandhi- Sharad Pawar and CM Arvind Kejriwal tomorrow
View tweet-
I think there should be some changes. Tension is a bit high in our country nowadays. Her (Mamata Banerjee) priority in what we had is not that I should lead, she believes there should be change: Javed Akhtar after meeting West Bengal Chief Minister Mamata Banerjee pic.twitter.com/azFkTyQ1FY

— ANI_HindiNews (@AHhindinews) July 29, 2021
Significantly, after meeting Mamta didi, Javed Akhtar further said that the mood of the country is for change, so the country needs change. It is unfortunate that there is an atmosphere of fear in the country, such an environment needs to be changed. Let us tell you that recently Javed Akhtar had made a tweet in which he compared Barack Obama to Shah Jahan. Due to this tweet, he was also trolled on social media.
Raj Kundra Pornography Case: Shilpa Shetty files defamation case against 29 media persons and media houses, alleging defamation by false reporting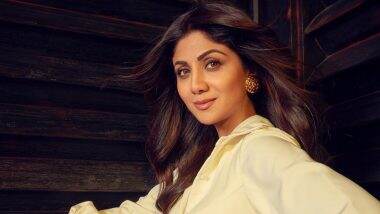 Shilpa Shetty (Photo Credits: Instagram)
Mumbai: Actress Shilpa Shetty, wife of businessman Raj Kundra in a pornography case, has filed a complaint in the Bombay High Court against 29 media persons and media houses for 'false reporting and maligning their image'. A defamation suit has been filed. The matter will be heard tomorrow (July 30). On the other hand, in a major setback to Kundra, a Mumbai court on Wednesday refused to grant bail.
Raj Kundra, husband of Bollywood actress Shilpa Shetty, was arrested by the Crime Branch of Mumbai Police on July 19 in a case of alleged production of pornographic films and airing them through apps. Kundra, 45, was remanded to 14-day judicial custody on Tuesday. While the police have not yet given a clean chit to Shilpa Shetty in this case.
Police told the magistrate court that Kundra earned at least Rs 1.17 crore between August and December last year from his business of producing and distributing porn films online. Kundra argued that the films made by him did not directly or explicitly depict sexual acts.
Actor Shilpa Shetty has filed defamation suit in Bombay High Court against 29 media personnel & media houses for 'doing false reporting & maligning her image' in a pornography case in which her husband Raj Kundra is accused. Hearing in the case scheduled for tomorrow

(File pic) pic.twitter.com/DGTthMEXGi

— ANI (@ANI) July 29, 2021
At the same time, after Kundra's arrest, actress Gehana Vashistha, who worked in three films for his app, had said in a video that erotic content was different from pornography.
Kundra, through senior advocate Abad Ponda, has filed a separate petition in the Bombay High Court challenging his arrest. Kundra, through his petition, has termed his arrest as illegal and sought quashing of all orders of the Metropolitan Magistrate Court.
However, on Tuesday, Justice AS Gadkari had refused to grant any interim relief before hearing the police's side in the matter and posted the next hearing for Thursday (July 29).
Kundra is the husband of Bollywood actress Shilpa Shetty and last week police raided her Juhu home and recorded her statement. This case has taken the whole Bollywood by surprise, as it is a sensitive matter like porn, in which the husband of millionaire businessman and Bollywood actress, dancer and Shilpa Shetty, who teaches yoga to people to stay fit, is surrounded.
Malayalam film 'Paka' produced by Anurag Kashyap to premiere at Toronto Film Festival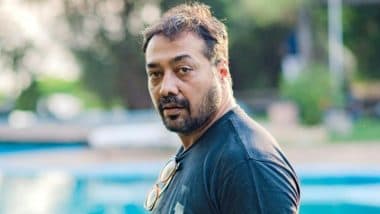 Anurag Kashyap (Photo Credits: Instagram)
Mumbai: Malayalam film Paaka, produced by Anurag Kashyap and Raj Rachakonda, which marks the directorial debut of Nitin Lukos, will be held at the Toronto International Film Festival from September 9 to 18. The 46th edition of TIFF will have the World Premiere. The film is selected in the Discovery Section, which showcases the first or second feature films from directors around the world. TIFF will be conducted in a hybrid manner, with both in-person and digital screening. Anurag Kashyap had to undergo angioplasty after chest pain, this is his health after surgery
Anurag Kashyap, who joined the project as a producer during the later stage of production, said that Malayalam cinema is currently leading India on the world stage and I would like to associate with it in a small way. I am very grateful.
Director Nitin is an FTII graduate and is the sound designer of 'Thithi' and 'Sandeep Aur Pinky Faraar'.
Talking about his debut film 'Paka' he said, "I am delighted and honored to see my directorial debut 'Paka' (River of Blood) at the Discovery event of the 46th Toronto International Film Festival. Stories And in the myths my grandmother told me when I was young. 'Paka' is an expression of that fascination. The idea was to tell a universal story that could appeal to a global audience, while keeping the film in the cultural features of the remote village. Can be implied. I grew up with people I love. It is a matter of pride that a regional film like ours is getting a platform through a globally renowned festival like TIFF."
Raj Rachakonda, who previously directed the Malayalam film 'Mallesham', said, "Out of the four scripts I was narrated, I opted to produce Nithin, who helped me with the sound design for Mallesham because 'Paka ' is a touching story about the ability of people to come together. For love and cruelty that displays a very deep feeling."
Set in Wayanad, northern Kerala, the film stars an ensemble cast including Basil Pauloz (Johnny), Vinita Koshy (Anna), Jose Kizhakkan (Kochappan), Atul John (Pachi), Nitin George (Joy), Joseph Manikal (Varky) . Edited by Arunima Shankar, shot by Srikanth Kabothu, and music by Faizal Ahmed.