Punjabi singer Jazzy B's Twitter account blocked for tweeting in support of farmers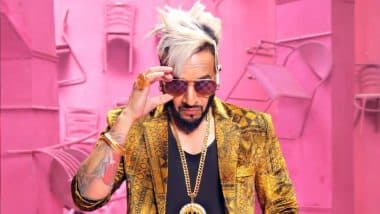 Singer Jazzy B (Photo Credits: Instagram)
Jazzy B's Twitter Account Blocked: Twitter has blocked many accounts in India, including the name of Canadian singer Jazzy B. Taking action against the account of GG, who joined his support and tweeted continuously during the Kisan Rally, Twitter said that it can be opened from an IP address outside the country. It was told that the Indian government had demanded action against some Twitter profiles, after which the social networking site took strict action.
An official statement is yet to come by Twitter in this matter, but it was told in its Help Center section that if a reasonable demand is made by any official organization against any profile to Twitter, then it becomes necessary that at some places select information be stopped from time to time.
Also read: Twitter: Government of India gave final notice to Twitter for compliance with new IT rules
Jazzy B's Twitter account got blocked (Photo Credits: Instagram)
These cases come under the jurisdiction of the local judiciary only where it was said that there was violation of local rules. It was told that the accounts which have been blocked by Twitter who posted sarcastic content for Prime Minister Narendra Modi during the farmers' movement.
Rajpal Yadav's wife is very beautiful, she is 9 years younger
Aamna Sharif showed bold avatar in White One Piece, was seen in open hair
KKK11: Promo launch of 'Khatron Ke Khiladi' season 11
The season of 'Khatron Ke Khiladi 11' has started with a bang on the small screen. All the contestants have left for South Africa. Famous TV stars Divyanka Tripathi, Vishal Aditya Singh, Varun Sood, Rahul Vaidya, Abhinav Shukla, Anushka Sen and Shweta Tiwari will be seen in the list of contestants. All the contestants are very active on social media at this time, sharing many pictures and videos with the fans.
Recently all the contestants have shared the post in "Khatron Ke Khiladi 11" with director as well as host, tester Rohit Shetty. Now the promo of this most awaited series has come out. Its promo has been released by Rohit Shetty himself. It has also been announced that the show will soon be aired on TV.
What is shown in the promo
At the beginning of the promo, Rohit Shetty gets into the helicopter in a speed car. He is also seen having a conversation with a lion. Rohit Shetty has said on social media that 'Khatron Ke Khiladi 11' Der Vs Dare is going to come on Colors TV soon. The caption of the show will be aired soon. Along with Stunt Pilot, Warren is, in my opinion, the best stunt pilot in the world. After seven years and seven seasons, this guy seems to have changed a lot. But the spirit of the show is still there. Rohit Shetty announces the series in full swing.