Pune Fire: Death toll rises to 18 in a massive fire at a factory in Maharashtra's Pune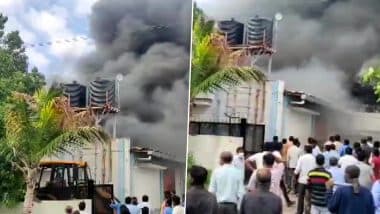 A massive fire broke out in a company in Pune (Photo Credits: ANI)
Mumbai: of Maharashtra A horrific fire broke out on Monday afternoon in a sanitizer making factory located in Pune district. Earlier 12 people had died due to this fire. At the same time, the death toll due to fire has increased to 18. There, Gaya is still seriously injured. It is being said that the death toll may increase further. Most of the dead are women. Officials gave this information. The incident took place at 3.30 pm on Monday at a private factory located in the MIDC area near Pirangat village. The fire spread so fast that the workers in the factory did not even get a chance to escape.
Most of those who have died have succumbed to suffocation. An official of Pune Rural Police Control said that 10 people are still said to be trapped in the factory as the same number of people are missing. Earlier, Tehsildar Abhay Chauhan said that 11 people have lost their lives so far and relief and rescue work is going on at full speed. Also read: Maharashtra Fire: Fire breaks out at chemical factory in Pune, 12 workers scorched to death, 5 still missing
Fire brigade teams and disaster rescue teams from MIDC, Mulshi have reached the spot. Witnesses say the male workers managed to escape after the factory caught fire. In an effort to save the people, a part of the complex had to be bulldozed.
COVID-19 Update: 255 new cases of Kovid-19 surfaced in the national capital Delhi, 23 patients died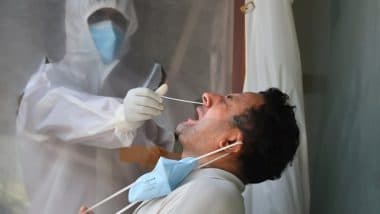 Person getting tested for Corona (Photo: PTI)
New Delhi, June 13 : The lowest number of 255 new cases of coronavirus were reported in the national capital on Sunday since April 7, and 23 patients died and the infection rate came down to 0.35 percent. According to the bulletin of the Health Department, with the death of 23 patients on Sunday, 24,823 people have lost their lives due to this epidemic in the national capital.
The lowest number of 213 new cases were reported in Delhi since March 9 on Saturday, 238 on Friday, 305 on Thursday and 337 on Wednesday. Due to this infection in the city, 28 people lost their lives on Saturday, 24 on Friday, 44 on Thursday and 36 on Wednesday. Also read: Dr. Indira Hridayesh Death: Senior Congress leader Dr. Indira Hridayesh is no more, Rahul Gandhi expressed grief
According to government data, the infection rate in the national capital was 0.3 on Saturday and Friday, 0.4 on Thursday and 0.5 percent on Wednesday.
Petroleum Minister Dharmendra Pradhan said, Congress ruled states should reduce tax on petrol, diesel, kept silence on BJP ruled states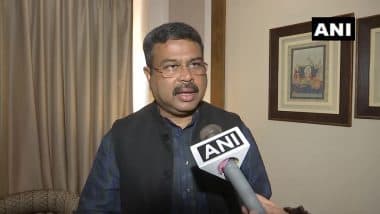 Union Minister Dharmendra Pradhan (Photo Credits-PTI)
New Delhi, June 13 : With petrol and diesel prices reaching record levels, Petroleum Minister Dharmendra Pradhan on Sunday said Congress-ruled states like Rajasthan and Maharashtra should cut taxes on vehicle fuel. However, he remained silent on whether states like BJP-ruled Madhya Pradesh and Karnataka would do the same, where petrol has crossed Rs 100 per litre. Pradhan said that if the Congress is worried about the rising burden of vehicle fuel prices on the common man, then it should cut sales tax on petrol and diesel in the states ruled by it.
Petrol has become costlier by Rs 5.72 per liter and diesel by Rs 6.25 per liter in less than the last six weeks. Auto fuel prices have reached record highs due to rising international crude oil prices and high central and state taxes. Indraprastha Gas Ltd. Talking to reporters after inaugurating the oxygen plant set up by Maharaja Agrasen Hospital, Pradhan said that the central and state governments need additional money from taxes on petrol, diesel to fight the pandemic and other development works. Also read: Karnataka: Policemen thrashed mentally challenged man, eight personnel suspended
He acknowledged that vehicle fuel prices were hurting consumers. Congress leader Rahul Gandhi is a constant attacker on the Narendra Modi government regarding vehicle fuel prices. To a question about this, Pradhan said why fuel is expensive in Maharashtra, Rajasthan and Punjab. "If Rahul Gandhi is concerned about the impact of vehicle fuel prices on the poor, he should ask chief ministers to cut taxes on fuel in Congress-ruled states," he said. BJP-ruled states like Karnataka will also do the same, where the price of petrol has crossed Rs 100 per liter due to local taxes.
Dr. Indira Hridayesh Death: Senior Congress leader Dr. Indira Hridayesh is no more, Rahul Gandhi expressed grief
Dehradun, June 13: Leader of Opposition and senior leader of Uttarakhand Congress Dr. Indira Hridayesh passed away today due to heart attack. All the countrymen are saddened by his death. Meanwhile, former Congress President Rahul Gandhi has also expressed his condolences by tweeting. He tweeted and wrote, 'Sad news of the death of Dr. Indira Hridayesh ji, a strong link of Congress party in Uttarakhand. She worked till the end for public service and Congress family. His social and political contributions are an inspiration.
Received the sad news of the demise of Dr Indira Hridayesh ji, a strong link of the Congress party in Uttarakhand. She worked till the end for public service and Congress family. His social and political contributions are an inspiration.

Condolences to their loved ones. pic.twitter.com/b8KmeSCoqw

— Rahul Gandhi (@RahulGandhi) June 13, 2021
(With SocialLY get the latest breaking news, viral trends and all the news related to the world of social media. Here you will get live information about every content that is going viral on Twitter, Instagram and YouTube. The post shown above is unedited content, which can be sent directly to social media. Taken from the accounts of media users. Not modified or edited by Latestly staff. Social media posts do not represent the views and sentiments of Latestly, We assume no responsibility or liability for any content contained in this post do not accept.)