Producer Anand Pandit will now start vaccination center after opening Kovid-19 relief center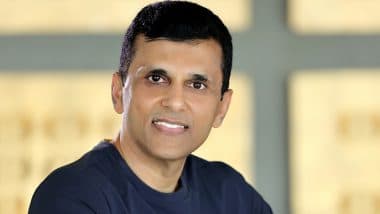 Anand Pandit ( photo credit : twitter )
In this difficult period of epidemic, the spirit of helping each other has emerged as a ray of hope in the hearts of citizens, which has saved many lives and helped them at the right time. One of these special people who are always ready to help is Senior Producer Anand Pandit who is always ready to contribute towards helping cause by mobilizing all their resources. When the first lockdown happened in 2020, he not only took care of the migrant workers associated with his film production and real estate companies, but also distributed medical kits and got them free health tests as per the requirement.
Also he gave 250 flats to BMC (Brihanmumbai Municipal Corporation) in which about 1000 patients could be taken care of. Even during the second wave of Corona, he did not lag behind and decided that he would open a vaccination center in association with a reputed hospital to help the hard-hit workers and workers. He says, "All the preparations are in place and we will soon find a suitable place and open a center where daily wage earners involved in the film and real estate business will get free vaccinations. Also I will sponsor a vaccination campaign IFTDA To all personnel of (Indian Film & Television Directors' Association)." Also read: This hot photo of Malaika Arora caught the hearts of the fans, viral like fire on the internet
Pandits are currently trying to get the approval to import vaccines from abroad so that more and more people can be easily vaccinated. Recently Pandit was in the news when he along with Amitabh Bachchan and Ajay Devgan opened covid relief centers in Dadar and Juhu where there was complete arrangement of beds and oxygen. Pandit says, "We don't just have to discuss about this calamity, but do something together. Soon I will try to open a health camp as well because the entire medical infrastructure is overburdened at this point of time. I will do whatever is possible because it is important for all of us to get out of this phase as soon as possible.
Jannat Zubair celebrates 30 million followers on Instagram
Today millions of people like TV actress Jannat Zubair. He is a social media sensation today and there is no dearth of his fans. Jannat's pictures and videos go viral and get garnered with likes and views fast. Jannat now has 30 million followers on Instagram recently and she has celebrated it. Jannat celebrated it with her family and friends. You can see that Jannat has shared many pictures from the celebration. It is seen in the pictures that Jannat has chosen a black outfit for the celebration and she is looking very beautiful in a black dress.
Posting pictures from the celebration, Jannat wrote: 'We are now a 30 million strong family. I dont know what to say. I am very happy I just want to say thank you to all those who follow me. Thanks to my mom and dad for always being with me. He further wrote, 'Thank you so much to all my fans who are my family, the love you have given me, I am still very grateful. Many thanks to my brother @ayaanzuair_12 for making the best video with me.' #JannatZubair #30Mjannatians #jzee" Meanwhile you can see Ashnoor Kaur and Ritika Bandini posing with Jannat.
Jannat started acting at a very young age. She is currently 19 years old. Actually, Jannat was born on 29 August 2001. Talking about the profession of Jannat, Young Phool Kanwar-Maharana Pratap in Bharat Ka Veer Putra and Pankti Sharma in Tu Aashiqui. In 2018, he was seen in the Bollywood film Hichki, where he played the role of a student.
.
MP Ravi Kishan raised his voice against obscenity in Bhojpuri films and songs, wrote a letter to the Chief Ministers of UP and Bihar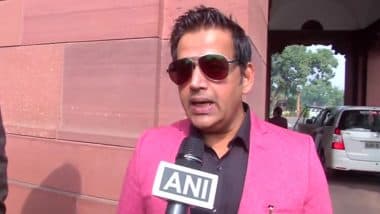 Ravi Kishan (Photo Credits: ANI)
Bollywood actor and BJP MP from Gorakhpur Ravi Kishan has written to Union Ministers and Chief Ministers of Uttar Pradesh and Bihar, demanding a ban on pornographic content in Bhojpuri films and songs. He has demanded a strict law to stop such content in films and songs.
Ravi Kishan has said in his letter that the population of Bhojpuri speakers in the country is about 25 crores. He said, "These people deserve better deals and obscenity in Bhojpuri cinema and its songs should be stopped." He said that Bhojpuri films and songs which have already been released should also be brought under the ambit of the proposed law.
Also read: Bhojpuri actors Ravi Kishan and Manoj Tiwari came forward in support of Noida Film City, said – it will promote Indian cinema
Ravi Kishan has been associated with Bhojpuri cinema for almost three decades and has played an important role in popularizing this regional cinema. He said, "I think the time has come for us to end obscenity and ensure that Bhojpuri cinema is recognized for its quality and content. Today Bhojpuri cinema has become synonymous with obscenity."
He said that obscenity in Bhojpuri films and songs is having an adverse effect on the mind of the younger generation. Ravi Kishan has also introduced a private member's bill to include Bhojpuri language in the Eighth Schedule.
Urvashi Rautela sitting in the sun by applying soil all over her body, people said…
Mumbai. Urvashi Rautela is often in the headlines due to her beauty and bold style. Urvashi Rautal dominates social media with her hot and beautiful style. Urvashi Rautela is very active on social media, keeps sharing her beautiful pictures and videos. Whom fans also love a lot. Friends, recently Urvashi Rautal has shared a picture on social media, seeing which the fans were also surprised.
Friends, you can see in this picture that Urvashi Rautela keeps making various efforts to maintain her beauty. Urvashi Rautela is seen applying mud all over her body. Please tell that Urvashi is taking a mud bath and she has counted its benefits. His fans are making funny comments on this post.
Urvashi also mentioned the benefits of mud baths and wrote, They detoxify, remove impurities, soften the skin, increase circulation and relieve pain. Contains mineral-rich clay which is considered therapeutic and good for the skin. Urvashi's fans have created heart and lit emojis, while one of her fans has written, The boys are waiting for the rain.
.