Pakistan Train Accident: 51 killed, more than 100 injured in train accident in Pakistan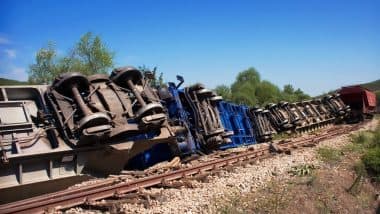 Train accident (Photo: Wikimedia Commons)
Karachi, June 8 : An express train collided with the derailed coaches of another train in Pakistan's southern Sindh province on Monday morning, killing 51 people and injuring over 100. Following the accident, one of the worst train accidents in the country in recent years, authorities called in the army and paramilitary forces to help with the challenging rescue and relief work. A Pakistan Railways spokesperson said that the 'Millat Express' going from Karachi to Sargodha derailed and fell on the front tracks due to which 'Sir Syed Express' coming from Rawalpindi to Karachi collided with it. Due to the collision, the bogies of Millat Express overturned. The accident happened near Dharki town of Ghotki district of Sindh. A state of emergency was declared in hospitals in Ghotki, Dharki, Obaro and Mirpur Mathelo after the train accident. The injured were taken to the hospitals here.
ARY News quoted Ghotki Deputy Commissioner Usman Abdullah as saying that 51 people, including some railway officials, were killed and more than 100 were injured in the accident. 'Geo News' quoted police and rescue officials as saying that more than 45 people died and more than 100 people were injured in the accident. On the train accident, Pakistan Prime Minister Imran Khan said that he is "shocked by this horrific train accident." He tweeted, "Shocked by the horrific train accident in Ghotki early today. The Railway Minister has been asked to reach the spot and provide help to the families of the deceased and medical aid to the injured. I am ordering a detailed inquiry into the security related lapses in the railways." President Arif Alvi has expressed grief over the death of people in the train accident. Aijaz Shah, the driver of the Sir Syed Express train, said that he was rescued by the locals two hours after the trains collided. He said that the train was running at its normal speed when they saw the derailed bogies of Millat Express. The distance was short, so this collision happened. Also read: Pakistan Train Accident: Major accident in Pakistan, 30 people died due to collision of two trains
Ghotki Deputy Commissioner Usman Abdullah told Geo News that 13 to 14 bogies were derailed and six to eight bogies were "completely damaged" in the entire accident. He said, "It remains a challenge for the rescue officers to rescue the passengers trapped in the bogies. Heavy machines will be used to rescue those who are still trapped and this work will take time. We are also organizing medical camps to provide medical help to the people. A 'relief train' has also been dispatched from Rohri. More than 1,000 passengers were on board both the trains, officials said. A spokesperson of the Railway Department said that around 20 passengers are still trapped in some damaged bogies. These bogies overturned and were damaged. He said that the officials are collecting information about the passengers and employees aboard both the trains. "Heavy machines are needed to clear the damaged bogies, so it will take some time to complete the rescue operation," he said.
Meanwhile, Sindh province Chief Minister Murad Ali Shah expressed grief over the loss of lives in the accident and directed the Sukkur commissioner to activate the district administration, Dawn News reported. He asked the officials to make arrangements for temporary accommodation and food and water for the passengers. Pakistan Rangers personnel have also reached the spot to assist in relief and rescue operations. Army's media arm 'Inter-Services Public Relations' was told that army doctors and ambulances are assisting in the rescue operation. Army engineers and specialist teams are being airlifted from Rawalpindi to assist in the rescue work. He told that two helicopters have left from Multan, relief material is also being prepared and it will also be delivered soon. Also read: Pakistan Train Accident: Collision between Sir Syed Express and Millat Express in Sindh, 30 killed – 50 injured so far
According to Geo News, the authorities have announced an ex-gratia of Rs 15 lakh for the next of kin of those who died in the accident. The injured will be given a compensation of one lakh to three lakh rupees. A senior former railway official said that the rail network in Pakistan has become very old at many places, which becomes the reason for such accidents. He said that at many places, the tracks which were laid before Partition are being operated.
Biden-Putin Meeting: Agreed on sending ambassadors of both countries back to their posts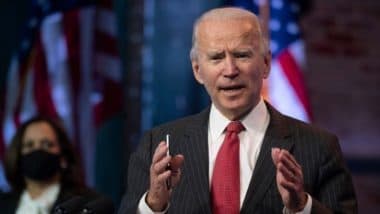 Biden (Photo Credits: Getty Images)
Putin said there was "no animosity" during the talks, which ended in less time than expected. Both sides had said that they expected the meeting to last four to five hours but the meeting between the two leaders lasted less than three hours. This included a preliminary meeting in which both the president and the two had top aides. After the meeting ended, Putin held a one-on-one press conference to explain the results, while Biden addressed reporters separately. Putin acknowledged that Biden raised human rights issues with him, including the case of opposition leader Alexei Navalny. Putin defended Navalny's prison sentence and repeatedly asked questions about his mistreatment of Russian opposition leaders, referring to the domestic turmoil in the US including the 'Black Lives Matter' protests and on the capitol on January 6. Violence is involved.
Putin said he and Biden agreed to start talks about a new 'START' treaty limiting nuclear weapons that could potentially replace it after it expires in 2026. Washington halted talks with Moscow in 2014 in response to Russia's annexation of Ukraine's Crimea and support for separatists in eastern Ukraine. Talks resumed in 2017, but did not succeed in expanding the new START treaty during the Trump administration. The Russian president said they had agreed to send their ambassadors back to their respective deployments. The two countries had in recent months withdrew their top ambassadors from Washington and Moscow due to deterioration in relations. Russian Ambassador to the US Anatoly Antonov was recalled from Washington nearly three months ago after Biden called Putin a murderer. US Ambassador to Russia John Sullivan left Moscow about two months ago. Putin said ambassadors are expected to return to their posts in the coming days. Also read: America: Thousands of Indian students have taken visa 'appointments' in July, August – US Embassy
Putin also said that the two sides have agreed in principle to start consultations on cyber security issues. However, he denied US allegations that the Russian government was responsible for recent high-profile hacks against business and government agencies in the US and around the world. The meeting between Biden and Putin on Wednesday took place in a Swiss mansion on the banks of a lake. The meeting took place at a time when both the leaders said that the relations between their countries were at the lowest level ever. Before the start of the meeting, both the leaders briefly appeared before the media and termed it as a meeting between two great powers and said that face-to-face meeting is always better. Putin said he hoped the meeting would be fruitful. However, during this time both the leaders were seen avoiding looking directly at each other in front of the cameras.
Coronavirus Pandemic: Global cases of corona increased to 17.69 crores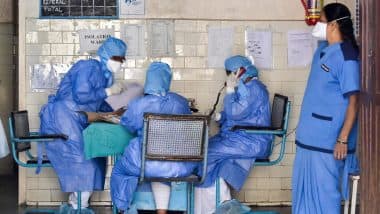 Corona Ward (Photo Credits: PTI)
Washington, June 17 : The global cases of corona have increased to 17.69 crores. At the same time, the death toll from this epidemic has increased to 38.3 lakh. Johns Hopkins University gave this information. In its latest update on Thursday morning, the University's Center for Systems Science and Engineering (CSSE) revealed that the current global corona cases and death toll have risen to 176,960,993 and 3,830,127 respectively.
According to the CSSE, the US remains the most affected country with the world's highest number of cases and deaths at 33,498,145 and 600,648 respectively. India ranks second in terms of infection with 33,498,145 cases. The other worst-hit countries with more than 3 million cases are Brazil (17,628,588), France (5,809,319), Turkey (5,348,249), Russia (4,605,805), UK (4,605,805), Italy (5,189,260), Argentina (4,198,620), Colombia (3,829,879), Spain (3,749,031), Germany (3,726,767) and Iran (3,060,135). Also read: Monsoon Alert: Heavy rain forecast in Mumbai, Thane and Palghar in next 3 hours
In terms of deaths, Brazil is second with 493,693 deaths. More than 100,000 people have died in India (379,573), Mexico (230,624), UK (128,190), Italy (127,153), Russia (125,443) and France (110,740).
UPDATE: Death toll in Nepal floods rises to 7, many still feared missing
Kathmandu, June 16: The death toll in the floods in Sindhupalchok district in central Nepal has risen to seven. Apart from this, there is still a possibility of missing many people. It is being told that the flood has originated from the main source of the Melmachi and Indravati rivers.
#UPDATE | Nepal: Death toll rises to 7 and many feared missing as flood continues to wreak havok in Sindhupalchok district.

(Latest visuals) pic.twitter.com/XNT4IxCBz9

— ANI (@ANI) June 16, 2021
(With SocialLY get the latest breaking news, viral trends and all the news related to the world of social media. Here you will get live information about every content that is going viral on Twitter, Instagram and YouTube. The post shown above is unedited content, which can be sent directly to social media. Taken from the accounts of media users. Not modified or edited by Latestly staff. Social media posts do not represent the views and sentiments of Latestly, We assume no responsibility or liability for any content contained in this post do not accept.)