Pakistan government should preserve ancestral homes of veteran Indian artists: Experts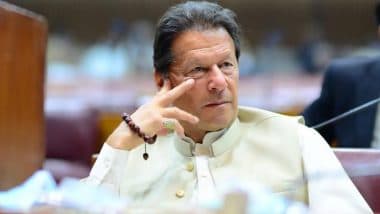 Imran Khan, Prime Minister of Pakistan (Photo Credits: Twitter)
Peshawar, June 11: According to a leading heritage expert here in northwest Pakistan, all ancestral homes of famous Indian artists who left Pakistan at the time of partition should be preserved and converted into tourist destinations. The Khyber Pakhtunkhwa provincial government last week approved the purchase of ancestral homes of Bollywood stalwarts Dilip Kumar and Raj Kapoor in the provincial capital here. Commenting on the development, Shakeel Wahidullah, Secretary, Cultural Heritage Council, Khyber Pakhtunkhwa, said that the activists fought for 13 years to ensure that the homes of these silver screen giants are preserved. Waheedullah said that nationality does not matter and such houses can be turned into tourist attractions in Pakistan.
Raj Kapoor's ancestral home, called Kapoor Haveli, is located in Qissa Khwani Bazaar. It was built between 1918 and 1922 by the great actor's grandfather Dewan Basheswarnath Kapoor. Raj Kapoor and his uncle Trilok Kapoor were born here. It has been declared a national heritage by the provincial government. Veteran actor Dilip Kumar's 100-year-old ancestral house is also located in this area. The house is in a dilapidated condition and was declared a national heritage in 2014 by the then Nawaz Sharif government. The provincial government has released Rs 2.30 crore for the purchase of two buildings.
Also read- Vaccination of Pakistani Hindu migrants started in Barmer, Jaisalmer, Jodhpur awaiting government approval
Waheedullah said that there are many more Indian stars in Peshawar who have ancestral homes in Peshawar, including Shah Rukh Khan, Madhu Bala, Saira Banu, Vinod Khanna, Anil Kapoor, Amjad Khan, Manoj Kumar and Randhir Kapoor. He said the Cultural Heritage Council would invite the families of these actors who live in Pakistan to attend an event organized in Peshawar to promote tourism.
He said the ancestral homes of legendary actress Madhu Bala and actor Shah Rukh Khan's father should be renovated.
(This is an unedited and auto-generated story from a syndicated news feed, likely not modified or edited by the latest staff)
Iraq: CTS claims 13 Islamic State terrorists killed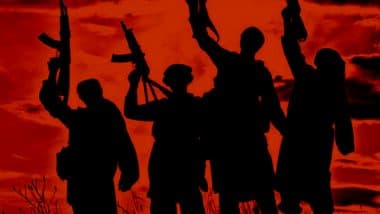 Terrorist ( photo credit : PTI )
Baghdad: Iraq's Anti-Terrorism Service (CTS) said its forces have killed 13 Islamic State (IS) terrorists across the country so far this month. CTS spokesman Sabah al-Numan told the official Iraqi news agency (INA) on Sunday that commandos carried out a series of security operations in June, killing 13 IS militants and several others. was arrested from the caves and hideout. Baghdad: Iraqi security forces kill 2 IS terrorists, 6 arrested
The CTS forces will continue their operation to nab IS militants, Xinhua news agency quoted al-Numan as saying. The operations were part of efforts to eliminate extremists IS militants, who intensified their attacks on security forces and civilians in previously controlled provinces, killing and wounding dozens.
The security situation in Iraq is improving as security forces completely defeated IS militants across the country in late 2017.
Prime Minister Narendra Modi congratulates Naftali Bennett on becoming the Prime Minister of Israel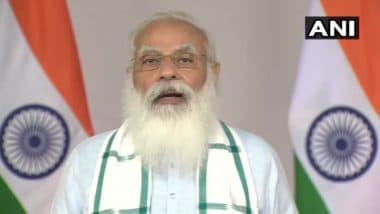 Prime Minister Narendra Modi (Photo Credits: ANI)
New Delhi: Prime Minister Narendra Modi on taking oath as the Prime Minister of Israel, right-wing Yamina Party leader Naftali Bennett (Naftali Bennett) on Monday and said that he is looking forward to further strengthen the strategic partnership between the two countries. Israel: US President Joe Biden congratulated Israel's new PM Naftali Bennett over the phone
Modi tweeted, "Congratulations to Naftali Bennett on becoming the Prime Minister of Israel. We complete 30 years of upgrading our diplomatic relations next year and I look forward to meeting you on this occasion and further strengthening the strategic partnership between the two countries."
Bennett was sworn in as Israel's prime minister on Sunday. With this, the tenure of Benjamin Netanyahu, who had been in the post of Prime Minister for 12 years, ended.
Prime Minister Modi lauded former Prime Minister Netanyahu at the end of his "successful" term and thanked his leadership for his personal focus on the India-Israel strategic partnership.
In Israel's 120-member parliament 'Knesset' yesterday, 60 members voted in favor of the new government and 59 against it. During this one member remained absent. The new government has 27 ministers out of which nine are women.
Parties of different ideologies have formed an alliance for the new government. Among them there is also a party representing the Arab community along with right-wing, left, centrist. Mickey Levy of Yesh Etid Party was elected Speaker of Parliament. 67 members voted in his favor.
(This is an unedited and auto-generated story from a syndicated news feed, likely not modified or edited by the latest staff)
Israel: US President Joe Biden congratulated Israel's new PM Naftali Bennett over the phone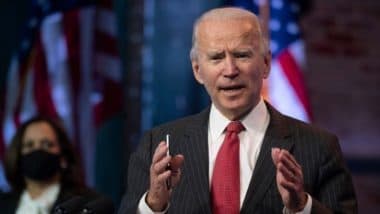 Biden (Photo Credits: Getty Images)
Washington: US President Joe Biden has congratulated Naftali Bennett after being sworn in as the new Prime Minister of Israel. In a phone call with Bennett on Sunday, Biden spoke of his decades of support for bilateral ties and his unwavering commitment to Israel's security, Xinhua news agency reported. Israel Embassy Explosion: NIA may investigate the blasts near Israel Embassy
The two leaders agreed to hold close discussions on regional security issues, including Iran, the statement said. "The president also conveyed that his administration intends to work closely with the Israeli government on efforts to advance peace, security and prosperity for Israel and the Palestinians," he said.
Bennett, leader of the right-wing Yamina (United Rights) party, was sworn in as the new Israeli prime minister on Sunday night. With this, Benjamin Netanyahu, who was the Prime Minister of the country for 12 consecutive years, has now gone into opposition.