OP Over 100 students of Jindal Global University awarded Australian internship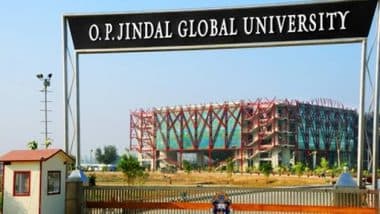 OP Jindal Global University/facebook
New Delhi, June 3: OP More than 100 students from Jindal Global University (JGU) in International Relations, Public Policy, Humanities, Business and Law have been awarded internships in leading Australian organizations. Despite the constraints of the global COVID-19 pandemic, 103 students have been selected for internships at CyberEQ and IAIE in 2021. OP Jindal Global University (JGU) has signed a Memorandum of Understanding (MoU) with Australia-based Institute for Australia India Engagement (IAIE) and CyberEQ to create opportunities for students to do internships in Australia. Also read: Center has expanded the Central Civil Services (Pension) 2020 rules, will be applicable to these government employees
With IAIE, students will participate in the Student Mentoring and Research Training (SMART) program over a period of 1-2 months. For students interning in CyberEQ, students will conduct critical research on regulatory and technical issues surrounding cyber security. The internship will mentor students for future research, academic and professional roles and provide training to build research skills in academic writing, including data collection and management, as well as formulate hypothesis, abstract and inference and presentation skills, among other skills .
The internship program will also impart key leadership skills to the students.
C. Raj Kumar, Founder Vice Chancellor, OP Jindal Global University said, "In a time where travel is limited, with the Institute of Australia India Engagement and Cyber ​​EQ The virtual engagement will allow students from a variety of disciplines at JGU a unique internship opportunity in Australia. These international internships are another example of JGU's focus on ensuring that students engage meaningfully with institutions around the world during their studies In the future, our students will be able to pursue these internships in a more engaging way by traveling and experiencing Australia."
CyberEQ founder, John McKenzie has been impressed by JGU's entrepreneurial and forward-thinking innovation in supporting emerging start-ups. The partnership between JGU and CyberEQ enters its third intake with over 64 virtual interns. Now expanding the research focus to existing and emerging discrepancies between traditional and technological challenges facing cyber security.
Pankaj Gupta, Dean, Office of Career Services, said, "The Virtual Internship Program is student-centered research that provides a unique learning environment. One of the objectives is to ensure that each student receives quality coaching and mentoring so that each intern has a unique learning environment. Have the greatest learning experience and opportunity. The students of JGU have a unique opportunity to explore. A unique opportunity to develop a deeper understanding through higher education by bridging the technology gap from legal, vocational and psychological perspectives .
He said, "I am delighted to see and be a part of OP Jindal Global University's partnership with multiple organizations and multiple platforms in Australia. This partnership is the result of a global perspective and JGU's collaboration. It has grown together. Even during the pandemic, CyberEQ and the Virtual Internship by the Institute of Australia India Engagement have been a catalyst. I am sure of the rich and bountiful growth of this partnership in times to come."
Ashutosh Mishra, CEO and Executive Director, IAIE said, "IAIE is committed to strengthen Australia-India relations with future thinking leaders, professionals and academic experts in collaboration with JGU. The Student Mentoring and Research Training (SMART) program is a important part."
Ambala: Police and excise team recovered illegal liquor, DSP said – from where these 2 trucks have been brought, it will be investigated
Ambala: Police and excise team recovered illegal liquor, DSP said – from where these 2 trucks have been brought, it will be investigated-
Haryana | Ambala police and excise department seized two trucks loaded with illicit liquor in Mandour village yesterday

"Probe is underway," says police. No arrest has been made so far. pic.twitter.com/e9GYBlTDec

— ANI (@ANI) June 13, 2021
(With SocialLY get the latest breaking news, viral trends and all the news related to the world of social media. Here you will get live information about every content that is going viral on Twitter, Instagram and YouTube. The post shown above is unedited content, which can be sent directly to social media. Taken from the accounts of media users. Not modified or edited by Latestly staff. Social media posts do not represent the views and sentiments of Latestly, We assume no responsibility or liability for any content contained in this post do not accept.)
Indian SIM cards were being used in China for fraud, agencies engaged in investigation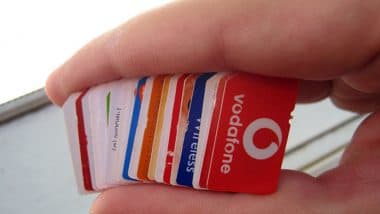 SIM Card (Photo Credits: Flickr)
New Delhi: Indian agencies are engaged in getting details of 1,300 SIM cards, as they were allegedly being used by a gang of Chinese to hack accounts and commit financial fraud, a suspicious activity of a Chinese intelligence agency. is. A source said that all telecom operators have been directed to report to the agencies concerned at the earliest if any suspicious link is found related to any SIM card being operated from outside India.
According to the information, agencies have asked these telecom operators to make a list of all Indian SIM cards operating from China since 2010. The move came after agencies learned that 1,300 SIM cards were used to hack accounts and commit other financial frauds. This was revealed during the interrogation of Han Junwe, a Chinese infiltrator who was arrested on Thursday. Also read: India-China Border Tension: Joint statement of armies, said – India and China agreed not to send more troops to the front
Revealing the shocking fact, 36-year-old Chinese national Han, who has been a wanted criminal in India, informed agencies that he has taken around 1,300 Indian SIM cards from India since 2010 using fake documents. .
Han used to hide the SIM card in his undergarments and send it to China through his associates. The Border Security Force (BSF) arrested a suspected Chinese spy who allegedly entered Indian territory by crossing the India-Bangladesh border in Malda district of West Bengal. A BSF official who arrested him said, these SIM cards were used to hack accounts and commit other financial frauds.
The BSF, which is responsible for guarding the 4,096-km Indo-Bangladesh border, said the aim was to trick people into using SIM cards to withdraw their money from money transaction machines. The agencies have also raided the hotel of the Chinese national, which he is running from Gurugram under the name Star Spring, where some of his Chinese associates were working.
Han, who is now in the custody of West Bengal Police for further legal proceedings along with the confiscated items, has been kept under the border post Malik Sultanpur. He was arrested and remanded in custody when he was trying to cross the India-Bangladesh International Border (IB) illegally.
Han, a resident of the Chinese city of Hubei, entered Bangladesh on June 2. Interrogation and his recovered passport revealed that Han arrived in Dhaka on June 2 on a business visa and lived there with a Chinese friend. The statement said that on June 8, he came to Sona Masjid in Chapainwabganj district (Bangladesh) and stayed in a hotel there. He was trying to enter Indian territory on Thursday, during which he was caught by BSF personnel.
During interrogation, the Chinese national told that even before this he has come to India four times. He had come to Hyderabad in 2010 and Delhi-Gurugram thrice after 2019. He visited India more than four times.
Upon further questioning, Han said that when he went to his hometown of Hubei, one of his business partner Sun Jiang would send him 10 to 15 Indian mobile phone SIMs a few days later, which he and his wife had received. But a few days ago his business partner was caught by the Anti-Terrorism Squad from Lucknow.
He said that a case has been registered against him and his wife after their business partner revealed their names to the ATS and because of this they did not get Indian visa in China. He got visas for Bangladesh and Nepal, which cleared the way for him to come to India. Soon after Han's business partner was arrested by ATS Lucknow on several charges, the process of issuing a Blue Corner Notice against him was initiated.
One Apple laptop, two iPhone mobiles, one Bangladeshi SIM, one Indian SIM, two Chinese SIM, two pen drives, three batteries, two small torches, five money transaction machines, two ATMs and MasterCard, US dollars, from Chinese national. Bangladeshi Taka and Indian Rupee have been recovered. The agencies are now investigating the gadgets recovered from the possession of the Chinese national.
Assam: On suspicion of being a cow thief, a person was beaten to death by a furious mob.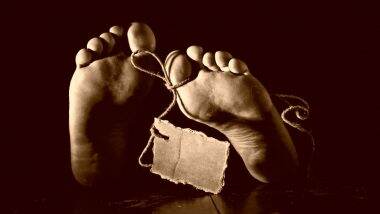 Symbolic photo (Photo Credits: Facebook)
Tinsukia, June 12: A 28-year-old man, suspected to be a cow thief, was lynched by a mob on Saturday in a village in Assam's Tinsukia district. However, the victim's accomplice fled the spot.
Tinsukia Superintendent of Police Debojit Deori told PTI that the incident took place in the early hours today at Korzonga Borpathar village under Bagjan police station in the district, when the two were found in a house near a shed built for keeping cows. Gone.