Nusrat Jahan's big statement came amidst rift with husband Nikhil Jain, said – when marriage is not valid then what is the matter of divorce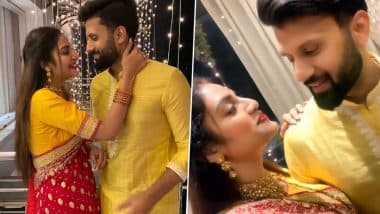 Nusrat Jahan and Nikhil Jain (Photo Credits: Instagram)
Trinamool Congress MP Nusrat Jahan (Nusrat Jahan) For some time there were reports of rift between husband Nikhil Jain. After which Nusrat Jahan has given a big statement about her marriage today. He issued a statement saying that their marriage took place according to Turkish law which is not valid in India. When the marriage is not valid, then the matter of divorce arises. Actually Nusrat Jahan married Nikhil Jain in the year 2019. After which there was a lot of discussion about the marriage of both. But now their relationship is almost over.
According to ANI's tweet, Nusrat has given a statement that due to being a foreign land and according to the Turkish Marriage Regulation, this marriage is invalid. Apart from this, it was a marriage between people of two religions, so it needed to be given legal recognition in India but it did not happen. This marriage is not valid but a relationship. Hence the question of divorce does not arise.
Being on foreign land, as per Turkish Marriage Regulation, ceremony is invalid. It was interfaith marriage, it requires validation under Special Marriage Act, which didn't happen. As per Court of Law, it's not marriage but relationship/live-in: Nusrat Jahan, TMC issues statement pic.twitter.com/c9gi82vg8r

— ANI (@ANI) June 9, 2021
After this statement of Nusrat, no reaction has come from Nikhil's side so far. Although the market of speculation is fast that the closeness between Nusrat Jahan and actor Yashdas Gupta has increased. After which the news of tension started coming between the couple.
Pregnant Nusrat Jahan jumps in water, bold photoshoot of swimming pool goes viral
Mumbai. Trinamool Congress MP and Bengali actress Nusrat Jahan has been in the news for the past several days. Nusrat Jahan is very active on social media, keeps sharing her beautiful pictures and videos, which fans like very much.
Friends, recently Nusrat Jahan has shared VIDEO. In this, she is seen playing with water in the swimming pool. Friends, this shoot of Nusrat is being liked by the fans, while some people are also criticizing her. Let us tell you that for the past several days, she is in the headlines due to the news of pregnancy and rift with husband Nikhil Jain.
Friends, let us tell you that Nusrat Jahan's sensational statement has come after the news of rift with pregnancy and Nikhil Jain. In this he had said that his marriage to Nikhil is illegal. Friends, only after this a picture of her came out in which her baby bump was visible. According to reports, Nikhil Jain says that he is not the father of Nusrat's child.
Friends, for your information, let us tell you that Nusrat Jahan claims that she married businessman Nikhil Jain in Turkey in 2019. This marriage is not valid according to Indian laws. Friends, they say that they had married according to the Turkish Marriage Regulation, so it is illegal in India.
.
The house of this actress is no less than a shopping mall, if not sure then see for yourself
You must have known the beautiful television actress Digangana Suryavanshi that she has always been the subject of discussion about her character in television.
Digangana Suryavanshi likes to be active on social media and keeps sharing her stylish pictures every day, you can see in these pictures that she is looking very beautiful and hot.
You can see her shoes collection purse collection in the background, her house is no less than a shopping mall, let us tell you that Digangana Suryavanshi's financial condition is already good, she belongs to Rajput family.
Digangana Suryavanshi has now started working in web series as well and the people of her upcoming project eagerly wait.
.
Bold photoshoot of this actress went viral, people said second Sunny Leone
Although Sunny Leone is one of the hottest and bold actresses of Bollywood because her style is very much liked by the people and she wins the hearts of people with her bold character in films, but actress beauty who is famous from Raktanchal web series Sharma is also no less than her, she is also very hot and always remains in the discussion about her photoshoot.
Soundarya Sharma has recently posted some pictures in which she looks quite bold and after seeing these pictures people call her the second Sunny Leone.
Let us tell you that this actress has also worked in the second part of this web series, Sundaria Sharma has also worked in some Bollywood films and now she is not getting work in Bollywood but still she is very active in the web series. .
.