Nisha Rawal got serious injury due to quarrel with Karan Mehra? Celebrities came out in support of the actress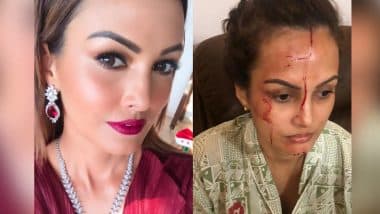 Nisha Rawal (Photo Credits: Instagram)
Karan Mehra-Nisha Rawal Controversy: There is a lot of ruckus in the married life of TV couple Karan Mehra and his wife Nisha Rawal. Recently, Nisha lodged a complaint against Karan at Goregaon Police Station in Mumbai, after which she was arrested and released on bail in the morning. In this matter, both the people have presented their explanation in front of the media. Now many celebrities have come out in support of Nisha and told that Karan has beaten his wife many times.
Popular fashion designer and ex-Bigg Boss contestant Rohit Verma has posted a photo of Nisha, in which she looked beautiful on one side and she was badly hurt on the other. A lot was flowing from his head too. People are surprised after seeing this photo. Sharing the picture, Rohit supported Nisha and wrote, "I have been watching you endure all this peacefully for many years and finally you raised your voice to help yourself and your child. My friend in this condition Sad to see. Why does a person become a demon like this? I am with my friend in this time of sorrow…he has to rise and fight. His pain, anguish and trouble cannot be described. I am with him Each one stands like a strong pillar. I am with you in this difficult time by holding your hand. Lots of love and courage."
Kashmera Shah also supported Nisha and told the media, "I am with Nisha and when there were many financial problems going on between her, Karan had beaten her many times. We came home and saw that Nisha was calm. It was a very personal matter. We knew he had many problems in his life but we didn't know to what extent. You could not interfere in his personal life even like a best friend and could only be with him. "
Also read: Karan Mehra narrated the story after being released on bail, said – Nisha Rawal is mentally ill, conspiracy hatched against me
Talking about Karan, Kashmera said, "It is not right, it will not happen that Nisha herself gets injured so badly by banging her head on the wall. What if she did not get medical facilities at the right time. Right now. We stand with our friend more than domestic violence."
Let us tell you that Karan had told the media that Nisha is bi-polar and after a dispute with her on the night of 1 June, the actress herself slammed her head on the wall. Although Nisha has told this thing completely wrong.
Rajpal Yadav's wife is very beautiful, she is 9 years younger
Aamna Sharif showed bold avatar in White One Piece, was seen in open hair
KKK11: Promo launch of 'Khatron Ke Khiladi' season 11
The season of 'Khatron Ke Khiladi 11' has started with a bang on the small screen. All the contestants have left for South Africa. Famous TV stars Divyanka Tripathi, Vishal Aditya Singh, Varun Sood, Rahul Vaidya, Abhinav Shukla, Anushka Sen and Shweta Tiwari will be seen in the list of contestants. All the contestants are very active on social media at this time, sharing many pictures and videos with the fans.
Recently all the contestants have shared the post in "Khatron Ke Khiladi 11" with director as well as host, tester Rohit Shetty. Now the promo of this most awaited series has come out. Its promo has been released by Rohit Shetty himself. It has also been announced that the show will soon be aired on TV.
What is shown in the promo
At the beginning of the promo, Rohit Shetty gets into the helicopter in a speed car. He is also seen having a conversation with a lion. Rohit Shetty has said on social media that 'Khatron Ke Khiladi 11' Der Vs Dare is going to come on Colors TV soon. The caption of the show will be aired soon. Along with Stunt Pilot, Warren is, in my opinion, the best stunt pilot in the world. After seven years and seven seasons, this guy seems to have changed a lot. But the spirit of the show is still there. Rohit Shetty announces the series in full swing.