New meme in trend on social media, this character of 'THE FAMILY MAN 2' can replace GOOGLE too
Manoj Bajpayee's Amazon Prime series show 'The Family Man 2' has received an overwhelming response from the audience. This show has also been well-liked by the fans of the country and the world. This series is very much in trend on the internet and fans are also discussing a lot about it. Now a character of the show is making a lot of headlines among the public on Twitter. Tamil actor Uday Mahesh, who played the character of 'Chelam Sir' in the show, was well-liked by the fans.
According to media reports, the role of Uday Mahesh in the show Chellam Sir is that of a retired NIA officer, who was seen here guiding Manoj Bajpayee and his team. Despite a star-studded starcast like Manoj Bajpayee, Samantha Akkineni and Priyamani in the show, Chellam sir's character is garnering a lot of attention and trending on Twitter.
People praised the character of Chellam sir by making many funny memes and now a lot of reactions are coming about him. Take a look at these tweets:
Kids Google It Legends Chellm It pic.twitter.com/3FlsVYDY1B— Aniket Kumar Pandey (@BeingAK27) 6 June 2021
don't google
Whatever the problem, Chellam has the solution – pic.twitter.com/1KhPUI3Z29– SunnySense ???????? (@sunnysanketh78) 6 June 2021
Information i.e. Chelm Sir
In college #chelamsar Can actually tell you where the money of PM Cares Fund was used pic.twitter.com/MvIK4QPhH6— siddharth setia (@ethicalsid) 6 June 2021
Google's Place Chellam: Not only this, many such funny memes are going viral on the internet which will make you laugh with laughter. Fans of The Family Man series are seen enjoying it by making memes on Chellam Sir.
.
MP Ravi Kishan raised his voice against obscenity in Bhojpuri films and songs, wrote a letter to the Chief Ministers of UP and Bihar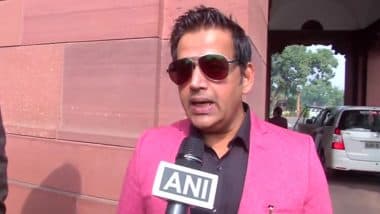 Ravi Kishan (Photo Credits: ANI)
Bollywood actor and BJP MP from Gorakhpur Ravi Kishan has written to Union Ministers and Chief Ministers of Uttar Pradesh and Bihar, demanding a ban on pornographic content in Bhojpuri films and songs. He has demanded a strict law to stop such content in films and songs.
Ravi Kishan has said in his letter that the population of Bhojpuri speakers in the country is about 25 crores. He said, "These people deserve better deals and obscenity in Bhojpuri cinema and its songs should be stopped." He said that Bhojpuri films and songs which have already been released should also be brought under the ambit of the proposed law.
Also read: Bhojpuri actors Ravi Kishan and Manoj Tiwari came forward in support of Noida Film City, said – it will promote Indian cinema
Ravi Kishan has been associated with Bhojpuri cinema for almost three decades and has played an important role in popularizing this regional cinema. He said, "I think the time has come for us to end obscenity and ensure that Bhojpuri cinema is recognized for its quality and content. Today Bhojpuri cinema has become synonymous with obscenity."
He said that obscenity in Bhojpuri films and songs is having an adverse effect on the mind of the younger generation. Ravi Kishan has also introduced a private member's bill to include Bhojpuri language in the Eighth Schedule.
Urvashi Rautela sitting in the sun by applying soil all over her body, people said…
Mumbai. Urvashi Rautela is often in the headlines due to her beauty and bold style. Urvashi Rautal dominates social media with her hot and beautiful style. Urvashi Rautela is very active on social media, keeps sharing her beautiful pictures and videos. Whom fans also love a lot. Friends, recently Urvashi Rautal has shared a picture on social media, seeing which the fans were also surprised.
Friends, you can see in this picture that Urvashi Rautela keeps making various efforts to maintain her beauty. Urvashi Rautela is seen applying mud all over her body. Please tell that Urvashi is taking a mud bath and she has counted its benefits. His fans are making funny comments on this post.
Urvashi also mentioned the benefits of mud baths and wrote, They detoxify, remove impurities, soften the skin, increase circulation and relieve pain. Contains mineral-rich clay which is considered therapeutic and good for the skin. Urvashi's fans have created heart and lit emojis, while one of her fans has written, The boys are waiting for the rain.
.
Bell Bottom: Akshay Kumar's film 'Bell Bottom' will knock in theatres, the actor shared the video and told the release date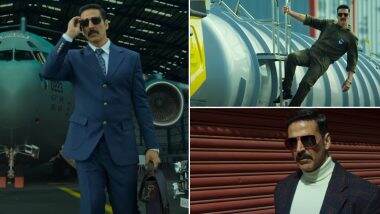 Akshay Kumar in the movie 'Hell Bottom' (Photo Credits: Youtube)
Akshay Kumar Movie 'Bell Bottom' to Release in Theaters: bollywood players Announcing today, Akshay Kumar said that he is going to release his film 'Bell Bottom' in theatres. The actor announced today via social media that the film will be released in theaters on July 27, 2021.
Akshay Kumar has shared his video on Instagram announcing the release date of the film in an interesting way. Posting this, Akshay wrote in the caption, "I know you all are eagerly waiting for the release of Bell Bottom. Glad to announce the release date of our film. It will hit the big screens worldwide. Releasing on July 27."
Also read: Bell Bottom Teaser: Fans were impressed by Akshay Kumar's style and exciting style, see the first teaser of 'Bell Bottom'
Akshay Kumar starrer 'Bell Bottom' is a spy thriller film in which Vaani Kapoor, Lara Dutta and Hum Qureshi are also present in the lead roles. The film is directed by Ranjit M Tiwari. Apart from this film, Akshay Kumar will be seen in 'Bachchan Pandey' and 'Atrangi Re'.