NCB re-issued summons against Sushant Singh Rajput's bodyguard, ongoing interrogation
Sushant Singh Rajput Death Case: In the drugs case related to the death of Bollywood actor Sushant Singh Rajput, the team of Narcotics Control Bureau has again issued summons against his bodyguard and summoned him for questioning. In this case, the actor's bodyguard was also questioned by the NCB for hours on 2 June.
Narcotics Control Bureau (NCB) summons Sushant Singh Rajput's bodyguard for the second day in a row, in the drug case linked to the late actor's death

— ANI (@ANI) June 3, 2021
(With SocialLY get the latest breaking news, viral trends and all the news related to the world of social media. Here you will get live information about every content that is going viral on Twitter, Instagram and YouTube. The post shown above is unedited content, which can be sent directly to social media. Taken from the accounts of media users. Not modified or edited by Latestly staff. Social media posts do not represent the views and sentiments of Latestly, We assume no responsibility or liability for any content contained in this post do not accept.)
Opportunity to stay in Sushant Singh Rajput's sea view flat! will have to pay so much rent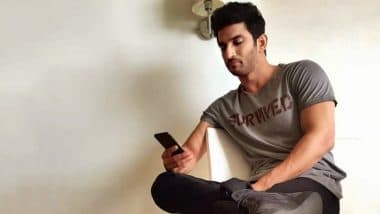 Sushant Singh Rajput (Photo Credits: Instagram)
Sushant Singh Rajput Apartment Available for Rent: Sushant Singh Rajput's Sea View flat in Bandra is being rented out. For this, the interested person will have to pay a rent of Rs 4 lakh per month. Sushant had rented this apartment in December 2019 for Rs 4.5 lakh. Giving information about this, a celebrity broker said that it has been announced to rent this apartment but it is yet to get it as a tenant.
In the E-Times report, the property broker said that due to the Corona epidemic, not many customers have come for it. However, whoever came to inquire about renting it also talked about Sushant Singh Rajput. Reality firm informed that this flat of Sushant is best for artistic people. Located close to the sea, this apartment is also good for those who have come to Mumbai for work.
Sushant had rented this apartment named Mont Blanc for 36 months and he was going to live here till December 2022 with Riya Chakraborty, his friend Siddharth Pithani and his two servants Keshav and Neeraj. Sushant was found dead in his bedroom on June 14, 2020. In this case, the actor's friend Siddharth Pithani is in judicial custody regarding the drugs case.
Kangana reached Bombay High Court due to international travel, know the whole matter
Bollywood actress Kangana Ranaut remains in the discussion about her statements more than her work. A big news has come out about Kangana as the actress has reached the Bombay High Court demanding renewal of her passport. According to the information received, Kangana, while filing an application in the court, said, "The Passport Authority is objecting to the FIR lodged against her by the Bandra Police regarding the heinous tweet and sedition."
His sister Rangoli Chandel is also an accused in the case. Let us tell you that Kangana has written in her application, "Since she is an actress, she has to travel internationally from across the country for professional meetings." Kangana has also informed that "She has to shoot a film in which she has a lead role. For which he has to travel to Budapest from June 15 to August, 2021. His passport will expire in September 2021. Due to which they have to renew their passport. But the sedition case registered against him is adding to his troubles."
On the other hand, no response has been received from the High Court in this matter so far. It is not yet decided whether Kangana's passport should be renewed or not. Bollywood tigress Kangana Ranaut is soon going to be seen in films like Dhakad and Tejas and she is busy shooting for these films.
.
Pavitra Rishta 2.0: Ankita Lokhande to return as Archana, this TV actor to play Sushant Singh Rajput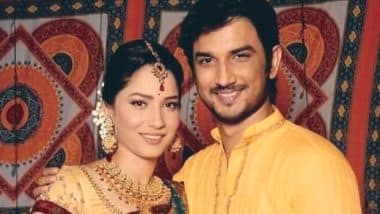 Sushant Singh Rajput and Ankita Lokhande (Photo Credits: Instagram)
The makers are once again preparing to present the hit TV show 'Pavitra Rishta' by Sushant Singh Rajput and Ankita Lokhande to the audience in a new way. While Ankita will be seen again in this show as Archana, the makers have cast a new actor in place of Sushant, who plays Manav in the show. With the title of 'Pavitra Rishta 2.0', the show will be seen again among the audience.
According to the latest report published in Pinkvilla, Ekta Kapoor has cast Shaheer Sheikh for the role of Manav in this show. After 7 years, Ankita will once again be seen playing the role of Archana. The other cast of the show will also be finalized soon.
Let us inform that Ankita and Sushant's show 'Pavitra Rishta' was one of the most hit shows of TV with about 1500 episodes. From this show, these artists got their recognition from house to house and the audience liked the story of Archana and Manav very much.
Recently, celebrating the completion of 12 years of this show, Ankita came live on her social media and celebrated it with her fans. Recently, on the first anniversary of Sushant Singh Rajput, the actress also gave a special tribute on social media remembering him.