National COVID Vaccination Program: Government issued revised guidelines for National Kovid Vaccination Program, read full details here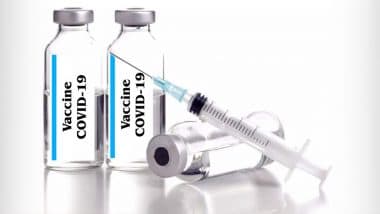 Vaccine (Photo Credits: IANS)
New Delhi: A day after Prime Minister Narendra Modi announced to provide free COVID-19 vaccines to states and union territories for the eligible population of 18 years and above, the Union Ministry of Health and Family Welfare on Tuesday issued revised guidelines. During his speech, the PM announced that the Indian government was returning to central procurement of COVID-19 vaccines from manufacturers following complaints from state governments that they were facing difficulties with respect to funding, procurement and logistics for the vaccines. Huh.
The PM also said that the Center will buy 75 percent of the monthly production of vaccine manufacturers, which will be given to the states free of cost. These vaccines will be given free of cost to the eligible population at government immunization centers. The remaining 25 per cent can be procured by private hospitals to make available vaccines to citizens on payment basis, the PM said. The revised guidelines issued by the Ministry of Health are as follows and they will be applicable from June 21.
View Tweet:
The Government of India has issued revised guidelines for the National COVID Immunization Program to be implemented from 21st June. pic.twitter.com/JQEbUUVmB0

— ANI_HindiNews (@AHhindinews) June 8, 2021
The Government of India will procure 75% of the vaccines being produced by the manufacturers in the country. The procured vaccines will continue to be provided to the States/UTs free of cost, as has been the case since the inception of the National Immunization Programme. These doses will be given free of cost to all citizens by the States/UTs on priority basis through Government Immunization Centers.
Health care workers, frontline workers, citizens above 45 years of age, citizens who are in the second dose of 18 years and above in vaccination in respect of free doses of vaccine provided by the Government of India to the states. will be given.
Within the population group of citizens above 18 years of age, States/UTs may decide their own priority factoring in the vaccine supply schedule.
The dose of vaccine provided free of cost by the Government of India will be allocated to the States/UTs on the basis of criteria like population, disease burden and progress of vaccination. Vaccine wastage will negatively affect allocation.
The Government of India will provide the States/UTs with advance intimation of the dose of vaccine to be supplied to them. Similarly, States/UTs should allocate doses to districts and immunization centers in advance. They should also put the information about the above availability at the district and vaccination center level in the public domain and disseminate it widely among the local population while maximizing the visibility and convenience of the citizens.
To encourage production by vaccine manufacturers and encourage new vaccines, domestic vaccine manufacturers are also given the option of providing vaccines directly to private hospitals. This will be limited to 25% of their monthly production. States/UTs will aggregate the demand for private hospitals keeping in view the equitable distribution between large and small private hospitals and regional balance. Based on this aggregate demand, the Government of India will facilitate the supply of these vaccines to private hospitals and their payment through the electronic platform of the National Health Authority. This will enable small and remote private hospitals to achieve timely supply of vaccines and further equitable access and regional balance.
The price of the vaccine dose for private hospitals will be announced by each vaccine manufacturer and any subsequent changes will be notified in advance. Private hospitals can charge up to a maximum of Rs 150 per dose as service charge. The state governments can monitor the price being charged in this way.
All citizens irrespective of their income status are entitled to free vaccination. Those who are able to pay are encouraged to use vaccination centers of private hospitals.
To promote the spirit of "public welfare", the use of non-transferable electronic vouchers will be encouraged, which can be redeemed at private immunization centres. With this, people will be able to financially help in immunization of economically weaker sections at private immunization centres.
The CoWIN platform enables every citizen to conveniently and securely pre-book vaccination appointments. All government and private immunization centers shall also provide onsite registration facility available to both individuals as well as groups of individuals, for which detailed procedure has been finalized by the States/UTs to minimize any inconvenience to the citizens and to be published.
States can make better use of Common Service Centers and Call Centers to facilitate pre-booking by citizens.
Commendable step of Delhi government, under the new scheme, four and a half lakh people without ration cards got food grains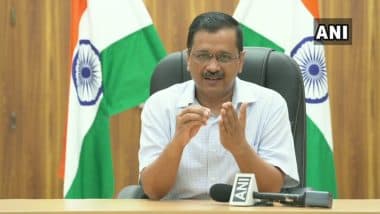 CM Arvind Kejriwal (Photo Credits: ANI)
Delhi Chief Minister Arvind Kejriwal-led government on Sunday said it has provided food grains to over 4.5 lakh people who do not have ration cards under a new scheme in the national capital. Under this scheme started from June 5, those people who do not have ration card can get five kilograms of food grains by showing their Aadhaar card.
The Delhi government said in a statement, "This scheme is for those people who do not have ration cards. These people include workers in the unorganized sector, migrant workers, construction workers and domestic help. So far more than 4.5 lakh people have been assisted through this scheme. Under this scheme, four kilograms of wheat and one kilogram of rice are being given to the beneficiaries. It states that 5,000 tonnes of ration has been provided to the people and another 5,000 tonnes will reach the distribution centres. Also read: After Arvind Kejriwal's announcement, auto-taxi and e-rickshaw drivers in Delhi started getting 5-5 thousand rupees, so far the money transferred to the account of 23,000 people
A total of 280 government schools in Delhi have been selected for distribution of food grains. One school in each municipal ward has been identified for this. Food and Civil Supplies Minister Imran Hussain said, "We assure you that in the coming days things will be further streamlined to make the entire process smooth and hassle free. Your government believes that ration is the right of the people.
Ration can be obtained from designated centers from 10 am to 4 pm on all working days except gazetted holidays and Sundays.
(This is an unedited and auto-generated story from a syndicated news feed, likely not modified or edited by the latest staff)
Preparations to send man-eating leopards caught in Uttarakhand to rescue centers in other states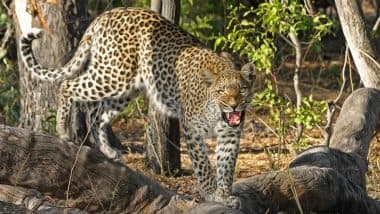 Leopard/symbolic photo (Photo Credits: Pixabay)
Dehradun, June 13: After completing the capacity of rescue centers set up in Nainital and Haridwar districts for man-eating leopards caught alive, the Uttarakhand Forest Department is now preparing to send them to other states. Chief Wildlife Warden of the state JS Suhag said that in this regard, in-principle approval has been received from the Central Zoo Authority and after getting formal permission from the state government, the process of sending the man-eating leopards caught alive to the rescue centers of other states will start. He said that this step is being taken as the capacity of two rescue centers in Uttarakhand is full.
Suhag said that eight leopards have been kept at Chidiyapur Rescue Center in Haridwar district and its capacity has been reached, while there are three leopards in Ranibagh in Nainital district and only four can be kept there. He said that a large number of leopards are caught every year in different parts of the state and lakhs of rupees are spent on their maintenance. Caught man-eating leopards are usually sent to zoos or kept in temporary open enclosures under the supervision of forest workers. There is a lot of free space for leopards in rescue centers in other states and in view of this the idea of ​​sending leopards out of Uttarakhand came.
Also read- Country News | Uttarakhand lost five MLAs in three and a half years
He said that the Jamnagar Rescue Center in Gujarat has the capacity to keep 50 leopards while there are only four leopards. The forest officer said that six man-eating leopards would be sent to Jamnagar in the first phase after getting approval from the state government.
(This is an unedited and auto-generated story from a syndicated news feed, likely not modified or edited by the latest staff)
Mumbai: A car parked in a parking lot outside a building in Ghatkopar area sinks into a sinkhole in seconds – watch video
Mumbai: A car parked in a parking lot outside a building in Ghatkopar area sinks into a sinkhole in seconds – watch video
Maharashtra: A viral video shows a car sinking in a sinkhole in Mumbai's Ghatkopar

Traffic Police says,"There was a well at the place. Some people covered it with concrete slab&started parking cars over it. Incident occurred due to land subsidence following rain. No one injured" pic.twitter.com/N8Tys2BrUY

— ANI (@ANI) June 13, 2021
(With SocialLY get the latest breaking news, viral trends and all the news related to the world of social media. Here you will get live information about every content that is going viral on Twitter, Instagram and YouTube. The post shown above is unedited content, which can be sent directly to social media. Taken from the accounts of media users. Not modified or edited by Latestly staff. Social media posts do not represent the views and sentiments of Latestly, We assume no responsibility or liability for any content contained in this post do not accept.)