National Award winning filmmaker Buddhadeb Dasgupta dies at the age of 77, PM Modi expresses grief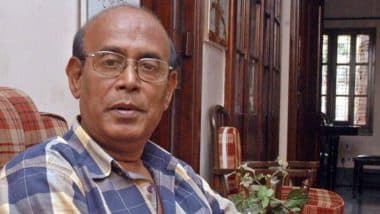 Buddhadeb Dasgupta (Photo Credits: Twitter)
Kolkata, June 10: Eminent film director Buddhadeb Dasgupta died at his residence here on Thursday morning after suffering from kidney ailment due to a heart attack. He was 77 years old. He is survived by his wife and two daughters from his first marriage. Family members said that Dasgupta's wife Sohini noticed at 6 am at their residence in Kalikapur area in the city that there was no movement in Dasgupta's body. He told that he had a heart attack in his sleep.
Dasgupta was known for presenting stories in an interesting way, often engaging in investigations into complex human characters and posing touching questions. His political ideology was well reflected in his cinema. Many of his poems have also been published.
Also read- Country News | January 8: Film director Bimal Roy dies, Stephen Hawking born
On the death of the well-known director, tributes were paid to him from all over the country. The Prime Minister also expressed grief over his death. Modi tweeted, "Saddened by the demise of Buddhadev Dasgupta. His diverse works touched the hearts of all sections of the society. He was also a famous thinker and poet. My condolences to his family members and loved ones in this hour of grief.
Expressing condolences to the director's family and friends, West Bengal Chief Minister Mamata Banerjee tweeted, "Saddened by the passing away of eminent filmmaker Buddhadeb Dasgupta. Through his work, he made cinema unique. His death is a big loss to the film community."
Rajinikanth will go to America for medical check-up
Rajinikanth was on his way to America for a medical checkup. Following this, he had requested the central government to allow them due to the ongoing pandemic. As per the latest reports, the Center has given her the green signal for the same and the megastar will now travel in a special flight to the US.
The special flight has a capacity of 14 people, and the actor will also take some of his family members along with him. Significantly, Rajinikanth's son-in-law and actor Dhanush is already in the USA with his wife and sons. The actor is shooting for his Hollywood film and he will also look after his father-in-law during his medical checkup. So, it is going to be a mini-get together for Rajinikanth and his family in America.
On the work front, Rajinikanth plays the village president in 'Annathe', and the shooting of the film was completed a few months before the lockdown. But the actor is yet to dub his scenes in the film, and will be back on duty once he returns to India.
.
Trend on Twitter, this actress became the first choice of people for the character of Sita
Mumbai. Friends, let us tell you that director Supernatural Desai is soon going to make the film Sita, in which the name of Kareena Kapoor Khan is coming to the fore. Kareena Kapoor Khan has been trolled for the role of Sita. According to reports, for playing the role of Sita in a film based on Ramayana, Rs 12 crore was allegedly demanded. After such news surfaced, he was trolled on Twitter. People say that they do not want to see Kareena Kapoor in the role of Sita.
Friends, let us tell you that the trolls also opposed the making of the film and said that if Kareena plays Sita in this film, then she will boycott it. Although friends, some users have also suggested options for other actresses for the role of Sita. Friends, users say that Kangana Ranaut, Yami Gautam, Anushka Shetty and Keerthy Suresh will be the best for the role of Sita.
Friends, people say that Kareena Kapoor Khan has demanded Rs 12 crore for the role of Sita Maa. Friends, let us tell you that Deepika Padukone was also approached for this role before Kareena Kapoor but the matter did not work out. Although friends Kareena has liked its script, but talks are going on between the makers and the actress regarding the fees.
.
CBI issued statement on Sushant Singh Rajput's death anniversary, gave this important information about the case
Today is the first death anniversary of late Bollywood actor Sushant Singh Rajput. Remembering him today, his fans are demanding justice for him by getting the hashtag of his name trending on Twitter. Due to this, the CBI, which is investigating this case, has come forward and presented its statement while issuing its statement. A tweet by ANI said, "The investigation related to the death of Sushant Singh Rajput is on by the CBI and every aspect is being carefully looked into in this matter."
CBI investigation related to the death of actor Sushant Singh Rajput is still continuing and all the aspects of the case are being looked into meticulously: CBI official pic.twitter.com/l7KYvbz9Xe

— ANI (@ANI) June 14, 2021
(With SocialLY get the latest breaking news, viral trends and all the news related to the world of social media. Here you will get live information about every content that is going viral on Twitter, Instagram and YouTube. The post shown above is unedited content, which can be sent directly to social media. Taken from the accounts of media users. Not modified or edited by Latestly staff. Social media posts do not represent the views and sentiments of Latestly, We assume no responsibility or liability for any content contained in this post do not accept.)