MP Shocker: Angry husband pushed wife and two daughters into the well for not having a son, 8-year-old girl died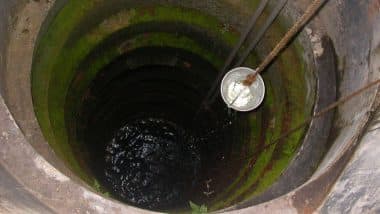 Symbolic photo (Photo Credits Wikimedia Commons)
Bhopal: In Chhatarpur district of Madhya Pradesh, a 42-year-old man allegedly pushed his wife and two daughters into a well for not having a son, killing an eight-year-old girl, while leaving after hearing the woman's voice. A villager who lived saved the woman and one of her children. The incident took place on Saturday under Chandla police station, about 80 km from Chhatarpur district headquarters. Sub-Inspector Rajendra Singh, investigating officer of Chandla police station, told the media that the mother of the deceased girl, Bitti Bai Yadav, has given a statement before the police that three months ago, when she was a daughter, husband Raja Bhaiya Yadav used to torture her and beat her up. For this reason, she went to her maternal home with her daughters a month ago.
He told that according to the information, on Saturday, accused Raja Bhaiya Yadav, a resident of Dadhiya village, was bringing back his wife Bitti and both the girls from his in-laws in Laulas village of Panna district on a motor cycle. Even when he had a daughter on the way, he was saying good and bad to his wife. He reached a well located three-four fields away from the road near the neighboring village on a motorcycle and pushed his wife and daughters into the well. Also read: Uttar Pradesh: Fed up with poverty, father throws 20-day-old twin daughters in a pond, case registered
Singh said that his eight-year-old daughter died in the incident, while the woman, who knew how to swim, somehow saved her child by swimming. However, when she was trying to come out of the well, the accused attacked her with a stone, causing injury to the woman's head.
He said that after hearing the woman's voice, a villager coming out of the well pulled the woman and one of her children out of the well and saved both. Singh said that a case of murder and attempt to murder has been registered against the accused. He said that the accused is absconding and efforts are on to nab him.
(This is an unedited and auto-generated story from a syndicated news feed, likely not modified or edited by the latest staff)
NIA raid at the house of Shiv Sena leader and former 'encounter specialist' Pradeep Sharma in Mumbai.
The National Investigation Agency has conducted a search operation at the house of Pradeep Sharma, former 'Encounter Specialist' of Mumbai Police.
Mumbai: NIA conducts raid at the residence of Shiv Sena leader and former 'encounter specialist' of Mumbai Police, Pradeep Sharma. Details awaited.#Maharashtra pic.twitter.com/s6dO1WMh6T

— ANI (@ANI) June 17, 2021
(With SocialLY get the latest breaking news, viral trends and all the news related to the world of social media. Here you will get live information about every content that is going viral on Twitter, Instagram and YouTube. The post shown above is unedited content, which can be sent directly to social media. Taken from the accounts of media users. Not modified or edited by Latestly staff. Social media posts do not represent the views and sentiments of Latestly, We assume no responsibility or liability for any content contained in this post do not accept.)
Paras reached Patna, challenged Chirag's argument on split in LJP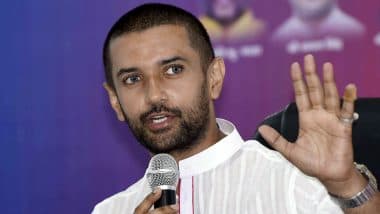 Chirag Paswan (Photo Credits: ANI)
Patna, June 17 : Lok Janshakti Party leader Pashupati Kumar Paras on Wednesday challenged the disqualification of Chirag Paswan's election of him as the leader of the party's parliamentary party, claiming it is in accordance with the party's constitution. Paras, who reached Patna for the first time after a political coup in LJP, while talking to reporters at the party's state office, targeted Chirag, saying that LJP has the principle of one leader-one post and on this basis, Chirag was elected as the party's national president yesterday. removed from. Chirag had rejected the decisions taken by the faction led by his uncle Pashupati Kumar Paras, saying that the party's constitution does not give him the right to do so. To this Paras said, "The things that Chirag has said are completely wrong. What happens to the party's parliamentary board when the Speaker of the Lok Sabha has declared me the leader of the party in the House?
He said, "Chirag was simultaneously holding the post of President of the party's Parliamentary Board, Leader in the House and National President of the party which was completely wrong. We have fixed it. There is a clear mention of one leader one post in the party constitution." He said that Suraj Bhan Singh has been made the party's working president and the national president will be elected in the party meeting at Singh's residence on Thursday. Earlier, Paras was welcomed by hundreds of his supporters on reaching Patna airport along with Suraj Bhan Singh. On reaching the party office, Chirag's supporters showed him black flags and raised slogans against him. But the policemen present there controlled the situation, however, even before Paras reached the state party headquarters, his supporters removed the posters of the lamp from there. Interestingly, both the factions of the LJP claim to be supporters of the BJP-led NDA, but the NDA constituents BJP and JD(U) have not said anything so far. Also read: After conquering Tamil Nadu, CM Stalin will meet PM Modi for the first time today
BJP state president Sanjay Jaiswal refused to comment on the turmoil within the LJP, terming it an "internal matter" of the party. That Chirag being the national president of LJP is authorized to take any action including expulsion of party MPs. He said that Paras can be accepted as the leader of the breakaway faction of LJP but not as the leader of the party. He alleged, "It appears that both BJP and JD(U) have conspired to eliminate their junior ally." At the same time, Shivanand Tiwari, an old aide of LJP founder late Ram Vilas Paswan and national vice president of RJD, said, " 'LJP's twigs were cut, but its root and stem are the lamp of Ram Vilas Bhai."
CM Stalin to meet PM Modi for the first time after conquering Tamil Nadu
Tamil Nadu Chief Minister MK Stalin to call on Prime Minister Narendra Modi today
Tamil Nadu Chief Minister MK Stalin to meet Prime Minister Narendra Modi later today.

(File photo) pic.twitter.com/Q77YLEYSDg

— ANI (@ANI) June 17, 2021
(With SocialLY get the latest breaking news, viral trends and all the news related to the world of social media. Here you will get live information about every content that is going viral on Twitter, Instagram and YouTube. The post shown above is unedited content, which can be sent directly to social media. Taken from the accounts of media users. Not modified or edited by Latestly staff. Social media posts do not represent the views and sentiments of Latestly, We assume no responsibility or liability for any content contained in this post do not accept.)