Monsoon is about to arrive in the country, so know these beauty tips before monsoon
Some girls remain confused since the beginning of the rainy season. The confusion of what to wear, what to do and what to do in the rain haunts them. Some skinny women avoid going out in the rain as much as possible.
Is the rainy season really that boring, boring? Yes, torrential monsoon rains are a warning for Mumbaikars. This is because the rain caused by the polluted atmosphere dissolves a lot of pollutants in the first heli. Amidst the daily hardships of urban life, a woman has to make every effort to keep important aspects of her personality important. The four long months of monsoon raise many questions for us. But, by solving all these, you can look beautiful and neat in monsoon too.
You will be surprised to know. But to be honest, even in the gloomy monsoon season, you can do a lot to enhance your beauty.
take a shower with rain water
Our skin plays an important role in maintaining our beauty. Dirty water coming from the tap has the opposite effect on the skin. Instead, use rainwater for as many days as possible. Fill a bucket with rain water and take a bath in it. Rain water has tremendous healing power. It can soothe and soften acne prone skin. A person is often very upset by the heat. Rain water is also very helpful in this. It is a well known fact that many mothers bathe their babies with rain water first. Hence the importance of the beneficial effect of rainwater.


If possible, shampoo the hair once a week with rain water. To keep your hair naturally beautiful in monsoon, keep it beautiful and beautiful. In monsoon, the air becomes very flat due to high humidity. This makes naturally curly hair more frizzy and cannot be straightened. In the same way straightening straight hair is equally difficult. So cut the hair as it has natural curls. So that it does not have to be "set" every day. Large beauty parlors use "hair sprays" and "roller sets". Do not go through this type of treatment. This is because their hard work often goes in vain during monsoons. Applying "hair spray" during the rainy season often makes the hair sticky.


If you don't want to look ridiculous, use your "makeup" at least in monsoons. If you're going to work out, use a "moisturizer," a light "brush," and a light-colored lipstick, don't use eyeliner. Because it will spread through the water and its blackness will make you look like a ghost. If you have to do eye makeup then use eye pencil and light eyeshadow. A more heavy makeup like foundation will wash off in the rain.
Some precautions have to be taken regarding the use of cosmetics in monsoon. Similarly, special attention should be paid to the choice of clothes as clothes become wet and dirty during monsoon. Keep aside such clothes for monsoon which you have least effort in handling. Wear clothes that come off quickly and don't require ironing. If you wear a sari, wear a nylon or "synthetic" sari. This is because such sarees require very little maintenance. Never wear cotton under a nylon saree. Because nylon sarees will dry quickly. It takes a long time to dry cotton. Due to this, the limbs will stick out again and again and you will have a lot of trouble in moving. This simple rule also applies to those who wear salwar kameez and dresses. Wear plain and comfortable clothes. Do not wear frilled clothes. Don't wear clothing that extends below your feet, such as a "maxi". This is because the fabric becomes very sticky by getting wet from below. In addition, such clothes also take a long time to dry, and hence they are prone to colds.


Wet gloves, boot sandals etc can also cause cold and cough. If you leave shoes, sandals etc. wet, it can lead to skin diseases like "itchiness" and "eczema" in the feet. There are a few things to keep in mind before putting the shoes on high. At the end of monsoon, allow gumboots or any pair of rain boots to dry thoroughly and then add a lot of powder and tie them evenly. Similarly make raincoats.
To look neat and beautiful, you need a dress that is suitable for the rainy season. If you have a lot of work to do outside, just carrying an umbrella in the rain will do nothing. It is very important that you have a raincoat. There are different types of raincoats available in the market. Some are made of plastic, rubber or laminated fabric. Raincoats of rubber and laminated fabrics tend to last more often. Raincoats are very helpful for sari wearers, when it is raining heavily, keep your sari inside the raincoat up to the waist. So that the lower part of your foot is free from clothing and you do not have trouble walking. Always carry an umbrella or raincoat with you to avoid heavy rain.
Often heavy rains force us to stay indoors. This time should be used for beauty equipment. You should do your own "face", "manicure", "pedicure" etc. during the days of living in such a house.
Your feet can give you a lot of trouble in the rain. Wetting and rubbing with shoes often leads to swelling of the skin on your feet. Dip one foot in warm running water for 10 to 15 minutes. Then wipe it well and apply powder on it
Pomegranate-egg and omelette, have you ever thought about this dish, this is the Persian dish 'Morgan-pe pomegranate', this is the ingredients and method of its preparation, definitely try it!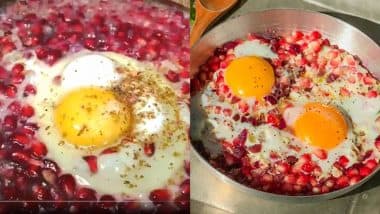 Pic Credit: @JrRezvani, Twitter
'Morghan-E-Anar' Eggs With Pomegranate: Pomegranate and egg together… Have you ever imagined that egg and pomegranate can be eaten together, that too by making its omelet… it must be strange to think. Isn't it… But it's true… Actually a Persian dish Morgan-e-Anar means Pomegranate-Omelette ('Morghan-E-Anar' Eggs With Pomegranate).
If you are fond of eating eggs and are fond of tasting different dishes made from eggs, then you must try pomegranate-omelette. And if you haven't tried Morgan-Pay Pomegranate yet, you haven't eaten a great omelet yet.
Ingredients and method of making it:
Ingredients: 1 cup pomegranate seeds, 2 eggs, 2 tbsp butter 1 medium red onion, finely chopped salt You can sprinkle some cinnamon on it while cooking.
You've not eaten omelette until you've had the Persian classic: Morghan-e Anar (pomegranate omelette).

— Rezvani | seeking not to persuade by anger or pity (@JrRezvani) July 29, 2021
Pomegranate is eaten in different ways in the country and the world. While pomegranate is consumed as a fruit in Indian tradition, pomegranate is used in cooking in many countries. In Iran, pomegranate is a very common ingredient in Persian, Kurdish and Azari cooking. Pomegranate-made chicken dish fesenzon is a popular dish in Persian. Pomegranate paste is used in this.
Sleep Awareness: Why is sleep necessary for a healthy life? Learn 9 easy tips for sound sleep!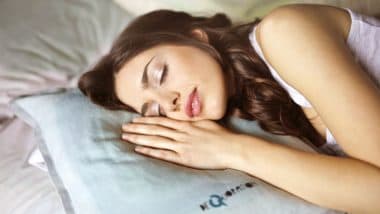 Restful Sleep (Photo Credits Unsplash)
Sleep Awareness: Are you used to staying up late at night? You know that when you get enough sleep, you feel happy and at ease throughout the day and go to sleep at night. This routine of yours keeps you healthy, while sleeping less or not sleeping you can suffer from various physical and mental disorders. There may also be some wrong routine behind your adequate sleep. For example, less physical activity, caffeine intake, late night dinner, not getting a good environment in bed, watching movies on mobile while sleeping, etc. With this you can become a victim of insomnia. Here I will tell you 9 easy tips, so that you can have a good sleep.
dim the lights in the bedroom
It is natural not to fall asleep in bright light. Some people do not like to sleep in the dark. Sleeping in bright light affects your hormones, you are not able to get enough sleep. In this way gradually your sleeping hours go on decreasing. In such a situation, put bulbs with dim light in your bedroom. You will feel good while sleeping.
turn off blue screen
If you watch TV or mobile or laptop before going to bed, keep in mind that the artificial blue light emitted from them can disturb your sleep by stimulating the hormones of the day, so one hour before going to bed TV, mobile or laptop turn it off. After this go to bed in a peaceful atmosphere. You will have good sleep.
reduce disturbing noise
Those whose homes are close to the main road, they are unable to sleep in time due to external noise like passing trucks, dogs barking. In such a situation, get a table fan or bedside fan, white noise machine installed near your bed. In this way, you can sleep soundly as soon as you get rid of external noise.
Use soft mattresses and pillows
Uncomfortable bedding also disturbs sleep. Whereas you feel comfortable in sleeping with a comfortable mattress and soft pillow and this ease takes you into the lap of deep sleep. Apart from this, before sleeping, clean the bed sheet by sweeping it.
cold and dark room
Sleep well in a bedroom with a dark, quiet, and cool environment. Get a thermostat program installed in your room so that you know at what temperature you are going to sleep. Also, find out at which temperature you fall asleep easily. To prevent outside light from entering the room, get dark colored curtains.
Do not do office work in bedroom
The bedroom bed should only be used for sleeping and sex. Do not make a habit of doing other household or office work in the bedroom, by this you yourself discourage your sleep.
sleep on schedule
Try that you have a fixed schedule of waking up, exercising, breakfast, lunch, office work, tea and dinner every day, and follow it daily. By doing this you will go to bed at the right time and will fall asleep habitually.
do not smoke or drink alcohol
Some people suffer from the habit of smoking before sleeping at night. By doing this nicotine goes into the body, due to which you are unable to sleep at the right time, or you have to make a lot of effort to sleep.
Avoid taking late night lunch
Make a habit of having dinner an hour before bedtime. Sleeping immediately after eating can lead to many diseases like indigestion, burning in the throat and stomach, gas. Therefore, after taking a light meal at night, go to bed only after taking a break of one hour. You will fall asleep easily.
Friendship Day 2021: When is Friendship Day? Know its history and importance and how do we celebrate?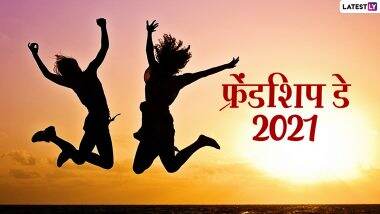 Friendship Day 2021 (Photo Credits: File Image)
Friendship Day 2021: Friendship Day is celebrated in India every year on the first Sunday of August. To give due respect to this beautiful relationship of friendship, this day is celebrated in a special way. Know when this year International Friendship Day will be celebrated in which country and what is its history…
Friendship sees neither caste nor religion, nor does it discriminate between rich and poor. Lord Krishna and Sudama can be called irrefutable evidence of this. Friends have always played an important role in our life. In view of this importance of friendship, a day was dedicated to friendship and this day was chosen on the first Sunday of August. That is, on this year 2021, the beginning of August has been from Friendship Day (August 1). Let us know why we celebrate Friendship Day on 1st August? What is its history? And what does friendship day mean for any person?
When and how did it start?
There are different views on the history of Friendship Day. In 1930, Joyce Hall, the founder of Hallmark Greetings, discussed celebrating Friendship Day among some friends. Then people used to perform the formality of congratulations by sending cards to each other. But people did not take it seriously. On July 20, 1958, Dr. Ramon Artemio Bracco proposed to celebrate 'Friendship Day' while having dinner with his friends in Paraguay of the United Nations. Ultimately, the World Friendship Crusade Organization proposed to celebrate World Friendship Day on 30 July. In those days, there was a lot of practice among friends to tie friendship bands on each other's wrists, which were mostly celebrated among school-college students. Finally, on 27 April 2011, the United Nations made an official announcement of celebrating Friendship Day on 30 July.
Significance of Friendship Day!
It is said that if you find some true friends in life, then it is believed that you have earned something in life. Friendship is such a relationship, which is far from religion, caste, religion. True friends often say some things, which they are not able to share with their parents, siblings or wife, without any hesitation in front of the friend. A true friend never cheats on you. He always stands by your side in your happiness and sorrow. Friendship Day is celebrated to make this relationship of friendship more sweet.
When is International Friendship Day celebrated in which country?
World Friendship Day is celebrated in the United States of America on 30 July. International Friendship Day is celebrated on the first Sunday of August in some South Asian countries including Pakistan, India, UAE, Bangladesh and Malaysia on 30th July. It is customary to celebrate this day on July 20 in Argentina and Brazil, apart from in different parts of the world.
International Friendship Day: How do we celebrate?
International Friendship Day is celebrated in India on the first Sunday of July every year. Friendship Day will be celebrated on 1st August this year. Due to being a holiday on this day, Friendship Day is celebrated with great enthusiasm and enthusiasm among the youth. Friends tie friendship bands on each other's wrists, give greeting cards, chocolates and other types of gifts. On this day, special friends in schools and colleges write quotes on each other's body, draw sketches, watch movies together,