Monsoon 2021: Monsoon knocked in Kerala, know how long it will arrive in your state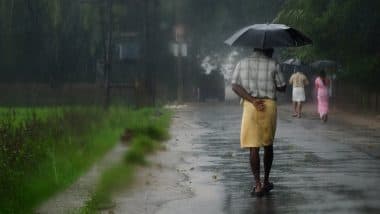 Symbolic Image (Photo Credit- Flickr)
Monsoon 2021 Hits Kerala Today: Finally, after a delay of two days, today (June 3) Southwest Monsoon has knocked in Kerala. With the arrival of monsoon in Kerala, the four-month rainy season began in the country. India Meteorological Department (IMD) Director General Mrityunjay Mohapatra said, "The southwest monsoon has knocked over the southern parts of Kerala." Usually, the southwest monsoon reaches Kerala by June 1. Monsoon 2021 Forecast: Meteorological Department told how will be the condition of monsoon this year in the country, which places will have more rain
According to the Meteorological Department, Southwest Monsoon has advanced into South Arabian Sea, Lakshadweep region, South Kerala, South Tamil Nadu, remaining parts of Comorin-Maldives region and some parts of South-West Bay of Bengal. Under its influence, there is a possibility of heavy rain at isolated places in Kerala and Karnataka during the next 3 days.
The IMD said Monsoon will continue during the next 2 days over remaining parts of South Arabian Sea, parts of Central Arabian Sea, remaining parts of Kerala and Lakshadweep, some more parts of Tamil Nadu and Puducherry, Coastal and some parts of South Interior Karnataka, Rayalaseema ( Rayalaseema) and is very likely to move into some parts of South and Central Bay of Bengal.
Isolated heavy rainfall very likely over Kerala and Karnataka during next 3 days.@ndmaindia pic.twitter.com/WR83pFmDl9

— India Meteorological Department (@Indiametdept) June 3, 2021
At the same time, due to the strengthening of low-level south-westerly winds, there is a possibility of heavy rain in the northeastern states during the next 5 days. During June 4 to June 6, there is a possibility of heavy rainfall in isolated areas in Arunachal Pradesh. Whereas from June 3 to June 7, there is full expectation of heavy rains in Assam and Meghalaya and from June 5 to June 6 in Nagaland, Manipur, Mizoram and Tripura.
It is noteworthy that the Meteorological Department has predicted that the seasonal rains of South-West Monsoon from June to September will be normal and well distributed across the country this year. IMD's National Center for Weather Forecasting has said that by volume, the overall monsoon (June to September) seasonal rainfall across the country is expected to be 101 per cent of the Long Period Average (LPA) with a model error of 4 per cent under/excessive rainfall. Estimates. Overall, the LPA of seasonal rainfall for the period 1961-2010 over the country is 88 cm.
Probability of Normal, Below Normal and Above Normal rainfall over the country during Monsoon Season (June, July, August, September) 2021.

Watch Presentation on 2nd Stage Southwest Monsoon Rainfall Forecast by DGM IMD, Dr M Mohapatra:https://t.co/EXBFJd0AOQ pic.twitter.com/sRR7lrYYGc

— India Meteorological Department (@Indiametdept) June 1, 2021
The Southwest Monsoon (June to September) seasonal rainfall in four uniform showers is very likely to be normal over Northwest India (92-108 percent) and South Peninsula (93-107 percent). However, the seasonal rainfall is expected to be below normal over Northeast India while it is expected to be above normal over Central India. The monsoon core zone, which comprises most of the rainfed agricultural areas of the country, is expected to receive above normal southwest monsoon (June to September) seasonal rainfall.
Antilia-Hirren Murder Case: NIA raids former police officer Pradeep Sharma's residence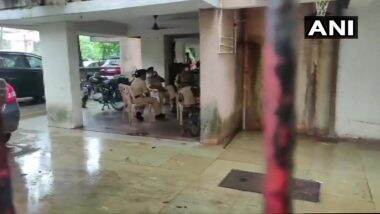 Search operation at Pradeep Sharma's house (Photo Credits: ANI)
Mumbai, June 17 : The National Investigation Agency (NIA) on Thursday morning in connection with the investigation of the case of murder of businessman Mansukh Hiren and found explosives kept in a vehicle near the residence of industrialist Mukesh Ambani. Raid at the residence of former 'encounter specialist' police officer Pradeep Sharma in Andheri. An official said that the NIA team along with CRPF personnel raided Sharma's residence at J B Nagar in Andheri West at around 6 am. Search is going on. According to sources, the NIA team is also interrogating Sharma in connection with the case. The roads leading to the building where Sharma lives have been cordoned off by central security forces and the movement of people in the area is restricted. After getting information about the raid, Mumbai Police has also deployed its personnel at the spot.
Earlier, the NIA had questioned Sharma for two days at its office in South Mumbai in connection with the investigation. The central probe agency had earlier arrested former police officers Sachin Waje, Riyazuddin Qazi, Sunil Mane, former police constable Vinayak Shinde and cricket bookie Naresh Gaur for their involvement in the case. He had recently arrested Santosh Shelar and Anand Jadhav in this connection. The NIA said that the two men were allegedly involved in a conspiracy to park the SUV in which the explosive material was kept near the residence of businessman Mukesh Ambani. Also read: Ahmedabad: Cash worth lakhs faded in front of honesty of housekeeping worker JK Chavda, returned bag full of cash
The SUV was found parked near Ambani's South Mumbai residence 'Antilia' on February 25 this year. Explosives were kept in the vehicle. The owner of this vehicle, Thane-based businessman Mansukh Hiren, was found dead in Mumbai Creek on March 5. Earlier both these cases were being investigated by the Maharashtra Police but later they were handed over to the NIA.
Sensex Update: Sensex breaks more than 300 points in early trade, Nifty slips below 15,700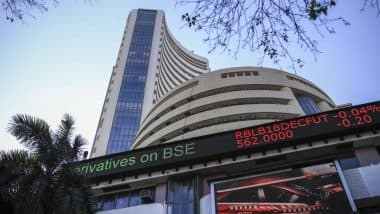 Symbolic Image (Photo Credits: Twitter)
Mumbai, June 17 : Major stock index Sensex fell over 300 points in early trade on Thursday, led by losses in big stocks like HDFC, ICICI Bank and Reliance Industries amid negative trend in global stock markets. During this, the 30-share BSE Index was trading at 52,199.18, down 302.80 points or 0.58 per cent. Similarly, the broader NSE Nifty fell 93.70 points or 0.59 per cent to 15,673.85.
The biggest one percent fall in the Sensex was in Tech Mahindra. Apart from this, PowerGrid, HDFC, HDFC Bank and Axis Bank were also in the red mark. On the other hand, Asian Paints, Sun Pharma, UltraTech Cement and HCL Tech were among the top gainers. In the previous session, the Sensex was down 271.07 points or 0.51 per cent at 52,501.98 and the Nifty was down 101.70 points or 0.64 per cent at 15,767.55. Also read: Sensex Update: Sensex rises 250 points in early trade, Nifty crosses 15,800
According to provisional data of the stock market, foreign institutional investors (FIIs) sold shares worth Rs 870.29 crore on a gross basis on Wednesday. International oil benchmark Brent crude was trading 0.54 per cent lower at $73.99 per barrel.
Ahmedabad: Cash worth lakhs faded in front of honesty of housekeeping worker JK Chavda, returned bag full of cash
Jeki Chavda (Photo Credits: Twitter)
Ahmedabad, June 17: Jeki Chavda, a housekeeping worker at the Sardar Vallabhbhai Patel International (SVPI) airport in Ahmedabad, showed utmost care and sincerity when she found a bundle of foreign currency worth $750 in a transparent zip-lock bag. Jackie Chavda took the bag to CISF personnel for security check, they found the passenger who had forgotten it. The incident happened on Wednesday evening around 5 pm. Chavda found the bag containing the foreign currency while he was cleaning the tray at the security check counter after it was used by the passengers. "While cleaning the trays, I found a bundle of cash in a plastic bag in one of them. I immediately knew that some passenger might have forgotten it. So I went and handed it over to the CISF personnel at the security check counter," he told TOI As quoted by the employee.
CISF personnel immediately started checking the CCTV footage to find out the real owner of the cash. They identified some potential passengers who may have forgotten the bags. CISF officials soon contacted the identified passengers and after verification found the flyer who had forgotten the cash.
View Tweet:
This is Jackie Chavda, @ahmairport But there is a cleaner, during cleaning, 750 dollars kept in plastic bags were found.

Which was more than his salary for several months. Despite this, the faith did not waver and that bag #CISF given to the soldiers.

The soldiers tracked the system and took the dollars to the original owner.#hero pic.twitter.com/wgOFIQBsG1

— Janak Dave (@dave_janak) June 16, 2021
The passenger was flying to Mumbai on an Indigo flight. The bag reached him when he was about to board the flight. Chavda was praised for his honesty and professionalism. Describing Chavda as a hero, a Twitter user said that the cash found in the bag was more than Chavda's monthly salary. However, money couldn't shake his honesty, commented a Twitter user.