Maharashtra: A massive fire broke out at Ashiana Tower in Oshiwara, Mumbai this morning (Video)
Maharashtra: A massive fire broke out in Ashiana Tower in Oshiwara, Mumbai this morning (Video)-
#WATCH | Maharashtra: A level 2 fire broke out in Aashiyana Tower in Mumbai's Oshiwara, this morning. More details awaited. pic.twitter.com/zPufvpovmE

— ANI (@ANI) June 4, 2021
(With SocialLY get the latest breaking news, viral trends and all the news related to the world of social media. Here you will get live information about every content that is going viral on Twitter, Instagram and YouTube. The post shown above is unedited content, which can be sent directly to social media. Taken from the accounts of media users. Not modified or edited by Latestly staff. Social media posts do not represent the views and sentiments of Latestly, We assume no responsibility or liability for any content contained in this post do not accept.)
Maharana Pratap Jayanti 2021: Maharana Pratap lived a life of struggle but never bowed his head in front of Akbar – Governor Kalraj Mishra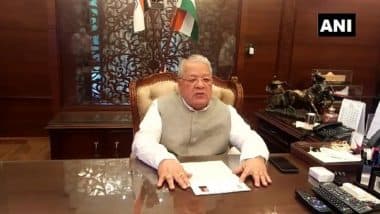 Governor Kalraj Mishra (Photo Credits-ANI Twitter)
Maharana Pratap Jayanti 2021: On the occasion of Maharana Pratap Jayanti, the Governor of Rajasthan, Kalraj Mishra praised him and said that he renounced the glory of the palace and lived a struggling life in the mountains and forests but never bowed his head before Akbar. He said that Maharana Pratap, living with the tribal and forest dwellers Bhils and living a life like them, not only gave competition to the Mughals on every front but also defeated them again and again. The Governor said that history will never forget his contribution towards the motherland.
Mishra was addressing online at a national function organized by the Mohan Lal Sukhadia University of Udaipur on the occasion of the birth anniversary of Veer Shiromani Maharana Pratap on Sunday. According to the official statement, the Governor said that in the freedom struggle of Maharana Pratap, his moral and character strength was the biggest strength. Speaker of the Assembly Dr. C.P. Joshi said that Maharan Pratap had amazing leadership ability to organize and take people of all castes, religions and sects of the society together. Dr. Joshi called upon the youth to imbibe the qualities of Maharana Pratap in their personal lives. Also read: Maharana Pratap Jayanti 2021 Quotes: 481st birth anniversary of Maharana Pratap today, share these great and inspirational thoughts with your loved ones
Minister of State for Higher Education Bhanwar Singh Bhati said that Maharana Pratap's fight was not for himself but for the common people of Mewar. Historian Dr. Chandrashekhar Sharma said on this occasion that the great personality of Maharana Pratap is not only a symbol of valor and valor, but also a symbol of world humanism and world welfare.
(This is an unedited and auto-generated story from a syndicated news feed, likely not modified or edited by the latest staff)
Dr Indira Hridayesh Death: Senior Congress leader Dr. Indira Hridayesh passed away, CM Tirath Singh Rawat expressed grief
Dehradun, June 13: All the countrymen are saddened by the demise of senior Uttarakhand Congress leader Dr. Indira Hridayesh. Meanwhile, the current Chief Minister of the state Tirath Singh Rawat has also expressed grief by tweeting. He wrote in tweeting, 'Senior leader of Uttarakhand state, former minister and leader of opposition in the current assembly, got the sad news of the death of my elder sister, respected Mrs. Indira Hridayesh ji. I pray at the feet of the Lord for the peace of his soul.
Senior leader of Uttarakhand state, former minister and leader of opposition in the current assembly, got the sad news of the death of my elder sister, respected Smt. Indira Hridayesh ji.

I pray at the feet of God for the peace of his soul. pic.twitter.com/rQ2SOijxRn

— Tirath Singh Rawat (@TIRATHSRAWAT) June 13, 2021
(With SocialLY get the latest breaking news, viral trends and all the news related to the world of social media. Here you will get live information about every content that is going viral on Twitter, Instagram and YouTube. The post shown above is unedited content, which can be sent directly to social media. Taken from the accounts of media users. Not modified or edited by Latestly staff. Social media posts do not represent the views and sentiments of Latestly, We assume no responsibility or liability for any content contained in this post do not accept.)
Maharashtra: Sanjay Raut's big statement, said- Uddhav Thackeray will remain CM for 5 years, after two and a half years told the news of change of chief minister as rumor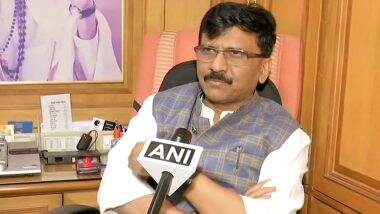 Shiv Sena MP Sanjay Raut (Photo Credits-ANI)
Mumbai: In Maharashtra, it seems that all is not well in the Maharashtra Mahavikas Aghadi alliance. Because news was flying about Maharashtra Mahavikas Aghadi government that the CM of Shiv Sena would be changed after 2.5 years. Regarding these reports, Shiv Sena spokesperson Sanjaya Raut said in a conversation with the media on Sunday that whatever news is flying about the Maharashtra government is a rumour. When 3 parties formed the government, they committed and decided that CM would be Uddhav Thackeray for 5 years.
Actually, where the closeness between Shiv Sena and NCP is increasing on one side. At the same time, the Congress included in the government is feeling isolated in this alliance. The latest example of this is the statement of Congress state president Nana Patole in which he has spoken of fighting alone in all the coming elections. Patole has said that the Congress will fight all alone from the local body elections to the assembly elections. Also read: Shiv Sena was considered a slave in the previous BJP government in Maharashtra: Sanjay Raut
Sanjay Raut told the news a rumour:
It's a rumor that Shiv Sena CM will be replaced after 2.5 years. When 3 parties formed govt, they committed & decided that CM will be Uddhav Thackeray for 5 years. If someone talks about this, then it is nothing but lie & rumor: Shiv Sena leader Sanjay Raut pic.twitter.com/0jYpBGpcYT

— ANI (@ANI) June 13, 2021
Let us tell you that there is a government in Maharashtra consisting of three parties, Congress, NCP and Shiv Sena. Uddhav Thackeray is the Chief Minister from Shiv Sena in the alliance of the three parties. But in recent times it has been seen that there is a tussle going on in Maharashtra Mahavikas Aghadi. Except Shiv Sena, there are allegations of Congress leaders in Congress and NCP. They are not consulted before taking any major decision.