Madhya Pradesh: Police's STF team got big success, accused involved in scam of 93 crores arrested
In Indore, Madhya Pradesh, the STF team of the police has arrested the accused involved in the scam of 93 crores. The search for this accused was from the year 2019.
Madhya Pradesh: The STF team of the police in Indore caught the criminal involved in the scam of 93 crores.

STF Superintendent of Police said, "The accused was involved in a scam of Rs 93 crore. He was looking for it since 2019. A reward of more than Rs 50,000 was declared on the culprit. 20 people are accused in the case. Search for others is on." pic.twitter.com/xb4G1EK2G6

— ANI_HindiNews (@AHindinews) June 10, 2021
(With SocialLY get the latest breaking news, viral trends and all the news related to the world of social media. Here you will get live information about every content that is going viral on Twitter, Instagram and YouTube. The post shown above is unedited content, which can be sent directly to social media. Taken from the accounts of media users. Not modified or edited by Latestly staff. Social media posts do not represent the views and sentiments of Latestly, We assume no responsibility or liability for any content contained in this post do not accept.)
Uttar Pradesh: CM Yogi Adityanath inspects the adopted health center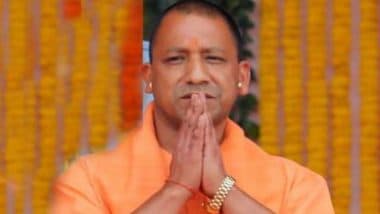 CM Yogi Adityanath (Photo Credits: IANS)
Varanasi, June 18: Uttar Pradesh Chief Minister Yogi Adityanath inspected the adopted Jaikaran Sharma Government Community Health Center during his one-day visit to Varanasi on Friday. The officials gave this information.
Officials said that the Chief Minister reviewed the outline of the construction of a 30-bed hospital building at a cost of about Rs 53.46 lakh on the vacant site in the hospital premises and inspected the site.
He told that keeping in view the possible third wave of corona in this, 15-bed and three-bed ICU ward is being made for children.
Officials said that during the inspection, Chief Minister Yogi Adityanath saw the oxygen plant platform built in the hospital and directed to set up an oxygen plant at the earliest.
2 members of the gang who cheated people on the pretext of getting government jobs arrested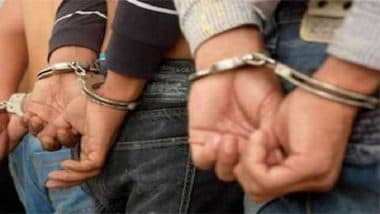 Arrested / symbolic photo (Photo Credits: Facebook)
Chandigarh, June 18: Haryana Police on Friday said that it has arrested two members of a gang who duped people on the pretext of getting government jobs. Police said that both the members Arjun Tak and Vinod Kumar are residents of New Delhi while Manoj, a resident of Mathura district of Uttar Pradesh and third member of the gang is absconding. Raids are being conducted to nab him. A Haryana Police spokesperson said that after the action taken by the police in Palwal district, hundreds of fake appointment letters, 750 envelopes of judicial and forest departments, 234 speed post tickets, four fake tickets, four mobile phones, 18 SIM cards, one printing Machine, Rs 12,000 in cash and other material have also been recovered.
"Preliminary investigation revealed that the gang received lakhs of rupees from several applicants either by giving fake appointment letters or on the pretext of providing letters bearing official seals and signatures," he said in a statement.
Also read- Country News | Haryana government announced a one-time assistance of Rs 5,000 to the laborers, shopkeepers affected by the epidemic.
A case was registered under relevant sections of the IPC after a person had complained to the Palwal court about fraudulent appointment letter for the post of peon, the statement said.
A joint team was formed under the supervision of a DSP level officer to expose the matter. Police said that the team arrested the main accused Arjun and his associate Vinod with the help of cyber cell and intelligence inputs.
Jail journalist Siddique Kappan's mother Khadijakutty dies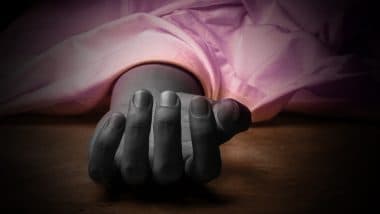 Symbolic Image (Photo Credits: File Photo)
Malappuram, June 18: Jailed Malayali journalist Siddiq Kappan's ailing mother Khadijakutty (91) died at her home near Vengra on Friday. Kappan was arrested on October 5 last year while on his way to Hathras in Uttar Pradesh. A Dalit girl was allegedly gang-raped to death in Hathras.
Kappan visited his ailing mother in February after the Supreme Court granted him five-day bail.
Police say they have arrested four people allegedly linked to PFI (Papul Front of India) in Mathura and they have been identified as Siddiq, a resident of Mallapuram, Atiq ur Rehman of Muzaffarnagar, Masood Ahmed of Bahraich and Alam, a resident of Rampur. happened.