Krishnappa Gowtham hopes to see success under Rahul Dravid's guidance with 'Carrom Ball'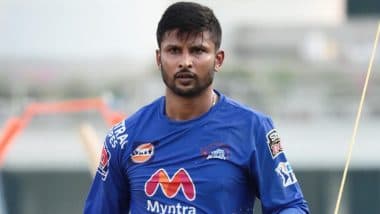 Krishnappa Gautam (Photo Credits: Instagram)
New Delhi, June 11: Krishnappa Gautam was called 'Bhajji' (nickname of Harbhajan Singh) by his teammates in his early days of cricket, but the all-rounder invented the 'carrom ball' in his own way with Ravichandran in his bowling. Ashwin's influence shows more. Gautam is one of the six new players selected for the tour of the limited overs series against Sri Lanka. On this tour, from July 13 to July 25, the Indian team has to play a series of three ODIs and as many T20 matches. When asked about his selection in the Indian team, Gautam said, "Whatever you dream of over the years, you are the happiest when it comes true." Consistent performance for Karnataka in domestic cricket. Gautam, who came into the limelight in the Indian Premier League auction this year. Chennai Super Kings had made a big bid for this 32-year-old player.
"In the beginning of my career, I used to imitate Bhajji pa (Harbhajan Singh) and my teammates used to call me Bhajji," said Gautam. When asked about bowling 'second ball' like Bhajji, he said, ' No, I don't throw 'doosra' but throw 'carrom ball'." When asked this player, who took 166 wickets in first class, 70 in List A and 42 in T20, did he bowl carrom after seeing Ashwin. He said, "I have developed it on my own. If you want to play at the top level, you need to develop skills on your own. In my junior days, I have also been coached by Erapalli Prasanna sir." He said, "Obviously you see a legend like Ashwin. I like Ashwin's mindset and approach to the game.
Also read- Ind vs SL: The pain of this fast bowler spilled over not getting a place in Team India, said something touching
In the IPL, the Chennai team had bid Rs 9.25 crore for Gautam but due to the presence of Moeen Ali in the team, he did not get a chance. He said, "There is no pressure on me in IPL. In tournaments like IPL, you have to support yourself without worrying too much about the match. You don't enter a match because of your auction price." When asked about the advice he got from Mahendra Singh Dhoni, he said, "Mahi bhai's most important suggestion is to enjoy the present moment. Support your natural game and play the way you know best." Gautam, however, has been associated with the national team before. On England's last tour of India, he was included in the squad as a net bowler during the Test series.
"It's always good to bowl to the best players in the country and you get to learn a lot. Obviously it was a great experience bowling to the great players of the Indian team. "Gautam, who took 12 five-wicket hauls in first-class cricket, is known for his batting. He has scored 141 runs in the 50-over format and 160 in T20Is. National Cricket Academy director Rahul Dravid is likely to tour India as the team's head coach in this limited-overs series. Gautam said that his presence will definitely make his job easier.
Also read- Ind vs SL: Read here what Shikhar Dhawan said on becoming the captain of Team India for the first time in 11 years
"If you have played India A, you know how Rahul sir is as a coach and what he will expect from you as a player. When you have played under his supervision before, it gives you a better chance to prepare well for that tour. It will be a wonderful learning experience."
(This is an unedited and auto-generated story from a syndicated news feed, likely not modified or edited by the latest staff)
Copa America 2021: Lionel Messi wants to fulfill his biggest dream with Argentina by winning Copa America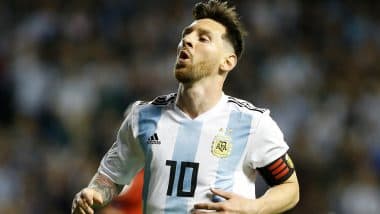 Lionel Messi (Photo Credits: Getty Images)
New Delhi: Lionel Messi is now 33 years old and he has probably the last chance to fulfill this dream by winning the Copa America football tournament. This star footballer is determined to fulfill his unfulfilled dream this time. Copa America 2021: Brazil and Argentina are the top contenders for the title in Copa America
Argentina will start their campaign in the Copa America against Chile in Rio de Janeiro on Monday. Brazil was handed over the hosting of the tournament at the last minute after Colombia and Argentina were dropped from co-hosts.
Messi said at a press conference in Rio, "I am always available for my team. My biggest dream is to win the title with my national team." He said, "I have come close to it many times. It didn't happen but I will keep trying. I will leave no stone unturned to fulfill this dream.
Copa America 2021: Brazil got off to a great start in the Copa America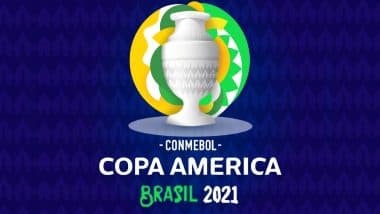 Copa America (Photo Credits: wikimedia commons)
New Delhi: Maraquinhos, Neymar and Gabriel Barbosa scored for Brazil in a lyrical match played on Sunday at Mane Garincha Stadium in Brasilia. A day before this, many players from Venezuela were found positive for Kovid-19. Copa America 2021: Big blow to Venezuela before the match, 12 members of the team turned out to be Corona positive
Brazil was handed over the hosting of the tournament at the last minute, which was opposed by its top players. Despite this, captain Casemiro said that the defending champions entered the tournament with the goal of retaining the title.
"Whether it is a friendly match, the Copa America or the World Cup qualifiers, we always play to win," he said. In a hurry, 15 new players had to be called. Its effect was clearly visible on the field as well. Brazil also missed a few chances but did not get a special challenge from Venezuela.
French Open 2021: Novak Djokovic wins 19th Grand Slam by defeating Stefanos Tsitsipas, sets new record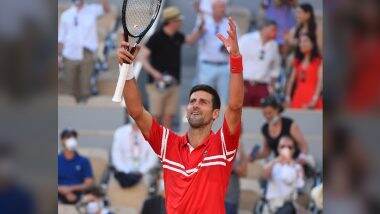 Novak Djokovic (Photo Credits: Twitter)
New Delhi: World number one tennis star Novak Djokovic has won the title of French Open 2021. In the final, he defeated Stefanos Tsitsipas 6-7, 2-6, 6-3, 6-2, 6-4 to win the trophy. Although this Serbian player had to face defeat in the first two sets, he came back strongly in the third set and won the title by registering consecutive victories. With this win, Novak Djokovic has become the first person to complete a career Grand Slam twice in the Open Era. With this, he has become the first male player to win all four Grand Slams twice in 52 years. For information, let us tell you that after 2004, this is the first French Open final to go to the fifth and deciding set. French Open: Czech Republic beat Russia to win their first Grand Slam title in women's singles tennis tournament
1️⃣9️⃣e Grand Chelem

Novak Djokovic s'approche des 20 titres de Rafael Nadal et Roger Federer. Retour sur le match et ses enjeux 📝👇#RolandGarros

— Roland-Garros (@rolandgarros) June 13, 2021
Tsitsipas got off to a great start
Fifth seed Tsitsipas got off to a good start by winning the first two sets 7-6, 6-2 but top seed Djokovic won the next two sets 6-3, 6-2 to drag the match into the fifth and deciding set. Tsitsipas gave a tremendous fight to Djokovic in the final match and kept the match exciting till the last moments of the match. In the third game of the deciding set, Djokovic took the lead by breaking Tsitsipas' serve and then held it to the end to win the set 6-4 to win both the match and the title.
Djokovic Makes History (Again)

Relive the match that made the world No. 1 the only man in the Open Era to win each of the four majors at least twice. #RolandGarros

— Roland-Garros (@rolandgarros) June 13, 2021
Tsitsipas had to undergo treatment
Only twenty-two-year-old Tsitsipas had to undergo treatment from his trainer on the court after the third set during the final match due to back pain. Djokovic had managed to register a win five times in his career before, despite losing the first two sets. Prior to this match, this player of Serbia had won 34 times in five-set matches, while he had to face defeat 10 times.
Djokovic, who defeated legendary player and Roland Garros legend Rafael Nadal in the semi-finals, was playing in the Grand Slam final for the 29th time, while Tsitsipas of Greece made it to the final of a Grand Slam tournament for the first time.
Just one step away from Federer and Nadal's records
Djokovic Makes History (Again)

Relive the match that made the world No. 1 the only man in the Open Era to win each of the four majors at least twice. #RolandGarros

— Roland-Garros (@rolandgarros) June 13, 2021
For information, let us tell you that Djokovic is now just one step away from Roger Federer and Rafael Nadal's record of 20 Grand Slams. Roger Federer of Switzerland and Rafael Nadal of Spain have won more Grand Slam titles than Djokovic. Both have 20-20 Grand Slam names. Djokovic has won nine Australian Open, five Wimbledon, three US Open and two French Open titles. He had previously won the Australian Open in 2008, 2011, 2012, 2013, 2015, 2016, 2019 and 2020.