Karnataka Revenue Minister R Ashoka immerses over 1,000 'bones' at Triveni Sangam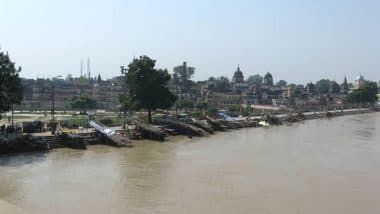 River (Photo Credits: Wikimedia Commons)
Mandya, June 3: After waiting for more than two months, none of the relatives came to collect the 'ashes', following which Karnataka's Revenue Minister, R Ashoka, flowed over 1,000 'ashes' at Triveni Sangam in Srirangapatna. On Wednesday, the Revenue Minister immersed more than a dozen ashes in the river after taking a resolution under the leadership of Chief Priest Bhanu Prakash Sharma. Also read: Andhra Pradesh: Woman sub-inspector walked 2 km carrying unclaimed dead body on shoulder, won hearts with her selfless service (Watch Viral Video)
After performing the last rites, Ashok tweeted that he is satisfied by performing the last rites of the departed souls. "I have done this to allay the fear of the relatives who are not coming to collect the ashes of the relatives after the last rites of the dead body. I instruct the Deputy Commissioners to conduct the last rites in all the districts, if the ashes are anywhere." Unclaimed for a long time."
Government officials told IANS that asthi immersion is a very important religious process according to Hindu religious tradition. Asthi means leftover bone or some collected ashes of dead people. After the funeral, the remains of the dead person are collected, mostly tied in a single piece of cloth. Finally the ashes are immersed in the river. This overall process of immersion is called 'asthi immersion'.
He said that Srirangapatna is considered one of the holiest places to perform these last rites. According to him, these ashes were kept in all the 11 cremation grounds in Bengaluru. Where Kovid patients were cremated.
The official said that it was an unforeseen circumstance, despite our best efforts, we could not reach the relatives as their mobile phones were mostly switched off or the calls were not picked up. As a result, we were short of space to store the new ashes, therefore, after taking all the precautions and measures, we decided to perform the last rites of about 1,000 out of about 1,500 ashes, which were quite long. was kept on time.
COVID-19: Vaccination priority for mothers of young children: Mamata Banerjee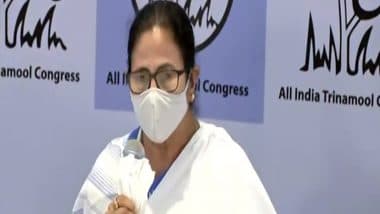 West Bengal Chief Minister Mamata Banerjee (Photo Credits: ANI/Twitter)
Kolkata, June 24 : West Bengal Chief Minister Mamata Banerjee on Wednesday said that women who are 12 years or less will be given priority in vaccination, amid warnings that children may be infected in the possible third wave of Kovid-19. age children.
He said that the state government would start giving vaccine to at least four lakh people every day from Thursday. Also read: Odisha: Vishwajit Nayak of Puri made a miniature statue of 'Lord Jagannath's Gajanan Besha' made from ice cream sticks, see photos
Banerjee said, "We are giving importance to the third wave. The second wave has increased the number of infections. We have decided to give priority to immunization of mothers of babies born immediately to the age of 12 years so that children do not get the infection from their mother."
Odisha: Vishwajit Nayak of Puri made a miniature statue of 'Lord Jagannath's Gajanan Besha' made from ice cream sticks, see photos
Odisha: Vishwajit Nayak of Puri has made a miniature statue of 'Lord Jagannath ki Gajanan Besha' using 1475 ice cream sticks. "It took me 15 days to make this 30-inch-long and 26-inch-wide idol. On the occasion of Devasan Purnima, I dedicate it to the devotees," he said.
Odisha | Puri's Biswajit Nayak has made miniature statue of 'Gajanana Besha of Lord Jagannath', using 1475 ice cream sticks. "It took me 15 days to make this 30-inches tall & 26-inches wide statue. On the occasion of Devasnana Purnima, I dedicate this to devotees," he said(23.06) pic.twitter.com/FZMstp7EF5

— ANI (@ANI) June 24, 2021
(With SocialLY get the latest breaking news, viral trends and all the news related to the world of social media. Here you will get live information about every content that is going viral on Twitter, Instagram and YouTube. The post shown above is unedited content, which can be sent directly to social media. Taken from the accounts of media users. Not modified or edited by Latestly staff. Social media posts do not represent the views and sentiments of Latestly, We assume no responsibility or liability for any content contained in this post do not accept.)
JP Nadda answered P. Chidambaram's questions on record vaccination, said- India is not lame, but is running on the strength received from citizens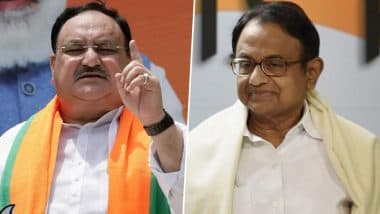 JP Nadda and P Chidambaram (Photo Credits PTI)
New Delhi: On the remarks made by senior Congress leader and former Union Minister P. Chidambaram on the speed of vaccination, BJP National President J.P. Nadda (JP Nadda) has given the answer on Wednesday. Taking a jibe at P. Chidambaram, Nadda said that India is not lame, but is running on the strength it has got from its citizens. After the record made on Monday, there have been more than 50 lakh vaccinations on Tuesday and Wednesday also. These figures are enough to dislike the Congress. Actually, it is the culture of Congress that when India makes a record, the party raises questions.
In fact, Congress leader P. Chidambaram tweeted on June 22 from his official Twitter account, targeting the Modi government regarding the vaccination policy. He wrote, hoarding on Sunday, vaccinate on Monday and come back lame on Tuesday. This is the secret behind the world record of one day vaccination. I am sure this feat will find a place in the Guinness Book of Records. Also read: COVID-19 Vaccination: PM Modi expressed happiness over a record more than 80 lakh people getting corona vaccine in a day in India, said- Well done India
In the next tweet, Congress leader Chidambaram wrote tauntingly, "Who knows, maybe, the Nobel Prize in Medicine should be given to the Modi government. Modi hai to mumkin hai, should be read now, Modi hai toh miracle hai. After raising the question, Union Minister Hardeep Singh Puri as well as BJP Yuva Morcha National President Tejashwi Surya has also attacked him and praised the steps being taken by the government.(With Input Agency)
.