June 4, 2021 Horoscope: Know how today's day will be and which zodiac's luck will shine, know today's horoscope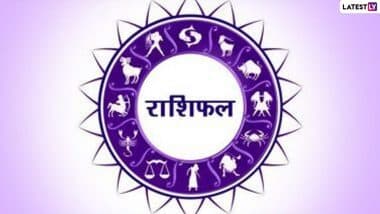 Symbolic Photo (Photo Credits : File Photo)
June 4, 2021 Horoscope: How will be your financial condition on 4th June 2021 and which zodiac sign will shine? In this episode, the horoscope of Friday i.e. today is presented.
Aries- Today you will have differences with your mother, health will deteriorate, you will be more emotional. Be careful while getting the property papers made. There may be a dispute with the boss.
good number – 2
Taurus –Today the mind will be restless. Due to which there may be difficulty in taking decisions related to money. Today Mercury is retrograde in your own zodiac. Therefore, there is a need to be careful in transactions and investments.
good number 9
Gemini- Today your things will go according to plan and may luck help you to achieve success in an easy way. There is a possibility of going to a religious place for mental peace.
good number – 6
Crab- Mars has entered your zodiac. When Mars enters Cancer, it becomes debilitated. Therefore, whatever decision you take in terms of money, take it very carefully. Otherwise, loss may also have to be incurred. Avoid the situation of taking loans etc.
good number – 1
Lion- Today you will get success in every work, respect will increase. There may be an argument with the boss in the office. Do not avoid any talk of parents.
good number 8
Virgo- Energy and enthusiasm will remain in the mind. Today there is a situation of profit. Today you can also get success in developing your sources of income. Today you will be more active regarding money. Also, avoid small arguments with elders.
good number – 4
Libra – Today, by working with a strategy, there is a situation of monetary gain. Market conditions will not affect your profit today. Every situation in the market seems to be providing profit. You can also benefit from your experiences today. Today you can be busy in your professional life.
good number 9
Scorpio zodiac- Avoid taking loans. Invest your money wisely today. Today your rivals will be active and try to influence the gains you get. Take some caution.
good number – 5
Sagittarius – You can take some concrete steps today towards saving money. Keeping in mind the time, this would be a proper decision. Now is a good time to invest keeping the future in mind. You can meet a friend.
good number – 3
Capricorn- You have to be more serious today to get money. On this your profit status today depends. Today the situation of taking and giving loans will have to be avoided. Your focus and dedication towards your goal or work can be tested many times, but you have the courage to overcome all.
good number – 7
Aquarius- Will be more serious about investing money. Today there is a greater chance of getting success by planning and working. Today any new work can also be started. You will get the support of knowledgeable and well-wishers.
good number – 1
Pisces- Don't try to avoid responsibilities. In this the situation of money gain is also hidden. Have faith in hard work and be patient. The position of profit remains. Try to take advantage of opportunities. You may feel lethargic and dissatisfied.
good number – 4
Arjun of India became the youngest archer of the country, got inspiration from the film 'Bahubali'
Nowadays there are many such people who surprise everyone with their exploits. Now a young man from Varanasi has done the same. Actually, the little ones of Varanasi have made a new record. 6-year-old Arjun broke two world records and entered the Guinness Book of World Records at the age when children used to play with toys. Arjun says that he got this inspiration from the film 'Bahubali'. In fact, Arjun has become the youngest archer of the country and now Arjuna has illuminated the name of India in the whole world.
6-year-old Arjun has achieved the highest score on roller skating along with archery by shooting arrows in the shortest possible time. Arjun's name has now been entered in the Guinness Book of World Records. Arjun broke the record of American archer Mike Trona and Joseph McGrell-Betup of Australia to create a world record. You will be surprised to know that Arjun broke the record of the fastest arrow of Australia's Joseph McGrell-Betup.
Arjun is said to have set a target of 40 cm at a distance of 18 meters by just 48 meters. Shoot 10 arrows in 63 seconds. 6-year-old Arjun has broken the record of American archer Mike Trona even while arching on roller skates. Actually, during skating, 5 targets of 40 cm placed at a distance of 20 meters have to be hit. Arjun says, "I got this inspiration from the film 'Bahubali'. After watching the film, I insisted to my father that I also wanted bow and arrow, then started archery.
.
Do you know interesting facts related to World Air Day?
The United Nations-affiliated Intergovernmental Panel on Climate Change (IPCC) claims that the Earth's temperature could rise by 2 °C or more in the near future. Rising temperatures cannot be stopped, so all the countries of the world are working together to limit this increase to 1.5 degrees. India has also taken his steps with full responsibility. That is why renewable energy is being promoted in India.
Solar and wind energy play an important role in renewable energy. If India does, if wind power plants are to be set up according to the capacity of our country, then the electricity generation in the country can increase even more. World Air Day is celebrated all over the world on 15 June. Wind energy is talked about on this occasion. Let us talk about some such facts related to wind energy, whose scope we will tell you in India. But before that let's take a look at the history of World Air Day.
About 14 years ago, the European Wind Energy Association and the Global Wind Energy Council decided to celebrate this day together, and the day was first celebrated in Europe in 2007. Then in 2009 it was decided to celebrate it globally. The purpose of celebrating this is the day to encourage wind energy by mobilizing all the countries.
When Air Day was first celebrated in 2007, the event was attended by about 35,000 people, while in 2008, 100,000 people from 20 countries and nearly 1 million people from 35 countries participated in the campaign. and more than 300 programs were organized in different corners of the country. world. In 2009, a wind parade was also held in Portugal on Global Wind Day.
Wind Energy Facts in India: India (2.7 GW) ranks second in the Asia Pacific in terms of wind power after China (26.2 GW). India's total capacity in the financial year 2019-20 was 2.07 GW. But there was an increase of 31 per cent in 2019 as compared to 2018-19 (1.58 GW). Wind power plants account for 10.1% of the total energy potential in India.
According to the National Institute of Wind Energy, India is set to set up 302.2 GW of wind power plants at an altitude of 100 meters above ground level. 695.5 GW of wind power plants have been installed in the country at an altitude of 120 meters. That is, if India succeeds in establishing it, then India will have twice the power that India currently has. According to the Central Energy Department, at present the total capacity of all sources (thermal, hydro, nuclear and renewable energy) is 370.3 GW.
Wind Energy Facts in the World: According to the Global Wind Energy Council, 60 gigawatts of wind power plants have been installed across the world in 2019. This is an increase of 18 percent as compared to 2018.
The total capacity of wind power plants around the world is over 651 GW. There was an increase of 10 percent in the previous year as compared to 2018.
China and the US are at the top in terms of wind energy. These two countries account for 60 percent of the world's onshore wind market.
Offshore wind power plants, that is, offshore wind power plants, are growing rapidly around the world. 6.1 GW of power plants have been installed in 2019.
The Global Wind Energy Council claims that the capacity of the new plant or existing plant will increase by 76 GW in 2020.
New wind power plants with a total capacity of 30.6 GW have been installed in the Asia Pacific region in 2019. which has 28.1 GW from offshore wind.
The Asia Pacific region has a total wind power plant capacity of 290.6 GW, which accounts for 44 percent of the world's.
.
After vaccination, the spoon sticks on the body, coin!
Shajapur: A big news has come out from Shajapur district of Madhya Pradesh. Actually, here a person of Shujalpur tehsil has a steel item pasted on his body. After coming to know about this, people who have been vaccinated against corona are also trying to get themselves tested. People are trying to know that they too have not got this power. Let us tell you that this is the first incident of metal sticking in the body after taking the corona vaccine dose in Madhya Pradesh. In fact, many such incidents have come to the fore before.
Similar incidents have happened in Maharashtra (Nashik), Rajasthan (Kota) in India. Many people have said so far that the body's attraction to objects has increased after taking a dose of the corona vaccine. Now the incident of Shujalpur tehsil of Shajapur district of Madhya Pradesh has shaken the people. Coins, scissors, needles are stuck in the body of 60-year-old Ramesh Chandra Nagar, a resident of Shujalpur here and everyone is shocked to hear this.
According to some media reports, Nagar's body gets stuck not only with iron but also with steel spoons, coins, hair clips. By the way, you must be aware that the magnet has the power to pull or stick only iron, the magnet's attraction does not work on steel. Because of this, the debate of the people is not taking the name of stopping. Let us tell you that Ramesh Chandra Nagar has received both the doses of Corona vaccine and he says that he got another dose of the vaccine on 25 April.
Science experts are of the opinion that the "steel does not stick to the magnet" vaccine is safe. National Award winning science teacher Om Prakash Patidar said, "People should not get confused like this. There are many scientific facts about the objects sticking to the body, it has nothing to do with the vaccine.
.