Internet users stunned to see Shah Rukh Khan's lookalike Ibrahim Qadri's carbon copy of King Khan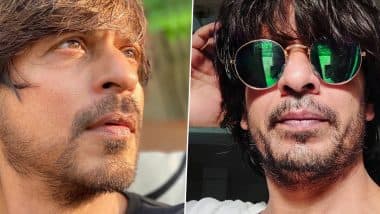 Shahrukh Khan and Ibrahim Qadri (Photo Credits: Instagram)
Shah Rukh Khan Lookalike Ibrahim Qadri Photos & Videos: The lookalike of Bollywood actors have often surprised their fans from social media to place. The film stars here are so famous that many artists make a living by working as their lookalike. Till now we have seen the lookalikes of many actors including Amitabh Bachchan, Ranbir Kapoor, Aishwarya Rai Bachchan, Karisma Kapoor. These days the lookalike of Shahrukh Khan, the king of Bollywood, is dominating the internet.
This person named Ibrahim Qadri seems to be creating a lot of sensation on the internet these days. From its looks, hairstyle to facial features, it is very similar to Shahrukh Khan. Seeing his style, people are also telling him to be a carbon copy of King Khan and discussing him. Due to this, he is in a lot of discussion on the Internet.
Also read: Aamir Khan's lookalike will leave you stunned, the actor's carbon copy
Shahrukh Khan's film 'Raees' or 'Don', he is winning the hearts of people with his style, adopting the looks of each character very well. Ibrahim Qadri is rapidly gaining popularity on social media due to his style.
There are more than 40 thousand followers on Ibrahim Qadri's Instagram and its number also seems to be increasing. Surely Shahrukh himself will be shocked to see Abraham's looks.
Rajpal Yadav's wife is very beautiful, she is 9 years younger
Aamna Sharif showed bold avatar in White One Piece, was seen in open hair
KKK11: Promo launch of 'Khatron Ke Khiladi' season 11
The season of 'Khatron Ke Khiladi 11' has started with a bang on the small screen. All the contestants have left for South Africa. Famous TV stars Divyanka Tripathi, Vishal Aditya Singh, Varun Sood, Rahul Vaidya, Abhinav Shukla, Anushka Sen and Shweta Tiwari will be seen in the list of contestants. All the contestants are very active on social media at this time, sharing many pictures and videos with the fans.
Recently all the contestants have shared the post in "Khatron Ke Khiladi 11" with director as well as host, tester Rohit Shetty. Now the promo of this most awaited series has come out. Its promo has been released by Rohit Shetty himself. It has also been announced that the show will soon be aired on TV.
What is shown in the promo
At the beginning of the promo, Rohit Shetty gets into the helicopter in a speed car. He is also seen having a conversation with a lion. Rohit Shetty has said on social media that 'Khatron Ke Khiladi 11' Der Vs Dare is going to come on Colors TV soon. The caption of the show will be aired soon. Along with Stunt Pilot, Warren is, in my opinion, the best stunt pilot in the world. After seven years and seven seasons, this guy seems to have changed a lot. But the spirit of the show is still there. Rohit Shetty announces the series in full swing.