Indian Meteorological Department: Monsoon knocked in Mumbai, heavy rain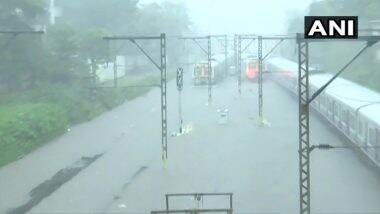 Heavy rain in Mumbai (Photo Credits: ANI)
Mumbai, June 9 : The Indian Meteorological Department announced the onset of Southwest Monsoon in Mumbai on Wednesday, causing heavy rains in the country's financial capital and its suburbs in the morning. There are reports of water logging in some low-lying areas. However, there was no impact on local train services while some BEST buses have been diverted. The head of the Mumbai office of the Indian Meteorological Department (IMD) Dr. Jayant Sarkar said, "Monsoon has knocked in Mumbai today." Higher waves are likely to rise. Several parts of the city and suburbs received heavy rain accompanied by thunderstorms in the morning.
According to the IMD, the Colaba observatory, representing South Mumbai, recorded 77.4 mm of rain in the last 24 hours while the Santa Cruz observatory (suburbs) recorded 59.6 mm. Rain was recorded. According to the BMC, the city, eastern suburbs and western suburbs recorded 48.49 mm, 66.99 mm and 48.99 mm respectively in the period of 24 hours till 8 am on Wednesday. Rain was recorded. Also read: Madhya Pradesh: Bike of people returning after celebrating birthday in Betul collided with truck, 3 killed
A BMC official said that 4.16 meters high waves are likely to rise at 11.43 am. IMD has forecast partly cloudy sky with moderate rain in Mumbai and suburbs. Heavy to very heavy rain is likely at some places. Central Railway's chief spokesperson Shivaji Sutar said, "It is raining in Mumbai but trains are running." The IMD had confirmed the onset of southwest monsoon in Maharashtra on Saturday. Monsoon had reached Harnai in coastal Ratnagiri district but despite favorable conditions, the monsoon seems to be progressing at a slow pace.
Petrol, Diesel Prices Today: Petrol-Diesel prices increase again today, know the new rate of your city
This is the 29th hike in vehicle fuel prices since May 4. Petrol prices in Delhi stood at Rs 97.50 per liter and diesel at Rs 88.23 per liter with no change in fuel prices on Wednesday. Union Petroleum Minister Dharmendra Pradhan alleged that the current hike in the prices of petrol and diesel is a result of the policies of the previous UPA government. At the same time, former Congress President Rahul Gandhi took a jibe at the government on Tuesday over the increase in the prices of petrol and diesel, saying that now the prices of petroleum products will be reduced during the next elections. On the other hand, fuel retail prices in India are expected to firm up in the coming days due to rising global crude oil prices and declining inventory of the world's largest fuel consumer – the US.
The price of petrol & diesel in Delhi is at Rs 97.76 per liter and Rs 88.30 per liter respectively today

Petrol & diesel prices per liter – Rs 103.89 & Rs 95.79 in #mumbai, Rs 98.88 & 92.89 in #Chennai, Rs 97.63 & Rs 91.15 in #Kolkata pic.twitter.com/AWwAtGL2MX

— ANI (@ANI) June 24, 2021
(With SocialLY get the latest breaking news, viral trends and all the news related to the world of social media. Here you will get live information about every content that is going viral on Twitter, Instagram and YouTube. The post shown above is unedited content, which can be sent directly to social media. Taken from the accounts of media users. Not modified or edited by Latestly staff. Social media posts do not represent the views and sentiments of Latestly, We assume no responsibility or liability for any content contained in this post do not accept.)
Bihar: Woman told police, 'Tantric raped me in dream'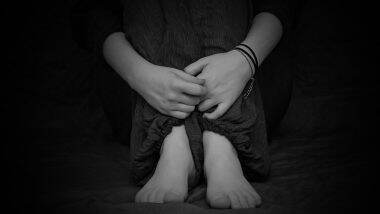 Symbolic Image (Photo Credits: File Photo)
Patna, 24 : A woman from Aurangabad district of Bihar has filed a complaint with the local police alleging that a tantrik raped her repeatedly in her dream. The woman, a resident of Gandhi Maidan area of ​​Kudva police station, had contacted tantrik Prashant Chaturvedi in January this year, as her son was seriously ill. At the behest of the tantrik, the woman had done the ritual process of tantra-mantra for the recovery of her son, but her son died after 15 days.
Kudva police station SHO Anjani Kumar said, after the death of her son, the woman went to the Kali Bari temple, where Chaturvedi lives, and asked her to explain how her son died. The woman alleged that Chaturvedi tried to rape her, but her son 'saved' her. He said that at that time the woman had not complained to the police. She further alleged that Chaturvedi has been coming in her dreams since then and repeatedly raping her. Also read: Big statement of Union Minister Santosh Gangwar, women can now work even at night
The SHO said, since we had received a written complaint against Chaturvedi, we interrogated him. Chaturvedi denied knowing the complainant and said that he had never met her. Since we do not have any evidence against Chaturvedi, we released him after filing the bond.
Mukhyamantri Pashudhan Yojna: Chief Minister should ensure 100% implementation of livestock scheme – Agriculture Secretary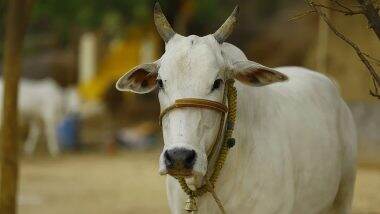 Cow | Symbolic photo (Photo Credit- Pixabay)
Ranchi, June 24 : Jharkhand's Agriculture, Animal Husbandry and Cooperation Secretary Abu Wakkar Siddiqui has directed all the District Animal Husbandry Officers and District Gavya Development Officers of the state to implement 100 percent of the Chief Minister's livestock scheme. Siddiqui gave these instructions during the review of the schemes implemented by the department through video conference on Wednesday. He has asked to take strict action against the officials who are lax in this work.
At the same time, on the occasion of Hool Day on June 30, under the Chief Minister Pashudhan Yojana, he asked to distribute the materials to be distributed among the beneficiaries in the presence of local public representatives and videography of the entire program. The Agriculture Secretary directed the officers to complete the target of artificial insemination of milch animals by July 31 and upload it on the Government of India portal. Also read: COVID-19: Vaccination priority for mothers of young children: Mamata Banerjee
At the same time, he also directed to operate 3000 new centers in addition to 1500 artificial insemination centers currently functioning. Apart from this, while constituting a technical committee from the directorate level for the establishment of Go Muktidham, he directed to prepare a detailed proposal and make it available to all the district level officials.