If you want to prevent serious diseases in the midst of corona epidemic, then keep distance from more salt, sugar and fat.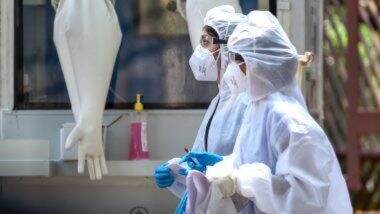 Symbolic Image (Photo Credits: PTI)
New Delhi: The second wave of the coronavirus pandemic in India is attracting everyone's attention at the moment, but at the same time we should not ignore those serious diseases, due to which people have been losing their lives for the last several decades. More than 5.8 million people die every year in India due to non-communicable diseases (NCDs) like cancer, diabetes, uncontrolled high blood pressure and heart disease. Sometimes it becomes difficult to treat them, although we can keep them away from ourselves by making some changes in our diet. Also read: Can people who have recovered from corona virus infect others? Can sanitizer cause cancer? Know the answers to these questions
India's economy is in a developing state. In such a situation, their use has increased due to the arrival of packaged food in rural areas, which usually contain excess of salt, sugar and fat. With these, the crisis of non-communicable diseases (NCDs) is getting worse.
The Breastfeeding Promotion Network of India (BPNI) along with Nutrition Advocacy in Public Interest (NAPI), Epidemiological Foundation of India (EFI) and Pediatrics and Adolescent Nutrition Society (PAN) conducted a webinar to discuss the importance of a robust nutrient profile model. In which guidance was also given on the consumption of processed and ultra-processed food.
During this, many experts, doctors and senior scientists from all over the world talked about the health barriers coming from the food industry. Brazil, Mexico and South Africa have taken decisive steps to protect their populations, especially children, by adopting scientifically-specified limits for salt, sugar and fat.
Nutrient profiling is a scientific method of classifying food and beverages according to their nutritional composition. It has been developed with the prime goals of reducing the consumption of sodium, saturated fat and added sugar..
Specific foods and beverages are classified by the Nutrition Profile Model (NPM), to help us identify and differentiate unhealthy foods (high in salt, sugar and/or saturated fat). Based on this cut-off set by the NPM, the front-of-pack label informs consumers whether a product contains excessive sugar, sodium and saturated fat. Is this going to benefit their health? Also, guidance can also be given by the NPM to ban such promotion and marketing, which is specifically for children and adolescents.
Professor of Nutrition and Public Health at the School of Public Health of the University of S यूनिवर्सिटीo Paulo, Brazil, Carlos A. Monteiro says, "NPMs are frameworks developed after much research and field level studies by WHO and experts from around the world.
Professor Monteiro, who was instrumental in developing the Nova Classification and NPM model for Latin America, considered it a good practice to group processed food. He said, "The Cero model of the WHO was incorporated in consultation with the member countries of the region and is a codex.
Completely linked to the Alimentarius or Food Code. Simply put, there has never been a better time for India to announce and mandate these limits in packaged foods and beverages. Concerned about rising obesity levels, Brazil implemented clinically proven limits and mandated our food industry to comply. The time has come that India should do the same.
Slowly but surely over the past few decades ultra-processed food is dominating the dietary preferences and buying decisions of consumers in India. An analysis of sales data shows that ultra-processed foods have increased from about 2 kg in 2005 to around 6 kg in 2019 and are projected to increase to around 8 kg by 2024. Similarly, ultra-processed beverages have increased from 2 liters in 2005 to about 6.5 liters in 2019. It is estimated to be around 10 liters in 2024.
Dr. Arun Gupta, convener of the Breastfeeding Promotion Network of India (BPNI), warned that this exponential growth of the junk or processed food industry has left an indelible mark on the health of Indians.
He said, "We are now the center of obesity and diabetes in the world. Cancer rates are increasing at an alarming rate. Young people are at risk of heart disease. In the ongoing pandemic, it has been seen that comorbidities have led to Kovid-19." An NPM able to adequately differentiate between healthy and unhealthy foods can guide all food and nutrition regulatory policies. It is specifically able to identify foods or beverages that contain sugar. Potentially harmful substances such as , fat and sodium are high. Proper identification of these will enable people to make good food choices in these challenging times.
However, former Health Secretary of India, Mr. Keshav Desiraju has warned that the road to adopting scientific limits on these nutrients will not be easy. He said, "Regulators and policy makers should set mandatory limits that are within the limits set by WHO. With this being implemented across the board, we can be sure that now there will be no problem in adopting these new standards in the market. Industries have become accustomed to making profit, unless our food and beverage regulator makes it mandatory, they will not follow it.
Update Weather: Chances of rain and thunderstorms in next three to four days in Rajasthan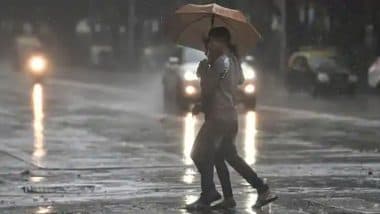 rain | Symbolic Image (Photo Credits: PTI)
Jaipur, June 13 : In Rajasthan's Bikaner, Jaipur, Bharatpur, Jodhpur, Udaipur and Kota divisions, there is a forecast of rain with half in the next three-four days and a drop of two to three degrees Celsius in most parts of the temperature. Director of Jaipur Meteorological Station R. s. Sharma said that there is a possibility of heavy rain with thunderstorm / dust storm in some parts of North Rajasthan on Sunday. In the districts of Bikaner, Jaipur and Bharatpur divisions, there is a possibility of sudden strong winds, dust storm (wind speed 40 to 50 kmph) accompanied by thunderstorms. During this, there is a possibility of thunderstorms at some places in these districts.
Apart from this, thunderstorms are expected to continue for the next three-four days, he said. On June 15, once again there will be an increase in the activities of thunderstorms in Jodhpur and Bikaner divisions of western Rajasthan. During this, strong thunderstorms, wind speed up to 40 to 60 kilometers per hour can be recorded. According to Sharma, there is a strong possibility of heavy rain with thunderstorm on June 15-16 in the districts of Ajmer, Jaipur, Bharatpur Kota division. In Udaipur and Kota divisions also, rain with thunderstorm is expected on June 15-16-17. According to the Meteorological Department, in the last 24 hours, three centimeters in Dholpur in East Rajasthan, three centimeters in Rupbas in Bharatpur, two in Basedi in Dholpur, two in Sapou in Dholpur, Gangapur in Sawai Madhopur, Bamanwas, Bhuhana in Jhunjhunu, Behrod in Alwar, Kotkasim. One centimeter rain was recorded in Rajkheda in Dholpur and one centimeter in Rawatsar, Bhadra and Tibi of Hanumangarh in western Rajasthan. Also read: COVID-19 Update: 255 new cases of Kovid-19 surfaced in the national capital Delhi, 23 patients died
According to the department, Sawai Madhopur and Bundi were the hottest places in the last 24 hours with a maximum temperature of 44 degrees Celsius till Sunday morning. The maximum temperature was recorded at 43.9 in Pilani, 43.6 in Churu, 43.5 in Karauli, 43.2 in Kota, 42.8 in Ganganagar, 42.3 in Pali, 41 in capital Jaipur and below 40 degree Celsius at other major places. At the same time, the minimum temperature in most parts of the state was recorded in the range of 30.9 degree Celsius to 24.1 degree Celsius.
COVID-19 Update: 255 new cases of Kovid-19 surfaced in the national capital Delhi, 23 patients died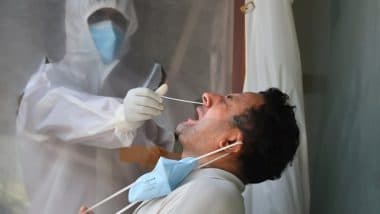 Person getting tested for Corona (Photo: PTI)
New Delhi, June 13 : The lowest number of 255 new cases of coronavirus were reported in the national capital on Sunday since April 7, and 23 patients died and the infection rate came down to 0.35 percent. According to the bulletin of the Health Department, with the death of 23 patients on Sunday, 24,823 people have lost their lives due to this epidemic in the national capital.
The lowest number of 213 new cases were reported in Delhi since March 9 on Saturday, 238 on Friday, 305 on Thursday and 337 on Wednesday. Due to this infection in the city, 28 people lost their lives on Saturday, 24 on Friday, 44 on Thursday and 36 on Wednesday. Also read: Dr. Indira Hridayesh Death: Senior Congress leader Dr. Indira Hridayesh is no more, Rahul Gandhi expressed grief
According to government data, the infection rate in the national capital was 0.3 on Saturday and Friday, 0.4 on Thursday and 0.5 percent on Wednesday.
Petroleum Minister Dharmendra Pradhan said, Congress ruled states should reduce tax on petrol, diesel, kept silence on BJP ruled states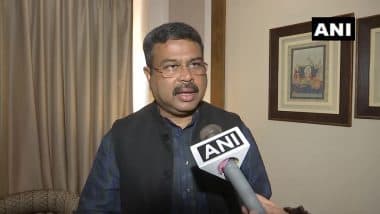 Union Minister Dharmendra Pradhan (Photo Credits-PTI)
New Delhi, June 13 : With petrol and diesel prices reaching record levels, Petroleum Minister Dharmendra Pradhan on Sunday said Congress-ruled states like Rajasthan and Maharashtra should cut taxes on vehicle fuel. However, he remained silent on whether states like BJP-ruled Madhya Pradesh and Karnataka would do the same, where petrol has crossed Rs 100 per litre. Pradhan said that if the Congress is worried about the rising burden of vehicle fuel prices on the common man, then it should cut sales tax on petrol and diesel in the states ruled by it.
Petrol has become costlier by Rs 5.72 per liter and diesel by Rs 6.25 per liter in less than the last six weeks. Auto fuel prices have reached record highs due to rising international crude oil prices and high central and state taxes. Indraprastha Gas Ltd. Talking to reporters after inaugurating the oxygen plant set up by Maharaja Agrasen Hospital, Pradhan said that the central and state governments need additional money from taxes on petrol, diesel to fight the pandemic and other development works. Also read: Karnataka: Policemen thrashed mentally challenged man, eight personnel suspended
He acknowledged that vehicle fuel prices were hurting consumers. Congress leader Rahul Gandhi is a constant attacker on the Narendra Modi government regarding vehicle fuel prices. To a question about this, Pradhan said why fuel is expensive in Maharashtra, Rajasthan and Punjab. "If Rahul Gandhi is concerned about the impact of vehicle fuel prices on the poor, he should ask chief ministers to cut taxes on fuel in Congress-ruled states," he said. BJP-ruled states like Karnataka will also do the same, where the price of petrol has crossed Rs 100 per liter due to local taxes.