ICC WTC Final 2021: R Ashwin can achieve this special position in the final, just have to do this work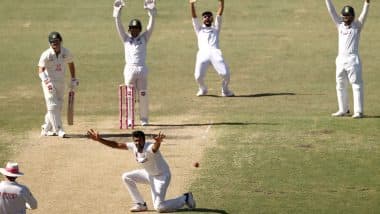 David Warner out (Photo Credits: ICC)
Mumbai: Indian bowler Ravichandran Ashwin is just four wickets behind to become the highest wicket-taker in the upcoming World Test Championship (WTC) period. India has to play the WTC final with New Zealand in Southampton, England from June 18 to 22 and Ashwin can make his name there. Fans are eagerly waiting for the final match of the World Test Championship between India and New Zealand. ICC WTC Final 2021: Former wicketkeeper Parthik Patel made a big statement about Virat Kohli's captaincy, know what he said
Let us tell you that after taking four wickets in this match, Ashwin will become the highest wicket-taker in the World Test Championship (2019-21). He will leave behind Australian fast bowler Pat Cummins and England fast bowler Stuart Broad in this matter. Pat Cummins is the highest wicket-taker in the World Test Championship so far.
Cummins took 70 wickets in 14 Test matches at an average of 21.02. Stuart Broad is second in this list with 69 wickets in 17 Test matches. Broad has taken these wickets at an average of 20.08. If Ashwin plays in the playing XI, then once again all eyes will be on him. Ashwin has so far taken four or more wickets in WTC matches four times. Ashwin's best bowling performance in the innings was 7 for 145.
Ashwin has taken 52 wickets in India, 12 in Australia and 3 in New Zealand. He took 32 wickets in the recent home Test series against England. In that four-match series, Ashwin also scored 189 runs. Due to this all-round performance, he was the 'Player of the Series'. Ashwin has taken 32 wickets in four Test series during the WTC this year. Now it will be interesting to see what Ashwin does in the WTC final. The pair of Ashwin and Jadeja has won many Test matches for India.
ICC WTC Final 2021: New Zealand win second ICC tournament with WTC winner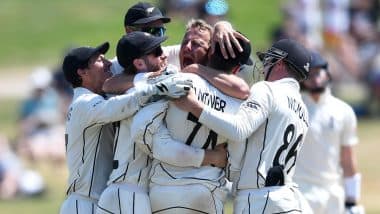 New Zealand team (Photo Credits: Getty Images)
London, 23 June: New Zealand won their second ICC tournament by defeating India in the final of the World Test Championship (WTC) played here and became the overall champions of cricket. New Zealand had earlier won the ICC Champions Trophy in the year 2000, but they have now created history by winning the first edition of the WTC. The match was tough till the end. However, India had to break the pair of Kane Williamson and Ross Taylor, who made a big partnership for the third wicket. Cheteshwar Pujara, however, missed the opportunity by dropping a catch at first slip. It was difficult to bat throughout the match, but the New Zealand batsmen batted better in this situation. Meanwhile, India are still waiting to win the ICC tournament under the captaincy of Virat Kohli which has only increased with this defeat.
India had extended their innings on the sixth day by 64 runs for two wickets, but their trinity disappointed. Kyle Jamieson of 6 feet 8 inches bowled the best to dismiss Kohli. After this he also sent Pujara to the pavilion. After this there was a burden on Ajinkya Rahane but he also lost his wicket. Rishabh Pant definitely tried something but could not play big innings. There is no doubt that the 23-year-old batsman is talented, but he needs to focus on his technique. However, he fell unwell during New Zealand's innings and walked off the field after the tee break. Wriddhiman Saha took over the responsibility of wicketkeeping in his place.
Also read- ICC WTC Final 2021: Virender Sehwag congratulates New Zealand in a special way
New Zealand's fast bowlers understood the pitch better than their Indian counterparts. After noon India had an opportunity to do something with the new ball but it was not very impressive. The population of New Zealand is 5 million which is 0.36 percent of the population of India. The country's investment in cricket is negligible compared to the outlay in India. During the match, whenever an Indian player hit a boundary or a New Zealand batsman was out, the fans would shout in a loud voice, 'India will win'.
For the first time in the week, the sun came out well and the green outfield looked better. But the Indian batting order could not show any charisma in it. There is also a fact that in six consecutive Test innings against New Zealand, Kohli's team has failed to cross the score of 250, out of which four times it has been reduced to less than 200. It shows that Indian batsmen are not able to cross fast. It cannot be ignored that the Kiwi team gets two advantages here. First the English environment is similar to that of New Zealand and second they played a two-match Test series against England before the final match. The preparation of the Kiwi team was good and India was aware of this.
Also read- ICC WTC Final 2021: Kyle Jamieson, who bowled brilliantly in the final match, became 'Man of the Match'
Apart from 1986, the first half of the English summer and the month of June fall in this category where Indian cricket resides in Warterloo. How BCCI President Sourav Ganguly, with his extensive background at the highest level of the game, sent Indians for it. Watching the match, former Indian spinner Dilip Doshi, who has spent nearly 15 years in county and league cricket in England, said, "Most of the time it looked like Indian players were playing practice matches."
ICC WTC Final 2021: Kyle Jamieson, who bowled brilliantly in the final match, became 'Man of the Match'
London, 23 June: Kiwi fast bowler Kyle Jamieson has been adjudged 'Player of the Match' for his excellent bowling in the final match. Jamieson achieved five successes in the first innings and two in the second innings for the Kiwis. Apart from this, he also contributed 21 runs in the first innings for the team.
For his match figures of 7/61, Kyle Jamieson is adjudged the Player of the Match#WTC21 Final | #INDvNZ | https://t.co/8pVVHdl8nE pic.twitter.com/WbVspLrSS0

— ICC (@ICC) June 23, 2021
(With SocialLY get the latest breaking news, viral trends and all the news related to the world of social media. Here you will get live information about every content that is going viral on Twitter, Instagram and YouTube. The post shown above is unedited content, which can be sent directly to social media. Taken from the accounts of media users. Not modified or edited by Latestly staff. Social media posts do not represent the views and sentiments of Latestly, We assume no responsibility or liability for any content contained in this post do not accept.)
ICC WTC Final 2021: India's disappointment due to this department, New Zealand became champion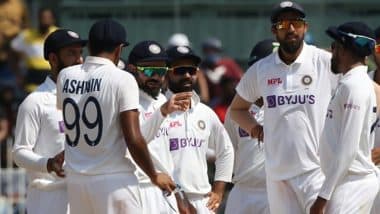 Team India (Photo Credits: Instagram)
Southampton, 23 June: New Zealand clinched their maiden World Test Championship (WTC) title by defeating India by eight wickets here on Wednesday with committed innings from two of their most experienced batsmen Ross Taylor and skipper Kane Williamson. Due to the rain on the first and fourth day, the match dragged on to the sixth day, which was kept as a safe day by the International Cricket Council (ICC). New Zealand took full advantage of this. First his bowlers bundled out India for 170 in the second innings and later created history by scoring 140 for two with excellent innings by Taylor (47 not out off 100 balls) and Williamson (52 not off 89 balls).
The disappointing performance of the top batsmen led to India's defeat, which also prolonged their wait to win the ICC Trophy. Ravichandran Ashwin (2 for 17) sent both the New Zealand openers to the pavilion but Taylor and Williamson played an unbroken partnership of 96 runs for the third wicket to take the team to the target. With this victory, New Zealand also left behind the disappointment found in the ODI World Cup two years ago. Then he lost the title to England due to low boundaries in the final tie.
Also read- ICC WTC Final 2021: Virat Sena got defeated in the final match, these are the main reasons for the defeat
New Zealand got off to a smooth start. Devon Conway (19 off 47 balls) and Tom Latham (nine off 41 balls) added 33 runs for the first wicket. Ashwin energized the Indian camp by sending these two to the pavilion. He stumped Latham by dodging it from the turn while Conway was dismissed leg before.
Now New Zealand had two experienced batsmen Williamson and Ross Taylor at the crease. Taylor started off with a beautiful four on Shami and then showed his skill of playing spin by hitting two fours on Ashwin. His square cut on Ishant Sharma was visible, then Williamson repeated it in front of Ravindra Jadeja. The Kiwi captain then played more freely and presented a good example of his artistic batting.
When Taylor was on 26, Cheteshwar Pujara dropped his easy catch at first slip off Jasprit Bumrah. Williamson also got a lifeline off Mohammed Shami, whose advantage he celebrated by completing his half-century with a four on the next ball. Taylor hit the winning four on Shami. Shami, Bumrah and Ashwin bowled well in pieces but together they failed to build the pressure. Earlier, Tim Southee (4 for 48), Trent Boult (3 for 39) and Kyle Jamieson (2 for 30) put pressure on the batsmen from the start, sabotaging India's intentions to set a big target in front of New Zealand. For India, Rishabh Pant scored the highest 41 runs in 88 balls after spending two and a half hours at the crease.
After the opening pair of Rohit Sharma (30) and Shubman Gill (eight) returned to the pavilion last evening, India made three of their trusted batsmen Captain Virat Kohli (13 runs off 29 balls), Pujara (15 runs off 80 balls) and his deputy. The wickets of captain Ajinkya Rahane (15 off 40 balls) were lost in the morning session itself. In such a situation, Pant took the responsibility but the pressure of falling wickets from the other end was clearly visible on him. He hit four fours in his innings. He finally waved in the air in an attempt to send Boult across the boundary line and Henry Nicholls ran a long run and converted it into a catch which proved to be the turning point of the match.
Boult caught Ashwin (7) at slip in the same over, while Saudi ended the Indian innings by dismissing Shami (13) and Jasprit Bumrah in one over. India had earlier lost the wicket of Jadeja (13) early in the second session, who was caught by Neil Wagner (1 for 44) at the hands of BJ Watling, who took the field in his last match despite a finger injury.
India started playing ahead of 64 for two in the morning but Jamieson put up the pressure by dismissing Kohli and Pujara. The Indian captain gave a simple catch to Watling on the extra bouncy ball going out of Jamieson's off-stump.
Also read- ICC WTC Final 2021: Virender Sehwag congratulates New Zealand in a special way
Pujara again came to the crease deciding that he did not want to score runs. There was also pressure and in such a situation, Pujara wanted to remove his bat from the ball taking an angle of Jamieson but he could not do so and gave an easy catch to Ross Taylor. India's score became 72 runs for four wickets. Rahane added 37 runs with Pant. In this, the contribution of left-handed batsman Pant was more. Rahane then caught it behind the wicket in an attempt to flick the ball off Trent Boult (1 for 37).
(This is an unedited and auto-generated story from a syndicated news feed, likely not modified or edited by the latest staff)