ICC WTC Final 2021: Glenn Turner finds King Kohli's weak link, says- he will have trouble bowling here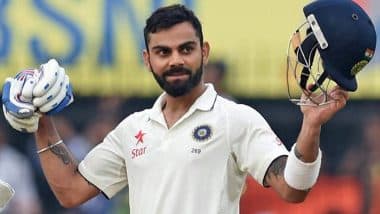 Virat Kohli (Photo Credits: PYI)
New Delhi, June 8 : Former New Zealand captain and coach Glenn Turner has said that Indian captain Virat Kohli should be given the chance to play in the upcoming World Test Championship final with New Zealand in Southampton if the pitch and conditions favor fast bowlers and swing. You may have to struggle. Turner told 'The Telegraph', "I do not want to speculate about whether Kohli is cautious about the conditions or not. But if the pitch and the conditions favor the fast bowlers and swing, then he should be given other One may have to struggle like the batsmen. Just like it happened in New Zealand.
He said, "Once again on-field conditions are going to be important. I think it would be fair to say that home conditions, where batsmen learn, play a vital role in enhancing a player's technique and skills." The former captain said, "Although it seems that pitches in India have been helping seam bowling in recent times, they still cannot be compared with the conditions in New Zealand. When India last toured New Zealand Even then, the circumstances were important." Also read: Cricket History: It is not only difficult but impossible to break these records of cricket
When India last toured New Zealand in 2020, it had to face defeat in both the Test matches. In that series, Kohli was also seen struggling with the bat. He scored only 38 runs in four innings.
ICC WTC Final 2021: Who will open the innings for India in the WTC final? Competition increased after KL Rahul's superb six, watch video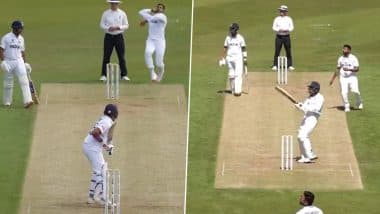 A scene from the intra-squad match (Photo Credits: BCCI)
London, 13 June: Indian players are playing an intra-squad match among themselves in Southampton, ahead of the final match of the ICC World Test Championship 2021. In this match, where Indian captain Virat Kohli is leading one team, the other team is commanded by 29-year-old veteran Karnataka player KL Rahul. Rishabh Pant and Shubman Gill batted brilliantly for Kohli's team, where he scored a century and a half-century respectively. While bowling, Ishant Sharma got three successes while bowling well.
After this, when the other team came to bat in the field, the captain of the team KL Rahul also appeared in good touch. In a video shared by the BCCI, it can be seen that Rahul is hitting a brilliant six off the country's experienced spinner Ravindra Jadeja. Apart from this, Umesh Yadav was also seen bowling brilliantly. At the same time, Rohit Sharma also practiced batting. On behalf of Virat Kohli's team, Rishabh Pant took over the responsibility of wicketkeeping.
Highlights from Day 2 of the intra-squad match simulation here in Southampton#TeamIndia pic.twitter.com/Tm6RrQ4nnd

— BCCI (@BCCI) June 13, 2021
Also Read – Ind vs SL 2021: Sony Sports releases Sri Lanka tour schedule, BCCI not yet confirmed
Talking about Team India's schedule on the England tour, the team will start the tour with the final of the ICC World Test Championship. The final match of the WTC will be played in Southampton from 18 to 22 June. After this, the team will start the Test series against England from August 4. First Test match in Nottingham from 4 to 8 August, Second Test at Lord's from 12 to 16 August, Third Test in Leeds from 25 to 29 August, Fourth Test at Kennington Oval from 2 to 6 September and Fifth Test from 10 to 14 September Will be played in Manchester.
WWE Superstar John Cena shared Virat Kohli's picture on social media, fans gave their reaction in this way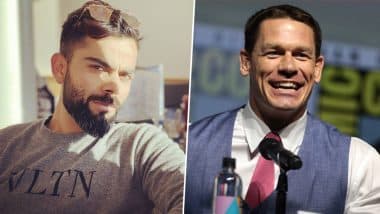 John Cena and Virat Kohli (Photo Credits: FB/ Wikimedia Commons)
New Delhi: Indian cricket team captain Virat Kohli is all set to lead Team India in the final of the World Test Championship (WTC). Under his leadership, he is desperate to win India the biggest award in red-ball cricket. Meanwhile, WWE Superstar John Cena (John Cena) shared the picture of Virat Kohli with his social media account. In this photo, Virat is standing holding the bat. More than 4 lakh people have liked this photo within a few hours. Afghanistan leg-spinner Rashid Khan gave a big reaction to captain Virat Kohli's batting, said these things
Let us tell you why John Cena shared this picture, it could not be known. Because he has not written any caption with the picture as usual. It is believed that this photo was taken during the 2019 match. Cena often does not write captions with the picture and leaves the responsibility of understanding it to the followers.
John Cena may not have given the reason for sharing Virat Kohli's picture, but the fans are very happy and are starting to speculate. Most of the comments were made regarding that Cena would support Team India in the final of the World Test Championship against New Zealand from June 18. Fans believe that John Cena has also shared this picture to support Virat Kohli.
Having followed the 16-time world champion John Cena for more than a decade, he will be well aware of the famous catchphrase "You can't see me" from the Doctor of Thuganomics.
John Cena shared a picture of Virat Kohli on social media even before the semi-final between India and New Zealand in the 2019 ODI World Cup. Team India had lost the semi-final match. But in the final of the World Test Championship, Team India has a good chance to avenge the defeat that it got two years ago.
Confident of getting double digit medals in Olympics despite challenges of Corona era: IOA President Batra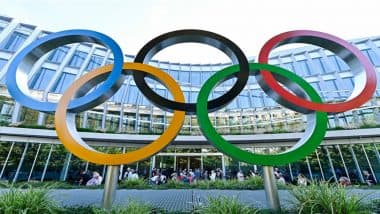 Commonwealth Games/Commonwealth Games (Photo: IANS)
New Delhi, June 13 : Despite the players' preparations being disrupted due to the Corona pandemic, the cancellation of many qualifying tournaments and not getting more opportunities to play at the international level, Indian Olympic Association President Narinder Batra is hopeful that the Tokyo Olympics. India 's medal tally will be in double digits and he also said that no Olympic going player has any mental health problem .
In this era of Corona, in almost every game from cricket to football, the issue of mental health of the players living in the bio bubble has been a topic of constant discussion. In a conversation with Batra, Batra said, "The circumstances arising out of the Corona period are the same for all over the world but the players have faced it firmly. Also read: COVID-19: 10 new cases of Kovid-19 in Andaman and Nicobar, one death
They are practicing with positivity and now the competition is waiting. Till now we have not heard anything that any of our sportspersons going to play Olympics have to face any mental health problems.