ICC World Test Championship: Will keep Shardul in the team if India go with four fast bowlers: Sarandeep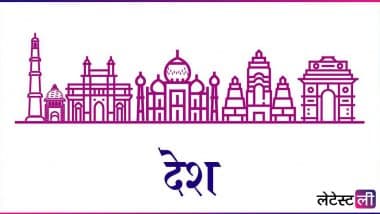 New Delhi, June 11 : Former national selector Sarandeep Singh believes that if India go with four fast bowlers for the World Test Championship (WTC) final against New Zealand in Southampton, they should replace Shardul Thakur in the playing XI instead of Mohammad Siraj. should be included. Sarandeep's tenure as selector came to an end with the tour of Australia earlier this year. He preferred Shardul over Siraj because of his batting skills. Shardul had presented a good example of his ability in Australia.
According to the current conditions, India can go into the match starting from June 18 with three fast bowlers and two spinners R Ashwin and Ravindra Jadeja. Sarandeep told PTI, "If it is cloudy then you can play with Ishant Sharma, Jasprit Bumrah and Mohammed Shami with an extra fast bowler. I will choose Shardul as the fourth fast bowler although Siraj has also done well. Also read: Kerala Fisherman Murder Case: Court to pronounce verdict on June 15 on compensation of Rs 10 crore to family
"You also need batting options down the order and Shardul provides that option. The bowlers will also get help in Southampton and Shardul can swing the ball. He has many years of experience in domestic cricket and has a very sharp mind in terms of cricket. Ashwin should play because New Zealand has a lot of left-handed batsmen in the team.
UEFA Euro Cup 2021: Christian Ericsson faints during Euro match, hospitalized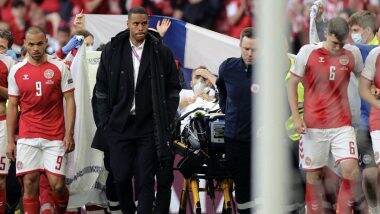 Christian Ericsson faints during Euro match (Photo Credits: Twitter/Molly isabella)
The match was postponed after this incident. European football's apex body said Ericsson's condition was stable. At the same time, the Danish Football Federation said that it is conscious. The federation tweeted, "Christian Eriksson is conscious and is being treated at Riggs Hospital."
After falling on the ground, Ericsson had to put pressure on his chest (chest compression). After about ten minutes of treatment, he was taken on a stretcher. Ericsson fell to the ground at the end of the first half and was immediately surrounded by medical personnel.
This looks promising… prayers are with you Erikson🙏🏽❤️ #Eriksen #Euros2021 pic.twitter.com/raRaF0yR88

— Molly isabella (@Mollyisabella19) June 12, 2021
His fellow players had made a circle around him during treatment. For the first time in the Corona era, 15000 spectators have been allowed to enter for this match.
AP Mona
(This is an unedited and auto-generated story from a syndicated news feed, likely not modified or edited by the latest staff)
French Open 2021: Barbora Krejcikova inspired by Novotna wins first Grand Slam French Open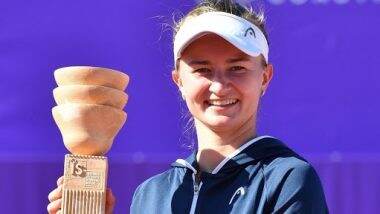 Barbora Krajikova (Photo Credits Instagram)
This is the fifth tournament of Krzykova's career as a singles player. She is the third unseeded player to win the title at Roland Garros in the last five years. Krzykova turned a blind eye to the win and remembered her former coach, 1998 Wimbledon champion Yana Novotna, who died of cancer in 2017. He said, "His last words were to enjoy the game and try to win the Grand Slam. I know she must be watching me from somewhere. That's why it was possible within two weeks.
She will now be trying to become the first female player to win a double title after the year 2000. At that time, Mary Pierce won both the women's singles and doubles titles. Krejcikova and Katerya Siniakova have already won two Grand Slam doubles titles and now they have to play in the final. This was the first Grand Slam final of Anastasia's career. In the second set, he had to undergo treatment for an injury to his left leg. This is the second WTA singles title of Krajnikova's career. He won the title last month in Strasbourg, France. Also read: French Open 2021: Barbara Krejcikova becomes champion, wins Grand Slam for the first time
In the French Open women's section, a new champion has become for the sixth time in a row. Second seed and four-time Grand Slam winner Naomi Osaka withdrew after a match citing mental health. He had a conflict with the officials about the necessity of interacting with the media.
Number one Ash Barty was ruled out of the second round with a left hip injury. Serena Williams lost in the fourth round and defending champion Inga Sviatec in the quarterfinals.
(This is an unedited and auto-generated story from a syndicated news feed, likely not modified or edited by the latest staff)
Sunil Chhetri said- Whenever I am disappointed, I watch Lionel Messi's video, it gives happiness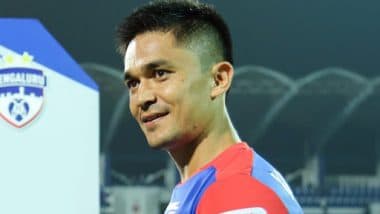 Sunil Chhetri (Photo Credits: Twitter)
Doha, June 12: Watching Lionel Messi's mesmerizing play on the football field brings joy to Sunil Chhetri even in times of despair but the charismatic India footballer on Saturday made it clear that comparisons with the Argentine legend were 'stupid'. ' It's like. Chhetri has overtaken Messi and has come in second place in terms of scoring the most international goals among the current active players. Chhetri said in an interview to AIFF (All India Football Federation) on completion of 16 years of his international career, "When I am sad, I watch Messi's videos and it gives me joy. So when I meet him, I will tell him that I am his fan and will shake hands with him very well.
When asked what he would do if he met Messi, Chhetri said, "After he says 'hi (greeting)', I will say that I am Sunil Chhetri and I am a big fan of him. I will not disturb them. If I meet him, I will be happy, even if I am not, I will feel good." Chhetri scored two goals against Bangladesh in the FIFA World Cup 2022 and Asian Cup 2023 joint qualifying match against Bangladesh on June 7. left behind India won this match by 2-0. Chhetri has 74 international goals to his name, while Messi has scored 72 goals in international matches.
Also read- Copa America 2021: Messi, Di Maria and Aguero in Argentina's squad for Copa America
He said, "Like any other in the world, I am also a big fan of Messi. There is no comparison between the two of us. I am just happy that I got a chance to score for my country and I am feeling proud." The Indian captain said, "I don't want to make a fool of comparing myself with all those great players. There are thousands of players who are better than me and all of them are also Lionel Messi fans. That's the difference." Chhetri made his international debut on this day 16 years ago against Pakistan in Quetta. The head coach of the team at that time was Sukhwinder Singh.
Chhetri has since scored 74 goals for the country in 117 matches, with only Cristiano Ronaldo having more goals to his name among active players. Chhetri is three goals away from the equalizer of Pele, considered the greatest player of the game. He said, "It has been a wonderful and wonderful journey. Playing for the national team for so many years, representing the country so many times is like a dream." When Chhetri came to the national team, stalwarts like Bhaichung Bhutia, Renedy Singh and Mahesh Gawli were present. He is now 36 years old and is the senior most player in the team. He said that he sometimes feels lonely among the 'kids' in the team.
Also read- Sports News | Messi equals Pele's record for most club goals
He said, "It seems as if it was only yesterday, when two kids Sandesh Jhingan and Gurpreet Singh came in the team. But now he is the main player of the team. Time flies by fast. There is no one of my time in the team." Chhetri said that Bhutia has a lot of influence on him and he keeps taking advice from his former captain. He said, "Just two days ago, I was having a conversation with Bhaichung Da. I was telling him how I miss the old camp, now I don't live with any of them.
(This is an unedited and auto-generated story from a syndicated news feed, likely not modified or edited by the latest staff)