Haryana Extends Lockdown: With relaxation, the lockdown in Haryana extended till June 14, know what is open and what is closed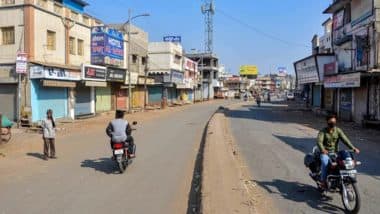 Symbolic Image (Photo Credits: PTI)
Chandigarh: The Haryana government on Sunday extended the restrictions already in force till June 14 to prevent corona virus infection. However, in view of the steady decline in the number of new cases of Kovid-19 infection in the last one week, the state government has given more relaxation. More than four thousand deaths occurred in May due to COVID-19 in Haryana
The Khattar government of Haryana has extended the Kovid restrictions like lockdown in the state till June 14. The state government has given permission to open malls, restaurants, bars and religious places with certain conditions. According to the new guidelines, the odd-even system will continue to be implemented for the opening of shops in the state.
The Chief Minister's Office tweeted, "The restrictions imposed by the Haryana Government to control the spread of corona virus under Epidemic Alert-Safe Haryana have been conditionally extended till June 14, 2021. Now shops have been allowed to open from 9 am to 6 pm and malls from 10 am to 8 pm under odd-even.
— CMO Haryana (@cmohry) June 6, 2021
What will open?
Shops other than stand-alone shops are allowed to open in two groups from 09:00 am to 06:00 pm. Odd numbered shops will open on odd dates and even numbered shops will open on even dates.
The goods are allowed to open from 10:00 am to 08:00 pm.
Restaurants and bars (including hotels and malls) are allowed to open from 10:00 am to 08:00 pm with 50 per cent seating capacity.
Hotels, restaurants and fast food joints can do home delivery till 10:00 pm.
Religious places have been allowed to open, only 21 people can go at a time.
Corporate offices are allowed to open with 50% attendance after adopting necessary social distancing norms, regular sanitisation and COVID appropriate behavior norms.
Up to 21 persons are allowed to attend weddings, funerals/cremations. However, there will be a ban on taking out the procession.
At the same time, a maximum of 50 people will be allowed for ceremonies other than weddings, funerals / cremations. Whereas in case of more than 50 people coming, prior permission will be required from the Deputy Commissioner.
Uttar Pradesh: Police arrested 6 under anti-conversion law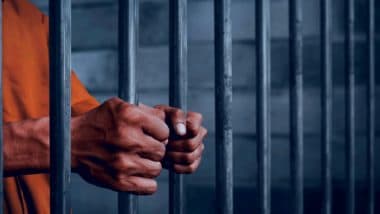 Symbolic Image (Photo Credits: File Photo)
Rampur: In Uttar Pradesh (Uttar Pradesh), six people, including a Maulavi and a barber, have been banned from illegal conversions ordinance (Love Jihad) for conducting the circumcision ceremony of two minor boys below the age of 12 years in secret. , 2020 has been taken into custody. This incident of Saturday is from Shahbad area of ​​Rampur. Uttar Pradesh: Woman who accused doctors and medical staff of rape dies
As soon as the members of Hindu Jagran Manch (HJM) came to know about the ceremony, they along with the police went to the house of the truck driver Mahfouz. His parents and the barber were arrested. The search is on for other people involved in this.
According to Additional SP (ASP) Sansar Singh, the mother of a non-Muslim boy resident of Uttarakhand lost her husband, who was a truck driver by profession, in a road accident last month. She had recently come to live with Mehfooz and his family in Bairua village of Shahbad area. Mahfouz is not married yet.
The woman changed her name to Gulistan.
The ASP further said, "In this case we have registered an FIR as the boys are minors and their conversion was against the law, so we took cognizance of the incident only after coming to know about it."
He further added, "We have registered a case against Mahfouz, his parents, his brother-in-law who organized the ceremony, the cleric who conducted the conversion ceremony and the barber who performed the circumcision."
They have been booked under IPC section 324 (voluntarily causing hurt by dangerous weapons or means) as well as provisions of the Unlawful Conversion of Religion Act, 2020.
As per the provisions of the Act, the person seeking conversion and the convert is required to submit an advance declaration of the proposed religious conversion to the District Magistrate. After this, by the order of the District Magistrate, the police investigation is done regarding the reason for conversion, intention etc. However, no such criteria were followed in this case.
Arvind Kejriwal announces, AAP will fight on all seats in the 2022 Gujarat Assembly elections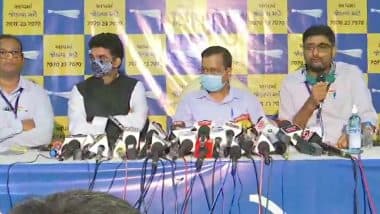 AAP leader Arvind Kejriwal on Gujarat tour (Photo Credits: ANI)
Ahmedabad: Aam Aadmi Party (AAP) national convener and Delhi Chief Minister Arvind Kejriwal, who went on a Gujarat tour, has made a big announcement. Kejriwal said that in the Gujarat Assembly elections to be held in 2022, AAP will contest on all the seats. During this he inaugurated the state office of Aam Aadmi Party in Ahmedabad. Senior journalist Isudanbhai Gadhvi joined AAP in his presence. Arvind Kejriwal in Gujarat: Delhi CM Arvind Kejriwal arrives in Ahmedabad, will inaugurate AAP state office
AAP leader Arvind Kejriwal said, "The condition of Gujarat today is the work of BJP and Congress governments. For the last 27 years, there is a single party government in Gujarat. But the last 27 years are the story of friendship between these two parties. They say Congress is in BJP's pocket."
Aam Aadmi Party (AAP) to contest on all seats in the 2022 Gujarat Legislative Assembly Polls: AAP leader and Delhi CM Arvind Kejriwal pic.twitter.com/3GXvtPVfMt

— ANI (@ANI) June 14, 2021
A day before coming to Gujarat, Arvind Kejriwal had said that now Gujarat will change. Delhi Chief Minister Arvind Kejriwal reached Gujarat on a one-day visit on Monday. This will be the second time that Kejriwal has gone to Gujarat. He had earlier gone to Surat in February, where his party, which was fielded for the first time in the local body elections, emerged as the main opposition party. This visit of Kejriwal is also important because his party is already eyeing to contest the state assembly elections to be held in December 2022 and preparations are going on in full swing for this.
I am ready to be CM face if high command decides: Nana Patole, Maharashtra Congress chief
Maharashtra Assembly Elections:
Congress will contest the Maharashtra Assembly Elections alone. I am ready to be the CM face if the high command decides: Maharashtra Congress chief Nana Patole

(File photo) pic.twitter.com/cKqE5BD5dZ

— ANI (@ANI) June 14, 2021
(With SocialLY get the latest breaking news, viral trends and all the news related to the world of social media. Here you will get live information about every content that is going viral on Twitter, Instagram and YouTube. The post shown above is unedited content, which can be sent directly to social media. Taken from the accounts of media users. Not modified or edited by Latestly staff. Social media posts do not represent the views and sentiments of Latestly, We assume no responsibility or liability for any content contained in this post do not accept.)